As Coronavirus Cases Jump, Illinoisans Slip in Following Public Health Guidelines
Being indoors more and COVID fatigue likely behind second wave; 'surge upon surge' expected
Get all our news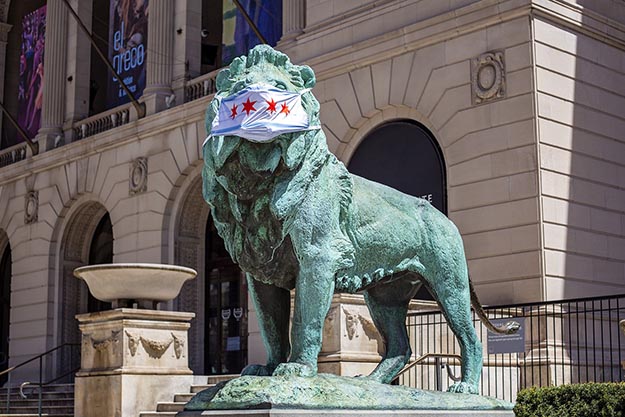 More Illinoisans are wearing masks, like one of the Art Institute of Chicago's iconic guardian lions, but have fallen short on other behaviors that would help prevent the spread of the coronavirus.
As COVID-19 cases in Illinois surge past spring's high point, a new survey examining people's behaviors in the state shows that colder weather driving people indoors and COVID fatigue are likely behind the virus' deadly second wave.
The number of COVID-19 cases in Illinois has increased sharply over the last two months from about 2,000 cases per day in late September to a seven-day rolling average of roughly 12,000 daily cases since mid-November.
"The numbers are not promising in terms of what to expect in the coming months," said IPR political scientist James Druckman. "It seems that necessary behaviors are slipping, and this could put extreme strain on our healthcare infrastructure."
Druckman co-leads the ongoing research into the impact of COVID-19 conducted by a university consortium between Northwestern, Harvard, Northeastern, and Rutgers, which surveyed Illinoisans between April and November 2020. Northwestern PhD student Jennifer Lin also worked on the survey.
When asked which activities respondents had engaged in over the past 24 hours, the researchers found a "substantial jump" in people engaging in indoor activities outside of the home, including 40% of people saying they went in to their work, up from 25% in April.
In Illinois, 42% of respondents also indicated they are spending more time indoors with others. "This is a twofold increase from the number of respondents who said they were spending more time indoors in the spring," Druckman said.
While some indoor activities—such as going to church, gyms, and restaurants—and using public transportation slightly dropped by 3% or less between mid-October and mid-November, Druckman and his co-authors indicated the overall trend of people spending more time in closed indoor spaces with others continued to rise.
Even though 78% of Illinoisans report wearing masks, up from 52% in April, they report declines in trying to stay apart from others when indoors:
Avoiding contact with others slipped from 66% to 49%.
Avoiding public or crowded places dropped from 75% to 62%.
These figures indicate that more people in the state are neglecting critical health recommendations to maintain social distancing and stay away from indoor activities outside of their homes as the disease is more likely to spread through person-to-person aerosol transmission in closed indoor spaces.
Despite recent moves by Illinois Governor J.B. Pritzker and Chicago Mayor Lori Lightfoot to impose additional restrictions on gatherings and indoor activities and pleas to stay at home for the holiday, a large number of Illinoisans traveled over Thanksgiving this year—at a time when they are less likely to follow public health recommendations.
On the heels of the Thanksgiving holiday and with another on the horizon, many public health experts expect the number of COVID-19 cases to rise sharply in the coming weeks. In a November 25 briefing, Dr. Ngozi Ezike, director of the Illinois Department of Public Health, said signs of a possible surge in Illinois could be seen within the next two weeks.
Dr. Anthony Fauci, director of the National Institute of Allergy and Infectious Diseases, told ABC News on Sunday that he worries that the U.S. may experience a "surge upon a surge."
To avoid overwhelming hospitals in the coming months and reducing deaths from COVID-19, the researchers encourage all Americans to increase social distancing measures and adhere more strictly to public health recommendations, especially in limiting indoor contact with others outside of their homes.
Read the complete report.
James Druckman is Payson S. Wild Professor of Political Science and IPR associate director and fellow. Previous surveys can be found here. 
 Photo credit: Day_Photo, Pixabay
Published: November 30, 2020.