Study Explores Contradiction Between Ideals of Women's Empowerment and Participation by College Women in Greek Life
Study Explores Contradiction Between Ideals of Women's Empowerment and Participation by College Women in Greek Life
Women saw historically white sororities as putting the brakes on efforts to find equal footing with men
Get all our news
Even before the Abolish Greek Life Movement, women held serious doubts about whether Greek life was sustainable, given its clash with their goals and values.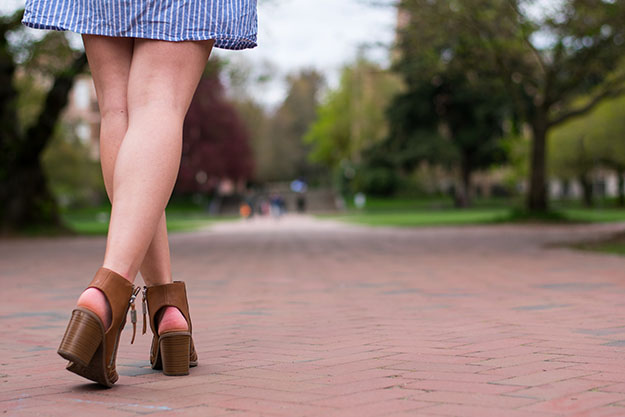 As the fall semester gets underway against the backdrop of a national reckoning with racial and social inequality in America, new research sheds light on an apparent conflict between women's ideals of feminist empowerment and participation in Greek life. 
The study, published in Gender & Society, explores how women perceive, explain, and reconcile the costs and benefits associated with historically white college sororities and a social hierarchy predominately controlled by men. 
"No, sorority women don't just strive for popularity—they want that, and more," said IPR education sociologist Simone Ispa-Landa, the study's lead author. "Sorority women sought academic and career success, equality with men, and affiliation with progressive social causes, alongside popularity and party invitations from fraternity men. This is what 'having it all' means to many of today's women in sororities."
A centuries-old institution, the historically white Greek system is a pillar of social and extracurricular life on many campuses, with robust enrollments by middle- and upper-middle-class white students. But even before the Abolish Greek Life Movement, women held serious doubts about whether Greek life was sustainable, given its clash with their goals and values.
In a series of 117 interviews with 53 sorority women conducted over the course of three years, study participants consistently talked about three recurrent issues, according to the study. 
They complained about a social status system that rewards women for beauty, wealth, and fashion over anything else. 

They expressed outrage about a rush process that excludes and marginalizes women of color and women from lower-income backgrounds.

They criticized Greek party culture for allowing a male-controlled social environment, as fraternities tended to host parties and fraternity members determined the lighting, music, and alcohol. 
The study grew out of an apparent conflict between the values of feminist empowerment—widely embraced by women on college campuses—and growing sorority enrollment and participation in a system where it is difficult to ignore the power differentials between sororities and fraternities. The researchers were interested in how sorority women managed this contradiction and how they endeavored to change Greek life to better align with their ideals.
Sorority women complained that they were judged and ranked according to criteria that were sexist and classist. Sororities with women considered to be the most beautiful, wealthy, and socially active were labeled as "top-tier." These sorority houses were invited to mixers hosted by the most popular fraternities and had a reputation for being cliquish and closed to outsiders.
At the heart of the issues is an unofficial "tier system" used to rank sororities and fraternities, participants reported. In this tier system, fraternities and sororities are rated according to members' attractiveness, partying and lifestyle, and wealth. According to participants, fraternity men have greater influence over the tiers and social hierarchy on campuses because they decide who gets invited to parties. 
Women expressed anger that the National Panhellenic Conference, the national governing body for historically white sororities, forbids women from hosting parties with alcohol. Even on "dry" campuses, they said these restrictions meant, in practice, fraternities, but not sororities, could host parties. Women complained that this asymmetry contributed to campus rape culture. 
"This new study shows that the problems in Greek life are even greater than previously thought," Ispa-Landa said. "Women saw sororities as putting the brakes on efforts to find an equal footing with men. Greek parties were held on men's turf and according to men's preferred alcohol, lighting, and location."
The study, conducted by Ispa-Landa and Mariana Oliver, a former IPR graduate research assistant and current Northwestern PhD student, relied on 60-to-90 minutes-long conversational interviews with women in sororities at a highly selective university. Over a three-year period, from 2017–20, they interviewed 53 women. Many of the women participated in interviews for a second or third time, leading to a total of 117 interviews. 
The women interviewed were chapter members of a number of historically white college sororities. Additional interviews are ongoing. The site of the research was not identified to protect the anonymity of the study participants. 
The research has implications for how universities respond to student demands for more inclusive extracurriculars, Ispa-Landa said. 
"While it is national Greek councils, and not university administrators, who can accept or deny Greek members' votes to disband their organizations, university administrators can do more to facilitate appealing social environments for students that are more inclusive, egalitarian, and diverse," Ispa-Landa said. "The new study shows that many women joined sororities because, as first-year students, they were looking to make friends and establish themselves on campus. Universities could do more to create appealing alternatives to Greek life. And, on campuses where Greek organizations persist, Greek organizations can take steps to foster healthier and more inclusive campus environments for women from all walks of life."
Source: Ispa-Landa, S., and M. Oliver. 2020. Hybrid femininities: Making sense of sorority rankings and reputation. Gender & Society, https://doi.org/10.1177/0891243220968882.
Simone Ispa-Landa is associate professor of human development and social policy and an IPR fellow. Mariana Oliver is a doctoral student in the department of sociology and law student at Northwestern Pritzker School of Law.
Photo credit: B. Wehrman, istockphoto.com.
Published: October 30, 2020.