What Can College Football Can Teach Us About Democracy?
IPR's James Druckman shows how reforms within the NCAA can illuminate U.S. policymaking
Get all our news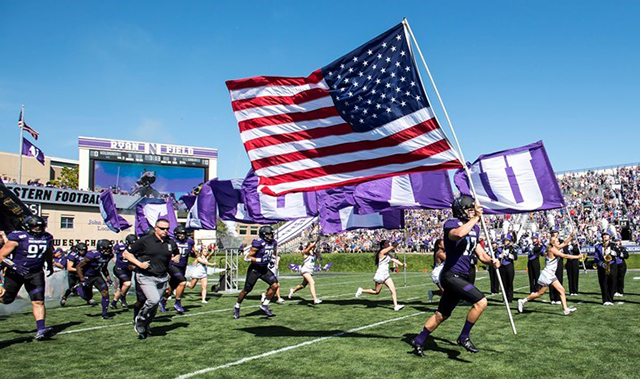 Northwestern's football team takes the field at their opening home game on September 14.
Many of the players in this year's Super Bowl were, at one point, college football stars. Top-division college athletic programs in football and men's basketball are a $14 billion industry in their own right. According to IPR political scientist James Druckman, these programs can also serve as a laboratory for studying policymaking.
"You get the occasional article, but there aren't a lot of people studying this," Druckman said at a January IPR colloquium. "When I read the sports section, I feel like I'm reading about politics or law, and it's a really fruitful domain that I think political scientists have completely missed out on."
Druckman and his co-author, Elizabeth Sharrow of the University of Massachusetts Amherst, set out to survey student-athletes and administrators in the National Collegiate Athletic Association (NCAA). The NCAA oversees 24 sports in three divisions that cover more than half a million student-athletes and 1,300 institutions. (Northwestern University is a Division I school.).
In a recent working paper, the two researchers show that NCAA student-athletes face many of the same challenges in trying to reform policies as groups fighting for change in the political sphere. Their study sheds light on how individuals form political attitudes and coalitions and how institutions can slow, or even prevent, policy innovation.
Just as in politics, student-athletes need to form coalitions to pressure those in power. When student-athletes of different races and genders interact, those in majority groups learn more about, and come to sympathize with, the attitudes of and reforms advocated by underrepresented groups. However, the structure of college sports largely segregates groups by gender and race and inhibits coalition building. Moreover, the authors show that administrators who might represent these groups do not do so because of institutional pressures to endorse the status quo.
In their survey, Druckman and Sharrow ask more than 3,400 respondents about two current policy debates: equal resources for men and women in sports (Title IX) and if players should be paid or otherwise be able to profit from their participation in NCAA sports. They then ask respondents to allocate monies to a hypothetical NCAA budget.
Echoing the aforementioned segregation dynamic, they find that approximately 80% of male student-athletes reported spending less than 25% of their time with female student-athletes. Fewer than 5% of white student-athletes spend a quarter of their time interacting with African Americans. The research shows modest improvements in support when athletes do spend at least 25% of their time with those unlike them, but the number of athletes who do so is very small, limiting the possibility for policy change.
Not only that, challenges may intensify even as women and minorities reach positions of power within the organization. Druckman and Sharrow's research shows that women and minority NCAA administrators begin to identify more with the institution than with their own social groups. Rather than acting as advocates for these underrepresented athletes, they stand by the institution and its interests.
Druckman invoked sociologist Robert Michels' "iron law of oligarchy," which posits that complex organizations will devolve into oligarchies, in describing the conundrum: As people enter an institution, they come to identify more with its leadership than their own social identity.
"There are lessons here for identity politics, and for public opinion. Understanding preference formation requires the consideration of institutions," Druckman said. "There's obviously a huge influence of contact [between groups], but institutions shape those opportunities."
Druckman and Sharrow conclude that unlike psychology, sociology, and economics, a field of "sports political science" does not yet exist. That may be a loss not just for researchers, but for democracy itself.
"Seemingly tangential institutions can undermine efforts for policy reform for underrepresented groups, which reveals a challenge for pluralism," Druckman said. "We can use sports as a laboratory to study politics." 
James Druckman is Payson S. Wild Professor of Political Science and IPR Associate Director and fellow.
Photo by S.J. Carrera, Inc.
Published: January 23, 2020.