As Relief Talks Stall, 80% of Americans Back Passage of a Fifth Coronavirus Bill
New survey shows Americans prefer giving direct cash payments to individuals over other types of aid
Get all our news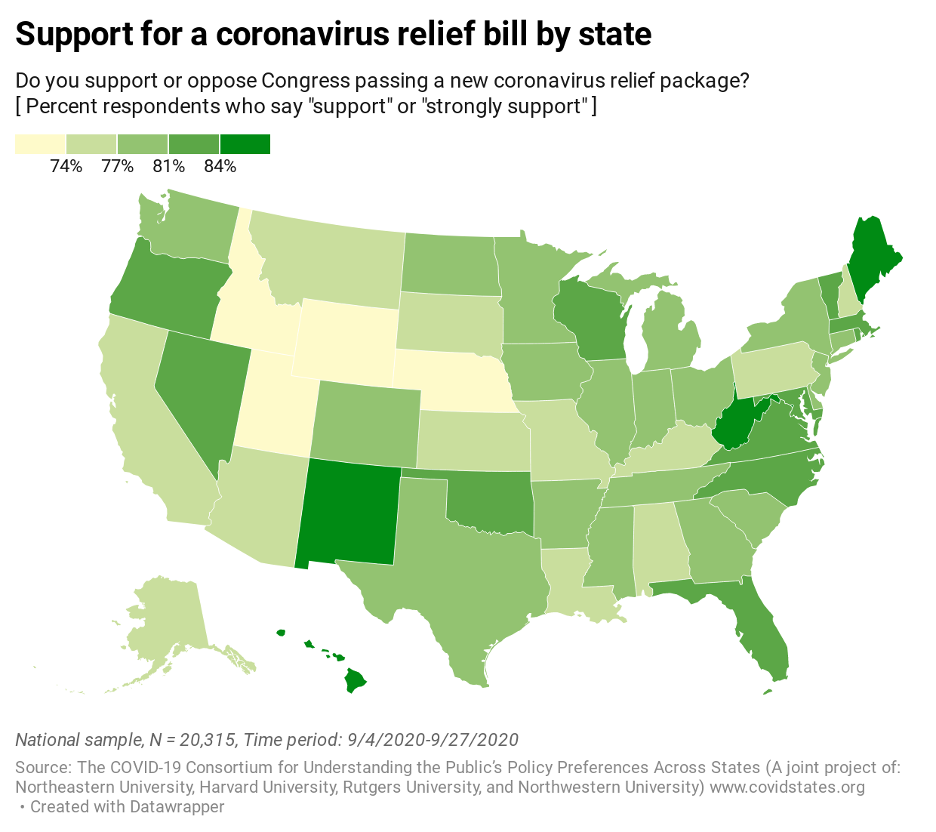 In the face of stalled talks on a new coronavirus relief package, the Democratic-controlled House of Representatives passed a largely symbolic $2.2 trillion one on October 1. A new national survey finds 80% of Americans support passage of a new relief bill.
The survey, conducted between September 4 and 27, asked more than 20,000 Americans for their opinions on the next COVID-19 relief bill. Congress has passed four COVID-19 relief packages totaling $3.4 trillion since the start of the pandemic in the United States, including the latest, the CARES Act, on March 27. The strong support for a fifth bill cuts across party affiliation and race.
"The crosspartisan support is interesting given the political divisiveness of the times. It suggests a strong need for relief," said IPR political scientist James Druckman, who is part of a university consortium between Northwestern, Harvard, Northeastern, and Rutgers conducting the survey.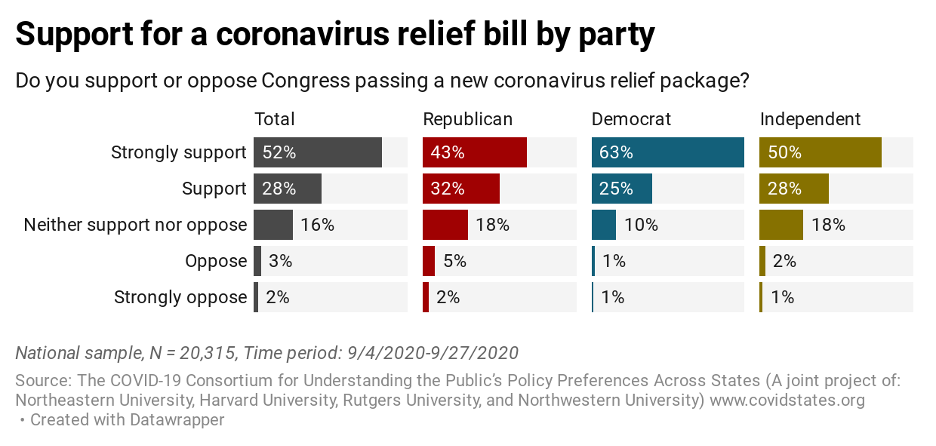 High support for a new relief package carries across all 50 states and the District of Columbia, with more than 70% of respondents in each supporting one. Those registering the highest support for a new package come from Maine and West Virginia at 87%, and D.C., Hawaii, and New Mexico at 85%. Those voicing the lowest support hail from Nebraska at 71%, and then Idaho, Utah, and Wyoming at 72% each.
In asking about specific types of aid, however, the results varied more. Overall, the survey finds that 78%, of Americans support direct cash payments, followed by 68% supporting aid to hospitals, then 57% for aid to K–12 schools and loans to small businesses, respectively.
Just 53% of respondents support extended unemployment insurance (UI). But in breaking down support for UI, it is 18% higher among those respondents who indicated they were unemployed at 68% versus only 50% for those who did not.
Democrats, Republicans, and independents all agree that packages for aid to essential businesses, such as airlines, and to governments—both state and local—were at the bottom of their lists for additional aid. They also concur that direct cash payments are the preferred choice for aid, but they differed sharply in their subsequent preferences: Democrats favored aid to hospitals (70%), unemployment insurance supplements (65%), aid to K–12 schools (64%), and aid to small businesses (60%). Republicans favored small business loans and aid to hospitals (55% each).
Before the six-week, weekly unemployment supplement was set to expire in mid-September and with no relief package on the horizon, President Trump signed an executive order on August 5 to provide another $400 weekly supplement for six more weeks. Funding for the supplement consisted of $300 from the federal government (taken out of FEMA's budget) and the additional $100 provided by states. (The rules were eventually relaxed to allow payments of either $400 or $300.)
Overall, 13% of respondents indicated they are currently unemployed. Of those, only 30% of said that they received the unemployment insurance supplements made available through President Trump's August executive action. 
Read the full report, and find individual results for each state.
James Druckman is Payson S. Wild Professor of Political Science and IPR Associate Director and fellow. Previous surveys can be found here.
Infographics credit: COVID-19 Consortium for Understanding the Public's Policy Preferences Across States
Published: October 5, 2020.