Gender Parity: The Long Game
IPR education sociologist calls for shift in how girls are viewed
Get all our news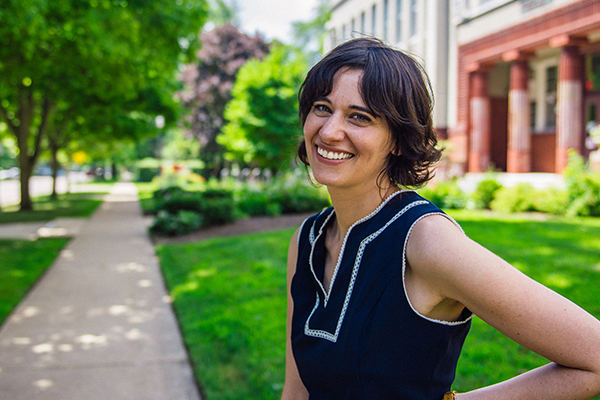 IPR education sociologist Simone Ispa-Landa calls for a more sustained effort on shifting how we view girls.
The midterm elections demonstrated a shift for women in politics and a move to gender parity, but real change requires a sustained effort, IPR education sociologist Simone Ispa-Landa wrote in "The Longer Gender Game for Girls," published in Garnet News.
"What everyone needs to do—in addition to remaining politically engaged—is play the long gender game," wrote Ispa-Landa, assistant professor of human development and social policy at the School of Education and Social Policy and a Public Voices Fellow of The OpEd Project. "That involves cultural shifts that expand women and girls' options for finding value and status alongside political and economic power."
In many realms—from high school to college and from summer camp to soccer club—girls and young women are still limited in how they can attain status and popularity, Ispa-Landa argued. Her research suggests that this has long-term consequences for women's ability to be politically engaged.
"Adolescent girls' social reputations and status, for example, are based on what fellow sociologist Shamus Khan calls a "sexuality regime." In this popularity system, "conventional femininity and heterosexual appeal are essential for achieving positive recognition from peers and others," she wrote.
"By contrast, adolescent boys can attain recognition and approval for attributes that have little, if anything, to do with displays of sexuality or physical attractiveness. They can be 'lovable dorks,' 'weird artists,' or 'star athletes.'"
These dynamics are not limited to affluent white students with the privilege to care about popularity, Ispa-Landa said. "My own research shows that working-class black girls struggled, mostly unsuccessfully, to have their feminine appeal recognized by their peers, and suffered great emotional pain when it wasn't," she wrote.
This has implications for women's success in politics and beyond because it "pushes girls and women into devoting critical mental energy into a narrow set of self-objectifying, appearance-related concerns," Ispa-Landa wrote.  
Simone Ispa-Landa is Assistant Professor of Human Development and Social Policy and an IPR fellow.
This article was written by Julie Deardorff and originally appeared on sesp.northwestern.edu. Photo by Steve Drey.
Published: November 20, 2018.