Faculty Spotlight: Sera Young
IPR anthropologist zeroes in on the first 1,000 days of life
Get all our news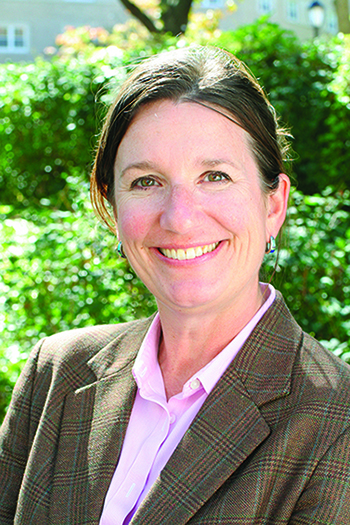 Whether attending an international high school in Wales or learning Swahili while living with a Zanzibari family, IPR anthropologist Sera Young has found immersing herself in different cultures is the way to think differently.
In Mali, Young got first-hand experience in understanding cultural differences. She was the undergraduate member of a research team that measured the health and growth of children under 5, examining if there was a link between polygamy and child mortality. 
"The mortality rate was just incredibly high," Young said. "I had gone there to study a question about the anthropology of religion, and I left being motivated to work on reducing health disparities."
She now focuses on maternal and child health issues, closely examining the causes and consequences of food and water insecurity. 
Craving Earth
While Young was researching maternal anemia for her master's in medical anthropology in Tanzania, one woman told her that she ate dirt from her home's walls twice a day.
She continued to investigate this phenomenon known as pica—or eating dirt, chalk, starch, ice, and other unorthodox foods—for her book, Craving Earth (Columbia University Press, 2011), which won the prestigious Margaret Mead Award.
"It seems that, counterintuitively, dirt may be protective, even cleansing," Young explained. "If you think of clay masks absorbing impurities from your skin, similarly, clay can absorb harmful things in the diet like pathogens, bacteria, or harmful chemicals. But it might also absorb some beneficial stuff, like iron, such that eating it can also be a problem."
Pica is still an understudied problem, according to Young, and people often hesitate to admit doing it. This makes it hard to know how many people experience pica, although estimates suggest around 30 percent of pregnant women around the world eat substances other than food. 
"If a public health problem is defined by prevalence of it and severity of the consequences, this is by any definition a public health issue," Young said.
Investigating Food Insecurity
After getting her PhD in nutrition from Cornell, Young worked as a reproductive infectious disease fellow at the University of California, San Francisco, where many of her colleagues and mentors were examining food security in adults. 
"My own interests are in the first 1,000 days [of life], so I turned the lens of food to the area I'm more interested in: maternal and child health," Young said.
She is currently investigating how food insecurity and HIV are connected, with one exacerbating the other, in pregnant women and children. She is discovering how food insecurity can affect not only nutrition, but also psychosocial and disease outcomes.  
In one study, Young and her colleagues find that insufficient food was the single biggest predictor of failed HIV viral suppression among breastfeeding Ugandan women, meaning the virus reappeared in their bloodstream after it had been suppressed. In other words, food insecurity increased the probability that they could pass HIV to their infants.
In further research, Young is highlighting how food insecurity can contribute to depression. Many women feel that when they can't provide food for their family, they are failing at being a mother. This feeling of failure and the anxiety over finding enough food can lead to mental health concerns. 
Young has mainly examined food insecurity in East Africa so far, but she hopes to turn her attention to thinking about food insecurity in her own backyard. 
"There's enough food produced in the world right now," Young said. "Food insecurity persists—including right there in the U.S.—because of its inequitable distribution." 
Measuring Water Insecurity
At the start of her NIH-funded cohort study in Kenya, Young set out to track food insecurity among women of mixed HIV status and their infants. But after asking participants to photograph factors that influence their food availability, Young was surprised to see women returning with pictures of water. 
Some women had to travel long distances over rough terrain or wait for hours in the sun to get water; others were torn between buying water or food. Young decided that she needed to include a measurement of water insecurity in her cohort study, but when she couldn't find an appropriate scale, she decided to develop her own. She's done this for Kenya, and is now working on one that would be valid across cultures.
To that end, Young has brought together a group of interdisciplinary researchers, practitioners, and on-the-ground collaborators in more than 24 sites globally. They have been working to finalize what will be the first cross-culturally validated household water insecurity scale. It considers various aspects of water use, including how frequently anyone has consumed unsafe water or gone to bed thirsty in the last month.
"Our ability to measure household food insecurity has transformed our understanding of a range of indicators of health and well-being, from HIV transmission to school performance," Young said. "I am hopeful that the measurement of household water insecurity will do the same."
Sera Young is assistant professor of anthropology and an IPR fellow.
Published: April 25, 2018.