IPR Business Director Named Northwestern's Employee of the Year
Eric Betzold recognized for exemplary work and dedication
Get all our news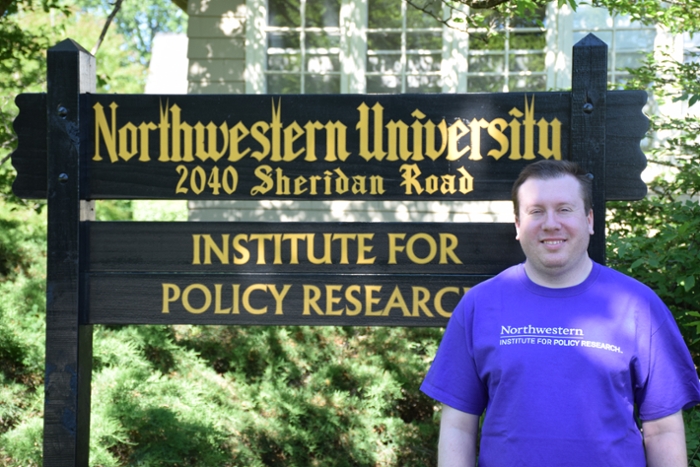 IPR Business Director Eric Betzold was named Northwestern University's 2017 Employee of the Year.
While IPR Business Administrator Eric Betzold is known for wearing his purple IPR T-shirt on Fridays and curating an informal Star Wars memorabilia and Mac museum in his office, it is his handling of complex grant transfers and budgets across Northwestern that earns him rave reviews from faculty and funders.
The latter is why University President and Professor Morton Schapiro presented him with Northwestern's 2017 award for Employee of the Year on June 6 at the annual employee recognition lunch in Chicago. 
Since 1978, the Office of Human Resources has annually recognized employees who go "above and beyond" their normal duties and are "dedicated and effective." Betzold is the 73rd employee to have received the award and the first from IPR. Nearly 6,000 people are currently employed at Northwestern.
"Eric is a key factor behind IPR's recognized excellence," said IPR Director David Figlio. "From staying late to execute a last-minute grant submission because a funder's website is down to taking care of leaky basements, no problem is too big or too small. His discretion and efficacy means that most faculty are often completely unaware of the mountains that he has had to move to execute any number of complicated procedures!"
One of these complicated procedures involved working to quickly execute a subcontract awarded to IPR health psychologist Edith Chen, before a vendor doubled the cost of assays from $6,500 to $13,000.
"Eric stepped in and worked with both grant offices, and even came up with a back-up plan in case it didn't work," Chen said. "In the end, the subcontract was executed in the nick of time for the partner university to purchase the supplies at the lower cost."
Another IPR fellow, political scientist and IPR associate director James Druckman, noted how Betzold toiled over a grant where his co-principal investigator (PI) had moved to another university—also the point at which they had applied for a renewal.
"Complications were endless, and Eric, without complaint, worked probably well over 100 hours on only this to work out all the details," Druckman wrote in an email. The grant was renewed, and Druckman has "zero doubt" that without Betzold, none of this would have happened. 
Even when facing personal challenges, Betzold excels. He kept up a full workload while his son was undergoing pediatric cancer treatments between 2014 and 2016, often working from his son's bedside in the hospital or at home.
The typically self-effacing Betzold credits his colleagues for enabling him to go above and beyond what's required.
"Everything is so interconnected at IPR," Betzold said. "We all depend on each other. Everything that I do wouldn't be possible without many other people at Northwestern also doing their work."
Published: July 18, 2017.