Faculty Spotlight: Christine Percheski
Sociological focus draws from strong social justice roots
Get all our news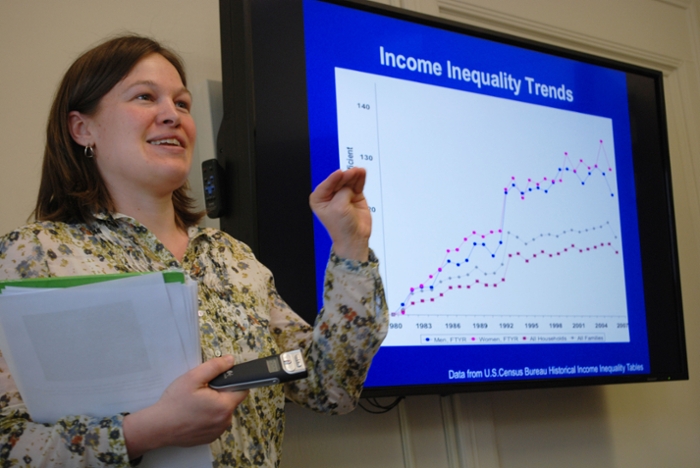 Christine Percheski presents her research on economic inequality at an IPR colloquium.
"I didn't think I was going to be an academic—I thought I'd go into law or maybe policymaking" said IPR sociologist Christine Percheski, in recalling her early college years.
But Percheski, who came from a Catholic family and found herself very motivated by social justice issues, credits sociology classes at Dartmouth with giving her "a new way of looking at the world" and setting her on a path to academia.
Today, from research on health insurance and economic inequality, to studies of family formation and the demographic effects of the Great Recession, she is applying a sociological lens to some of the most timely health and social issues.
Capturing changes in health insurance
Percheski has been studying health insurance since well before the Affordable Care Act (ACA)—probably the most significant change to U.S. healthcare since Congress passed Medicare and Medicaid in 1965. Its passage changed the thrust of research on health insurance, including her own.
However, the ACA didn't "fix all of our problems with health insurance overnight," Percheski explained. "There's still plenty to do."
While much of the existing research on health insurance has focused on employers' offers of employer-sponsored coverage—"an important part of the story," according to Percheski—her research has taken a social demographic tack, looking at how marriage trends might explain changes in health insurance coverage prior to the ACA's passage.
Percheski has found that the percentage of people with health insurance fell between the late 1980s and late 2000s. This occurred partly because the share of adults who were married fell, resulting in fewer wives and husbands getting covered through their spouse's health insurance.
But the overall effects varied by gender. Though fewer women were getting insurance through their spouse, more women were getting jobs and health insurance through their employers. So, while overall insurance rates decreased between the late 1980s and late 2000s, women became more likely to receive employer-sponsored insurance, and married men were more likely to get coverage through their wives.
"I think we underestimate women's contributions to their families when we don't think about health insurance coverage, too," Percheski said.
Defining economic inequality
Like health insurance, economic inequality has become a hot-button issue in recent years. But much of the conversation around economic inequality—and much of the research—has focused on differences in income, not wealth.
"People with the same income can have very different [levels of] wealth," she said, noting that higher wealth, such as assets and savings, can mean the difference between falling onto a financial cushion—or into a financial pit—should economic hardship strike.
Percheski is examining the nuances between income and wealth in an ongoing project, specifically focusing on trends in wealth inequality, or the gap in net worth between families.
Along with Duke University's Christina Gibson-Davis, she has found that most of the increase in wealth inequality between 1989 and 2013 was concentrated in families with children, rather than elderly households or working-age families without children.
They also documented large gaps in wealth by family type: Families headed by married couples were more likely to have a positive net worth than families led by unmarried parents who were living together—and much more likely to have a positive net worth than families led by a single mother.
In future work, Percheski hopes to investigate why this is—and how gaps in family net worth between racial groups have changed over time— to continue pushing wealth into the conversation around economic inequality.
Tackling wealth inequality
Bringing wealth into the conversation is key because most policies addressing economic inequality—like most of the research—have focused on income.
"There isn't going to be a magic silver bullet to eliminate economic inequality or even to reduce it over night," Percheski said. But when it comes to wealth inequality, "there are many policies with wealth implications that people haven't really been thinking about or talking about."
Take, for example, paid parental leave: Without paid leave, parents often dip into their savings to finance an unpaid leave of absence, meaning that such policies can directly affect Americans' savings. She also notes the importance of policies that address higher education financing.
"It's going to take a while to have positive net worth if you have $30,000 in educational loans," Percheski noted.
By connecting the dots between wealth inequality and seemingly unrelated policies like those related to paid parental leave and student loans, Percheski is working not only to document changes in wealth inequality, but also to pinpoint policy solutions to remedy the worrying gap in Americans' net worth.
"I'm really excited about what we're doing on wealth inequality," Percheski said about her latest project with Gibson-Davis. "We're finding some really exciting things there."
Christine Percheski is assistant professor of sociology and an IPR fellow.
Published: February 16, 2016.