In Memoriam: Rebecca Blank, 1955–2023
Esteemed economist, presidential adviser, and university leader was an IPR fellow for 10 years
Get all our news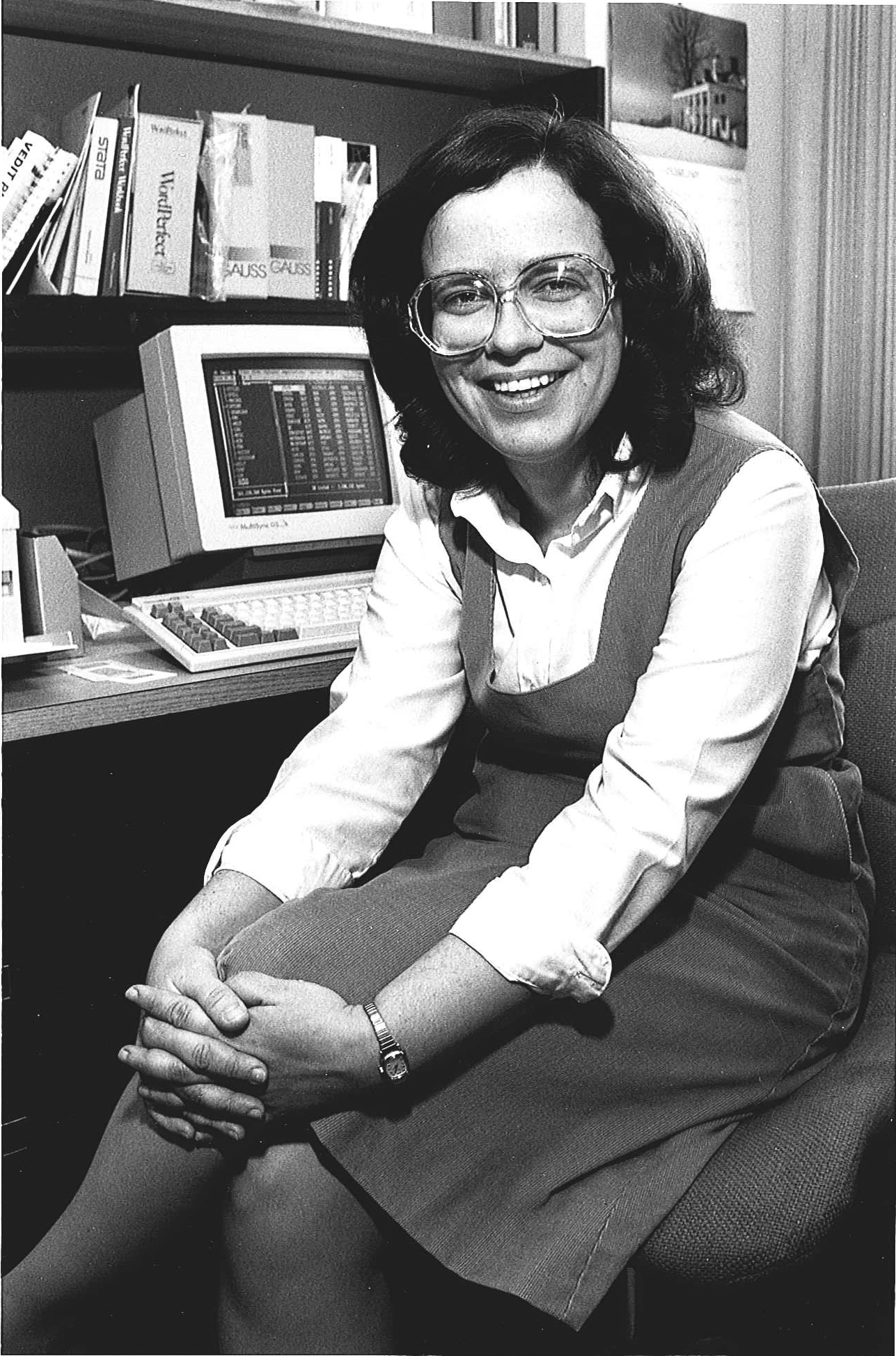 Rebecca Blank, shown here in her IPR office, was an IPR fellow.
Rebecca M. Blank, who was poised to become Northwestern's 17th president this summer, died on February 17 near Madison, Wisconsin. She was 67.
Blank had stepped down in July 2022 as the University's president-elect and professor of economics due to an aggressive cancer diagnosis to focus on her health and her family.
She served in many roles across her exemplary career—as an esteemed labor economist, a distinguished university leader, and a determined policymaker. While at Northwestern from 1989 to 1999, she was a tenured professor and an IPR fellow.
"Becky's passing is a terrible loss for all of us at Northwestern and for the wider research and policymaking communities," said IPR Director and economist Diane Schanzenbach. "We will celebrate her legacy by continuing to build on her important work on poverty, to which she made key contributions while at IPR."
Blank came to Northwestern in 1989 from Princeton University as an associate professor of economics and of education and social policy and would later become a full professor. She was also appointed as a faculty fellow at IPR, then known the Center for Urban Affairs and Policy Research (CUAPR).
She spent her first year at Northwestern on leave as a staff economist in the White House Council of Economic Advisers (CEA). Upon returning to CUAPR in 1990, she became a key figure in its research and training programs centered around poverty and the social safety net.
She co-chaired the Institute's research program on Poverty, Race, and Inequality with sociologist Christopher Jencks, now professor emeritus at Harvard University. The two researchers led an interdisciplinary training program in poverty research for graduate students and postdoctoral fellows jointly between Northwestern and the University of Chicago that began in 1990.
In 1996, a five-year, $7.5 million grant from the U.S. Department of Health and Human Services enabled the training program to become the Northwestern/University of Chicago Joint Center for Poverty Research. The center studied the causes of U.S. poverty and the effectiveness of policies to reduce it. Blank was appointed its first director.
However, in 1997 she was called back to Washington, D.C., to become one of the three members of President Bill Clinton's Council of Economic Advisors, chaired by Janet Yellen, who is now Secretary of the Treasury.
Blank's research while at IPR in the 1990s focused on safety net programs, poverty, and moving nonworking households into the ranks of the working poor. Her 1997 book, It Takes a Nation: A New Agenda for Fighting Poverty (Princeton University Press), contended that persistent poverty in the U.S. was misunderstood as the behavior of the poor was overemphasized and the more important factors of economic and demographic changes were underestimated. Across her career, she authored or co-edited close to a dozen books on poverty, inequality, and other topics, and nearly 100 journal articles and book chapters.
While at IPR, she also examined women's issues, including women in the labor force and whether part-time work might move women receiving Aid to Families with Dependent Children (AFDC) to full-time, self-sufficient jobs. Additionally, Blank studied state-specific information about abortion from its legalization in 1973 through 1990, modeling how laws and variables such as income, population, race, and urbanization determined states' abortion rates.
After she left Northwestern, Blank returned to IPR several times across the years, in particular as its 2009 Distinguished Lecturer to help mark IPR's 40th Anniversary. Her lecture, "Why Does Inequality Matter, and What Should We Do About It?," discussed the effects of income inequality in the U.S. over the previous 50 years.
She received many accolades across her career, including being named as a fellow of the American Academy of Arts and Sciences in 2005 and receiving the 1993 David N. Kershaw Award from the Association of Public Policy and Management (APPAM), recognizing scholars under 40 whose work has had the most significant impact on public policy.
In 1999, when her term on President Clinton's CEA ended, Blank became the Joan and Sanford Weill Dean of Public Policy at the University of Michigan's Gerald R. Ford School of Public Policy, where she was dean until 2007. She then moved to the Brookings Institution as a fellow in economic studies, where she spent two years. From 2009–2013, Blank served in the U.S. Department of Commerce as an Under Secretary, Deputy Secretary, and Acting Secretary of Commerce for President Barack Obama.
After leaving the Obama administration, she served as chancellor at the University of Wisconsin–Madison from 2013 until May 2022, when she was appointed as Northwestern's president-elect. She is credited with stabilizing UW-Madison financially through fundraising and innovative strategies and with enhancing outreach to communities, businesses, and state government.
IPR Director Emerita Fay Lomax Cook, who led IPR from 1996 to 2012,  praised Blank for her "her brilliance, tireless energy, and leadership skills."
"Through her research and her leadership, she brought both creativity and pragmatism to interdisciplinary research to understand the causes and consequences of poverty and how public policy can make a difference," Cook said. "She was incredibly focused, but she always found time for fun, for listening, and for giving help and advice when asked—and sometimes when not asked! She is truly one of those scholars and leaders who touched both the hearts and minds of those who knew her."
Blank is survived by her husband, Hanns Kuttner, and their daughter, Emily, who graduated from Northwestern.
Published: February 19, 2023.