The Majority of Americans Are Concerned with How American History Is Taught
Support for teaching CRT and racism varies by political party and racial/ethnic group
Get all our news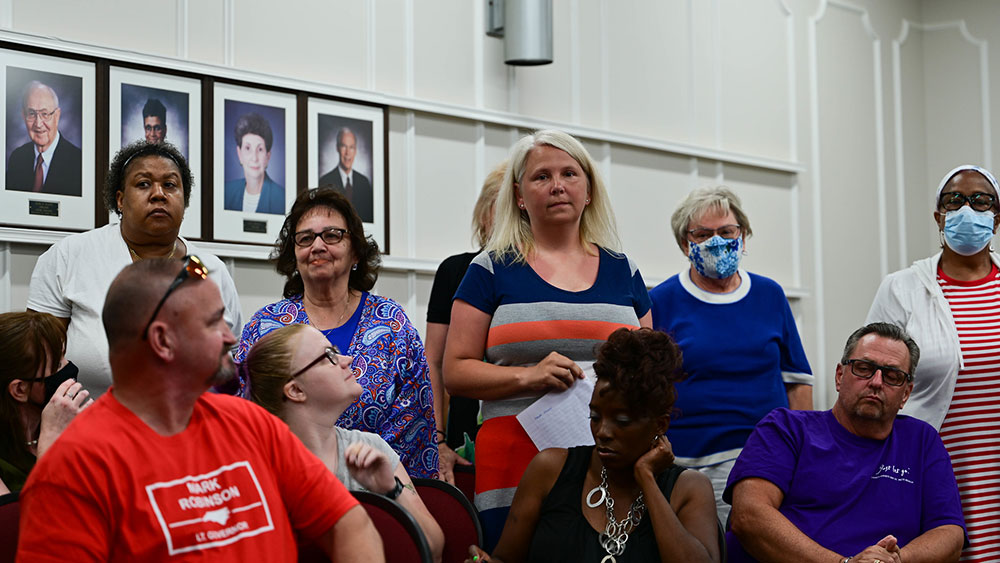 In June 2021, community members at a North Carolina school board meeting express their support and opposition to teaching critical race theory.
Over the last few years, Critical Race Theory (CRT), an academic framework examining systemic racism within institutions, has made its way to the center of America's culture war, as the country grapples with how to teach about the history of racism in schools.  
A new survey assessing attitudes about CRT shows that the majority of Americans, or 73%, across all demographics are concerned with how American history is taught in public schools. Roughly half of respondents (52%) expressed greater support for "teaching about how racism continues to impact American society today" compared to teaching CRT, which only 27% of those surveyed support.
Support for teaching about CRT, the legacy of racism, and racism's impact on society varies by political affiliation and racial and ethnic group. Democrats are nearly 50% more likely to support teaching about the legacy of racism compared to Republicans. Black Americans are 27% more likely than White Americans to support teaching about how racism continues to impact American society.
The survey of 19,060 individuals was conducted between November 3, 2021, and December 2, 2021, by a consortium of scholars from Northwestern, Harvard, Rutgers, and Northeastern as part of the COVID States Project.
"The partisan and racial divides are not surprising but accentuate why CRT has become such a political flashpoint," IPR political scientist James Druckman said, who co-leads the project, and is working on it with IPR graduate research assistants Jennifer Lin and Caroline Pippert.
CRT was first developed in the 1970s by legal scholars and came to influence fields such as sociology, education, and ethnic studies. Many trace the beginning of the anti-CRT backlash to the 1619 Project, a series of essays published by the New York Times commemorating the 400th anniversary of the first slaves arriving in the United States. Further backlash came from Fox News' coverage of CRT in 2020, which helped propel the topic into the national spotlight.
Despite the heightened news coverage of CRT, many people are unsure about the meaning of the theory. Of those surveyed, 7 out of 10 respondents said they were not at all or not very familiar with the concept. When asked how well they think CRT describes how American society works, 1 in 5 respondents, or 21%, say it does, 35% say is does not, and 44% do not know.
"The lack familiarity is interesting given as it shows that a major political debate is proceeding over a topic that people specifically know little about," Druckman said.
Other key findings:
Only 46% of White Americans support teaching about the legacy of racism, compared to 58% of Asian Americans, 60% of Hispanic Americans, and 73% of Black Americans.
Younger Americans are more likely than older ones to support teaching CRT and how racism continues to impact America. Those between the ages of 18–29 years old are 18% more likely than those over the age of 50 to support the teaching of the legacy of racism in public schools.
More educated Americans who have at least some college education or more (55%) were slightly more supportive of teaching about how racism continues to impact American society compared to those with a high school degree or less (48%).
There are no consistent relationships between public opinion of CRT and residents of states that have enacted policies on CRT such as bans.
Black Americans, Democrats, college-educated, and younger Americans are the most likely groups to say that CRT describes American society well.
Read the report.
James Druckman is the Payson S. Wild Professor of Political Science and IPR associate director and fellow. Jennifer Lin and Caroline Pippert are IPR graduate research assistants and PhD students in political science.
Photo credit: Flickr; A. Crider

Published: January 4, 2022.