IPR Faculty Recognized for Teaching and Impact on Northwestern Students
Seven scholars were honored for their commitment to the classroom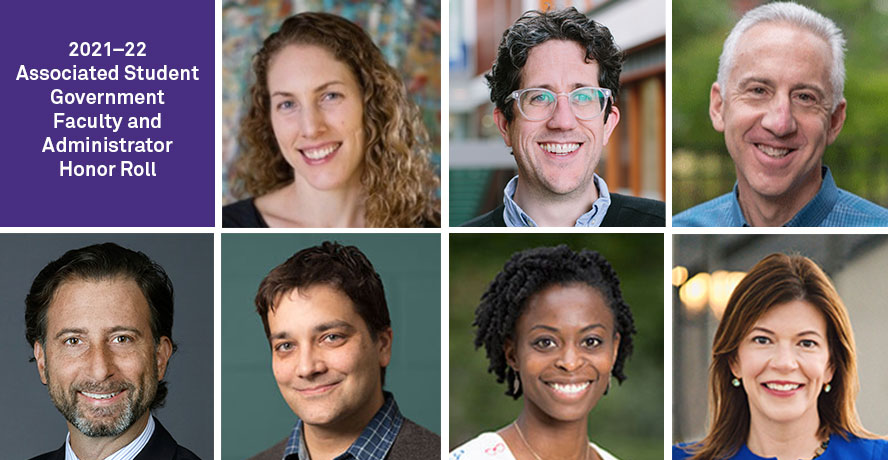 Katherine Amato, Matthew Easterday, Steven Epstein, Diane Schanzenbach, Onnie Rogers, Vijay Mittal, Eli Finkel (from top left going clockwise)
Seven IPR scholars were selected for Northwestern University's 2021–22 Associated Student Government Faculty and Administrator Honor Roll for their commitment to enhancing their students' Northwestern experience. They are:
Katherine Amato, associate professor of anthropology, was nominated for her work in her class, the Human Microbiome and Health. Her research examines how gut microbiota shapes host ecology and evolution through the lens of life history theory in non-human primates. Amato received her PhD in ecology, evolution, and conservation biology from the University of Illinois at Urbana-Champaign.
Matthew Easterday, associate professor of learning sciences, was nominated for his course, Community Engagement, which introduces students to off-campus community engagement, learning, and active citizenship in a democracy. Easterday received his PhD in human-computer interaction from Carnegie Mellon University. He is interested in producing scientifically supported educational technology to develop informed and engaged citizens.
Steven Epstein, the John C. Shaffer Professor in the Humanities and professor of sociology, was nominated by students in his Health, Biomedicine, Culture, and Society class. Epstein is a faculty member at the Alice Kaplan Institute for the Humanities, and a faculty affiliate of the Science in Human Culture Program and the Gender and Sexuality Studies Program. He received his PhD in sociology from the University of California, Berkeley.
Eli Finkel is professor psychology and management and organizations, and he has received numerous nominations for this award for his outstanding instruction in the course, Relationship Science. Finkel received his PhD in social and quantitative psychology from the University of North Carolina at Chapel Hill, and his research investigates romantic relationships and American politics and how the two intersect.
Vijay Mittal, professor of psychology, was nominated by students for his teaching in Psychopathology. A student emphasized how his "messages [in class] meant so much to the betterment of our society in terms of how we view and treat mental health." Mittal received his PhD in clinical psychology from Emory University. His interests revolve around the causes of mental illness among adolescents and young adults, specializing in early identification, assessment, and treatments for these groups at high risk for psychosis.
Onnie Rogers, associate professor of psychology and of education and social policy (by courtesy), was recognized for her exceptional research mentorship. A student wrote that she is a "wonderful research and leader" who encourages undergrads to give feedback and "be more critical in their research." Rogers investigates the development of identities and intersectionality among children and adolescents in diverse cultural environments. She received her PhD in applied developmental psychology from New York University.
Diane Whitmore Schanzenbach, the Margaret Walker Alexander Professor of Human Development and Social Policy, teaches the Economics of Social Policy. The course helps students learn how to analyze the effects of social policies related to the social safety net, health insurance, minimum wage, taxation, among other topics. Schanzenbach studies policies aimed at improving the lives of children in poverty, including education, health, and income support policies. She is a research associate of the National Bureau of Economic Research, and she received her doctorate in economics from Princeton University.
Published: November 14, 2022.