Community-Based Research Shows More People Exposed to COVID-19 Virus Than Previously Known
Northwestern study reveals need for two doses of mRNA vaccines for mild and asymptomatic cases
Get all our news
Rates of infection were seven times higher in Chicago—as indicated by a positive antibody test—than were detected by viral testing for acute infection.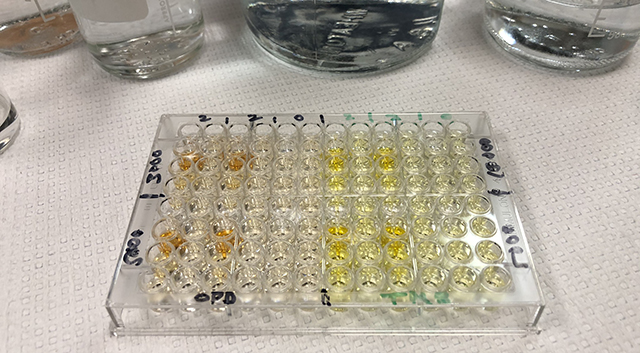 An assay plate contains mailed-in samples of reconstituted blood.
As the U.S. rushes to vaccinate Americans to prevent a wider outbreak of COVID-19, the FDA has currently authorized three vaccines for emergency use, two of which use a two-dose regime. Northwestern University researchers are conducting an ongoing community-based study that shows that mild or asymptomatic infections—which comprise the vast majority of infections in the general population—do not generate high levels of protective immunity.
The study also shows that a single dose of current two-dose mRNA vaccines does not provide adequate protection for most people who had mild or asymptomatic cases of COVID-19.
The interdisciplinary team of Northwestern scientists, who include IPR anthropologist Thomas McDade, launched a large community-based study called SCAN: Screening for Coronavirus Antibodies in Neighborhoods in June 2020. SCAN aims to track the spread of SARS-CoV-2, the virus that causes COVID-19, and to identify the circumstances and behaviors associated with exposure and severity of infection. Nearly 10,000 people across the Chicagoland area are enrolled in the study.
"SCAN integrates survey and laboratory methods into a novel no-contact research platform," McDade said. "This allows us to reach a large and diverse group of participants to generate important insights into the causes and consequences of COVID-19 infection in the community."
SCAN is a serological study, meaning that it measures antibodies against SARS-CoV-2 in blood samples to determine whether someone was previously exposed to the virus, even if the person never showed any symptoms of infection or received a clinical diagnosis of disease. Blood samples are self-collected at home with a simple finger stick.
Importantly, SCAN applies two different kinds of antibody tests. The first test provides a very accurate measure of prior exposure to the virus. The second test measures the level of protective immunity against infection.
SCAN's significant findings, which are detailed in five preprints and a forthcoming article, include:
The majority of SARS-CoV-2 infections in the community are mild and asymptomatic, and they generate lower levels of protective immunity than has been reported in clinical studies which focus on more severe cases of COVID-19.
Rates of infection were seven times higher in Chicago—as indicated by a positive antibody test—than were detected by viral testing for acute infection.
Chicagoans in more disadvantaged neighborhoods had more severe COVID-19 cases compared to adjoining neighborhoods, but antibody testing revealed NO significant differences in the likelihood of exposure to the virus between the areas.
Those exposed to COVID-19 in the home scored 2.5 times higher on a measure of symptom severity. They also had higher levels of antibodies than individuals who picked up the virus outside of the home.
In both people who had mild or asymptomatic cases, as detected by the at-home blood test, and the people never exposed to the virus, two vaccine doses were required to reach the high levels of antibody that likely indicate full immunity.
Find out more by reading the complete report.
Note: IPR Working Paper 21-13, one of the references in the report, has now been published in EClinicalMedicine.
SCAN Report Contributors
Thomas McDade, Carlos Montezuma Professor of Anthropology, Director of IPR's Cells to Society: The Center on Social Disparities and Health, and IPR Fellow, Northwestern University; Alexis Demonbreun, Assistant Professor of Pharmacology, Northwestern University; Richard D'Aquila, Associate Vice President of Research; Howard Taylor Ricketts, MD, Professor; and Director of Northwestern University Clinical and Sciences Translational Institute; Nanette Benbow, Research Assistant Professor of Psychiatry and Behavioral Sciences, Northwestern University; Brian Mustanski, Professor of Medical Social Sciences and Psychiatry and Behavioral Sciences, Director of the Institute for Sexual and Gender Minority Health and Wellbeing, and IPR Associate, Northwestern University; Elizabeth McNally, Elizabeth J. Ward Professor of Genetic Medicine and Director of the Center for Genetic Medicine, Northwestern University, and the SCAN Study Research Team.
Photo credit: T. McDade
Updated: July 15, 2021.
Published: April 13, 2021.