The Power of Balanced Messaging
Low-income students benefit from messages that acknowledge their backgrounds as strengths
Get all our news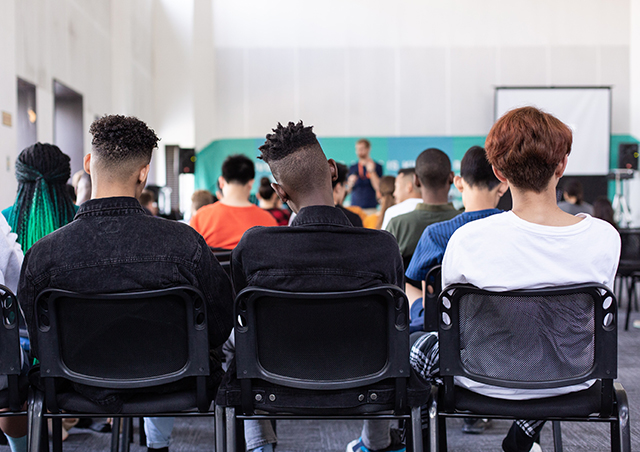 A Northwestern study finds that messages about the positive power of a student's background can support the achievement and wellbeing of marginalized high school or college students. The finding by IPR social psychologist Mesmin Destin holds important implications for educational policies and practices.
Students who are Black, Latinx, or from lower socioeconomic (SES) or other marginalized backgrounds constantly hear negative messages about their problems and challenges. Such messages can lead them to believe that their backgrounds are only barriers and never strengths.
In a January 25 IPR talk, Destin described how his research with Northwestern psychology graduate students Ivan Hernandez and David Silverman demonstrated that college students who were helped to view the adversities of their background as a source of strength increased their sense of wellbeing and academic persistence.
One significant influence on students is their instructors.
Students systematically pick up messages from faculty, intentional or not, that "aren't necessarily conveying a belief that their group that is seen as marginalized in society actually is a source of some unique strengths," Destin said.
Other work in Destin's lab demonstrates that high school and college students can get "big messages" from society and the political world that affect students' sense of belonging in their academic communities.
Destin emphasizes that their study results have real implications for policy and practice.
"It's not that these particular manipulations are something that should be transported from one place to another, as some form of intervention to fix a broader societal issue," he said, "but rather they identify particular mechanisms that can be targeted and can be expanded upon and leveraged at all of these levels of students' context—by policy and by practice."
The context comprises individual students, their peers, their faculty, their institutions, their socioeconomic surroundings, and many other social forces. Destin and his co-authors, assistant professor of learning sciences Shirin Vossoughi and psychology graduate student Josiah Rosario, explore these in a recent article.
Based on this research, Destin voiced support for community scholar programs at colleges and universities that emphasize strength-based messages and link students' family and home community to their educational institutions.
"Oftentimes we use education to separate students from rather than embrace the potential connection," Destin said.
To help college faculty improve their interactions with students, he called for more professional development and additional student feedback during courses.
For colleges and universities, he urged them to make need-based financial aid through grants and to include the everyday needs of lower-income students. Likewise, their leaders should seek to address issues such as anti-immigrant sentiment and structural racism that result in persistent disparities affecting students' senses of themselves.
"The broader sociopolitical context is something that seems to really matter for how students can engage in their everyday academic pursuits, and what are the messages that institutions and institutional leaders are giving students in response?" he asked.
Mesmin Destin is associate professor of psychology and of human development and social policy and an IPR fellow.
Photo credit: Sam Balye on Unsplash
Published: March 12, 2021.