Program Shows Promise in Reaching Those at Highest Risk of Gun Violence
N3 report details preliminary findings from Chicago CRED's street outreach program
Get all our news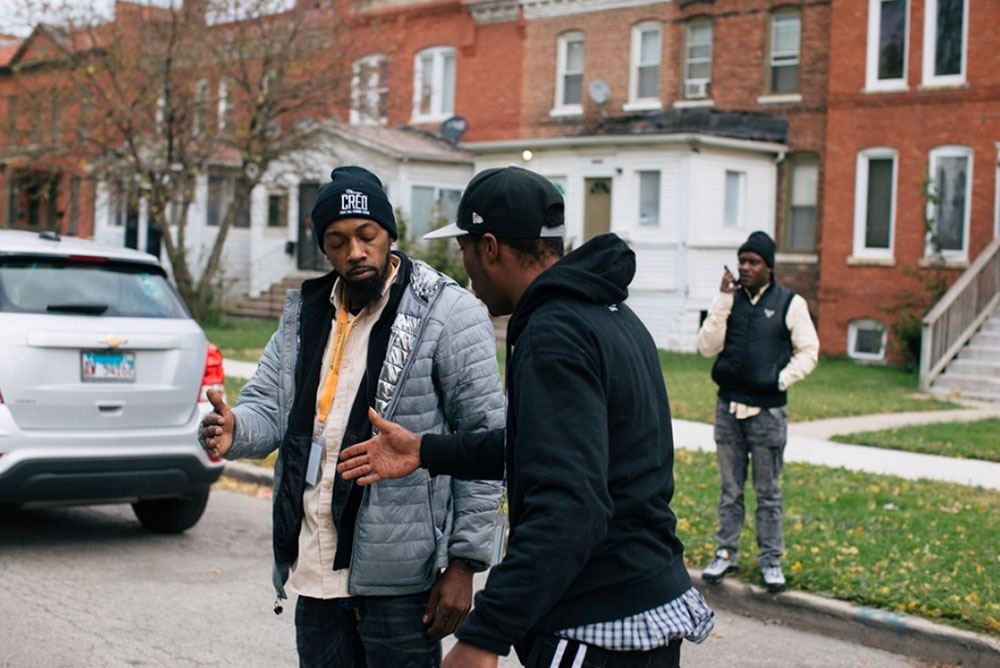 A CRED mentor and participant shake hands.

With gun violence at a 20-year high in Chicago, a new report by IPR's Northwestern Neighborhood & Network Initiative (N3) examines a promising program that seeks to help individuals at the highest risk for gun violence in some of Chicago's most violence-ridden neighborhoods.
The N3 report identifies how a street outreach program run by Chicago CRED (Creating Real Economic Destiny) not only identifies but also engages such individuals. It details the experiences of participants in the program, highlighting how they perceive the violence that surrounds them, as well as why they joined and choose to stay in CRED.
Noted one program participant: "[My cousin] got shot two days before my prom. That was in May [2019]. Then, he passed away in November. Then in November, November 2nd or 3rd, two people I knew got killed on the same day on two different shootings. My cousin died three days after that, and that was all in November."
This is one of the many insights that N3 has collected across 16 months of ongoing field observations and more than 24 interviews aimed at highlighting the rich, nuanced accounts of participants' lives and program experiences. The interviews explore CRED participants' experiences in the program, narratives about their lives and their motivations for joining the program, and their backgrounds to better understand success factors in participating in the program.
Chicago CRED's Street Outreach Program
N3 is the research partner to Chicago CRED, which takes a multifaceted approach to disrupt the dynamics that drive shootings in Chicago. CRED's outreach efforts target the groups most involved in gun violence and directly engage their highest-risk members. Moving beyond traditional street outreach, CRED invites young men to participate in a comprehensive intervention that includes resources like dedicated life coaching, trauma counseling, education, and biweekly cash stipends.
The organization presently operates in two communities on Chicago's South Side that see some of the city's highest rates of gun violence: the Roseland and West Pullman neighborhoods. To date, roughly 200 participants have entered CRED's program. The vast majority (98%) of participants are African American men, 24 years old on average, who reside in these neighborhoods. All participants are, or have been, involved in gangs and have lost at least one friend or family member to gun violence.
The report details the participants' perceptions of and first experiences with gun violence, with 94% of respondents reporting they were the target of violence at some point in their lives. It also captures the participants' main reasons for joining, such as to avoid violence or because of personal motivations. The report details why the participants choose to stay in the program, such as bettering themselves through professional and educational opportunities or the positive vibes they draw from the program's welcoming, family-like energy.
As one CRED participant noted, "I'm just gettin' tired of being lost. I wanna better myself and I'm getting to the age where I'm supposed to be either ... It's now or never to me." 
Find out more by reading the complete report.
Photo credit: Alyssa Schukar for CRED/Emerson Collective.
Published: January 22, 2021.