IPR Director Testifies at Congressional Hearing on Hunger
Economist Diane Schanzenbach calls for bipartisan support to end hunger in America
Get all our news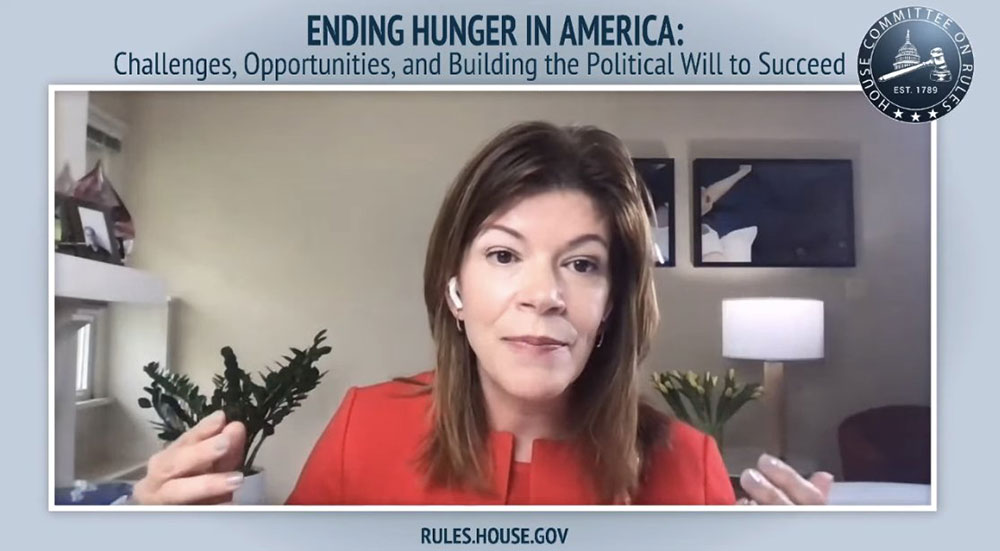 "During COVID, hunger has swelled," IPR Director Diane Whitmore Schanzenbach told the members of the U.S. Representatives House Rules Committee on April 28 during a virtual three-hour congressional hearing on "Ending Hunger in America."
Schanzenbach, an economist and one of the nation's leading scholars on food insecurity and the social safety net, went on to detail the staggering rise of hunger during the COVID crisis with 36 million Americans, or 11% of nation's the population, reporting not having enough to eat between March and August 2020. She concluded with a bipartisan call to end hunger for all Americans.
In discussing why he organized the hearing, the Rules Committee Chair Rep. Jim McGovern, D-Mass., spoke of the "all-hands-on-deck moment" to build a roadmap to end hunger in America by 2030.
"We have everything we need to eradicate hunger in the United States," he said.
"It is a hell of a lot cheaper to solve this crisis than it is to let someone go hungry, get sick, and end up in a hospital needing additional care," he continued. "For too long, we have lacked only one thing: the political will."
McGovern hopes to encourage the White House to organize a national conference that would build on the work of the 1969 conference under the Nixon administration, but also address its oversights to tackle the issue "broadly" and "holistically." 
In addition to Schanzenbach, three other experts also testified:
New York Times best-selling author and entrepreneur Ayesha Curry detailed the work of Eat. Learn. Play., the foundation she co-founded with her husband, NBA star Stephen Curry, and their efforts to curb hunger in Oakland, California, during the COVID crisis.
Thea James of Boston Medical Center traced the evolution of the hospital's anti-hunger work and its in-hospital food pantry and the role of hospitals in addressing hunger and equity in their communities.
Notre Dame's Heather Reynolds, who directs the University's Wilson Sheehan Lab for Economic Opportunities, discussed better coordination of efforts to address hunger and comprehensive, family-centered solutions to poverty.
Hunger and Economic Opportunity
Rep. Tom Cole, R-Okla., the committee's ranking member, pointed to the "enormous number" of federal programs addressing food insecurity, asking about the "lessons learned" in terms of program design. He also asked how programs could avoid income cliffs, when recipients reduce how much they work to avoid losing benefits.
In discussing examples of well-designed programs, Schanzenbach mentioned two "big anti-poverty workhorses," the Earned Income Tax Credit (EITC) and the Supplemental Nutrition Assistance Program (SNAP) and how their designs minimize such cliffs.
To Rep. McGovern's question about the role that economic opportunity plays, she answered that "broad-based economic growth" is a key component to solving hunger. It is important to remember, however, that many people on SNAP are already working, she said. But unstable employment and low and stagnant wages have left those with lower incomes without a way to increase their earnings to fill the gap. Schanzenbach also underscored that once people get back to fuller employment, program costs will decrease due to lower need.
Bolstering the U.S. Social Safety Net
Though the U.S. lags behind its developed peers in terms of maternal and infant mortality, Rep. Mary Gay Scanlon, D-Pa., noted it has a base to work from, though the safety net's "underlying issues" must be addressed.
"Dr. Schanzenbach," she asked, "can you talk a little about how about how WIC and the child tax credit may be helpful with respect to the issue of social determinants of health, maternal mortality, and infant hunger?"
"I am extremely excited about the potential for the child tax credit, which we think will halve child poverty next year," Schanzenbach replied, speaking of the Biden administration's rollout of direct monthly cash payments of between $250 and $300 to 39 million American families starting in July. While many families currently find themselves in a financial bind by the end of the month, these resources will help alleviate that crunch, she continued.
While there's a lot to admire about programs like WIC, the Special Supplemental Nutrition Program for Women, Infants, and Children, Schanzenbach says she still sees room for improvement. For instance, many low-income mothers enroll their infants in WIC, but participation rates drop during two critical stages of development for children—when they are in utero and as toddlers.
Schanzenbach also noted that the U.S. Department of Agriculture's Thrifty Food Plan, which is the basis for SNAP allotments, is in need of an update. Currently, it's based on a plan that expects a family of four to consume more than 20 pounds of orange juice and 5 pounds of oranges each week.
"I love orange juice," Schanzenbach said, but "that's about five times what families actually consume."
Scanlon also wondered how to encourage individuals to purchase more nutritious foods. Schanzenbach cited a randomized control trial, which found that offering a price break on fruits and vegetables increased the amounts that SNAP recipients bought. 
"I would love to see us implement that on a large scale through the SNAP program," Schanzenbach said.
In her closing remarks, Schanzenbach called on Americans to tackle hunger as a bipartisan issue.
"Ending hunger is something that we as Americans can do, and it absolutely should be a bipartisan effort," she said.
Watch the complete hearing.
Diane Whitmore Schanzenbach is the Margaret Walker Alexander Professor of Human Development and Social Policy and IPR Director.
Published: May 25, 2021.