Americans Shift Toward "Pro-Vaccine" Direction After J&J Vaccine Pause
The survey also shows clear preferences for certain vaccines
Get all our news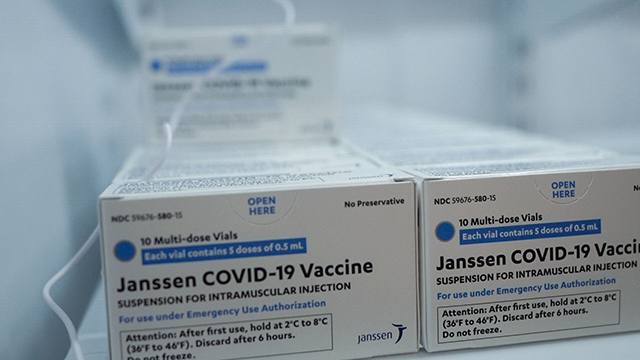 Johnson and Johnson COVID-19 vaccine arrives at Javits Convention Center in Manhattan, New York
A new survey from a research consortium that includes Northwestern reveals that 74% of respondents knew about the Johnson & Johnson (J&J) vaccine pause, but there was no evidence that the high awareness had a negative effect on vaccination attitudes.
Instead, the researchers found the sum of vaccinations and vaccine enthusiasm increased after the pause in almost every demographic subgroup, including gender, race, education, and political affiliation.
"This is an encouraging finding that people seem to understand and trust the reality that science requires due diligence, and the disruption should not be taken as news to not get the vaccine," said IPR political scientist James Druckman, who co-leads the consortium of researchers from Northwestern, Harvard, Northeastern, and Rutgers.
On April 13, the CDC and FDA recommended pausing the use of the J&J vaccine. A small number of individuals developed a rare type of blood clot after receiving the vaccination, but the CDC and FDA lifted the pause on April 23.
Between April 1 and 26, the consortium surveyed more than 18,750 individuals across the country to evaluate their attitudes toward vaccination. Between April 17 and 19, the researchers re-contacted 1,143 non-vaccinated individuals who responded before the J&J announcement to investigate whether the pause impacted their attitudes.
Among these individuals, the researchers uncovered a slight shift in the pro-vaccine direction. Part of the reason is that individuals who indicated they would get vaccinated "as soon as possible" or "after at least some people I know" received their vaccine.
Other key findings on attitudes toward vaccinations after the J&J pause:
Vaccine hesitancy and resistance did not increase: There was a small decrease among those resurveyed because individuals who were vaccine hesitant got vaccinated in late April.
The pause did not impact intent to vaccinate: Before, during, and after the pause, the sum of people vaccinated and the two most vaccine enthusiastic groups remained constant (70%, 69%, 70%).
Americans reveal their vaccine preferences: Respondents who reported that they heard a lot or a little about the pause indicate a preference for Pfizer, followed by Moderna, and then J&J. AstraZeneca is the least preferred. Individuals who did not hear about the pause preferred Pfizer, Moderna, and J&J equally.
Learn more about the findings and the study here.

James Druckman is the Payson S. Wild Professor of Political Science and IPR Associate Director. Previous surveys can be found here.
Photo Credit: Flickr; U.S. Army National Guard, Sgt. Sebastian Rothwyn
Funding for the reports came from the National Science, Knight, and the Russell Sage foundations. Data collection was partially supported by Amazon. Any opinions, findings, and conclusions or recommendations expressed in the studies are those of the authors and do not reflect the funders' views.
Published: May 4, 2021.