Addressing Chicago's 'Unfathomable Violence'
Get all our news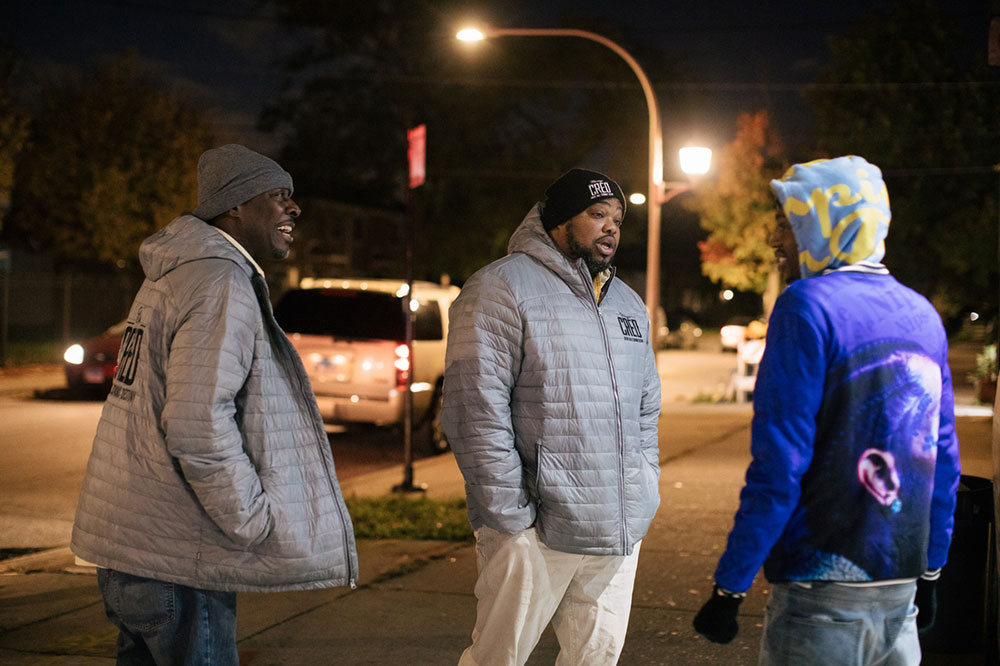 Chicago CRED street outreach workers connect with at-risk men in Chicago to prevent gun violence.
After a near record increase in 2020, levels of gun violence in Chicago remain stubbornly elevated, and deadly, in 2021. But not all parts of the city experience violence equally.
Norman Kerr, Chicago's assistant deputy mayor of public safety, pointed to the "safety gap" among the city's communities.
"We have 77 communities in Chicago and some are safer than others," Kerr said during an August 10 panel discussion. The panel was co-organized by Ruby Mendenhall (PhD 2004) of the University of Illinois at Urbana-Champaign and IPR sociologist Andrew Papachristos.
Kerr, Mendenhall, Papachristos, and a distinguished panel of sociologists, violence interrupters, and public officials examined the entrenched roots of violence in these Chicago communities, as well as efforts to prevent gun violence during the American Sociological Association's (ASA) virtual annual conference. ASA's current president, Northwestern sociologist Aldon Morris, organized and presided over the meeting.
"Chicago is a city where gun violence is concentrated in a small number of neighborhoods that have been surveilled, locked up, and otherwise left out of economic, political, and social and education investments," said Papachristos, who co-directs Northwestern's Neighborhood and Network Initiative or N3.
Quoting a local news report, Mendenhall described the scope of this "unfathomable violence" between the last ASA annual meeting in Chicago in 2015 and its 2021 virtual meeting, which had been originally scheduled to take place in person in the city.
"There's a total of 3,921 individuals who have been killed, including 22 children," Mendenhall said. "And when you think about those who were shot but survived, that number is a staggering 20,958."
Papachristos, who has documented the unequal burden that falls on Black and Latino communities, has long called for treating gun violence like a public health emergency.
Approaching gun violence from an epidemiological perspective allows researchers and organizations to make data-informed decisions about how to bolster and refine the services that offer the best chance of stemming the tide of gun violence. It also addresses its wider impact.
"Violence reaches far beyond just the victims," Papachristos said in a pre-conference interview.
Street Outreach: A Community-Led Effort to Address Gun Violence
Street outreach programs, like Chicago CRED, that offer wraparound services like job training, education, counseling, and trauma support, were discussed as a key community-led effort to address gun violence. 
"Street outreach is a profession where we select and train trusted insiders from the community with credibility and license to operate to engage the highest-risk individuals," said Jalon Arthur, director of strategic initiatives at Chicago CRED and one of the ASA panelists. "We are talking about shooters, potential shooters, for the purposes of interruption—connecting disconnected individuals to a number of resources to reduce violence. 
He cites CRED's focus on using data to develop new strategies and to ensure that programs adjust and continue to meet current, on-the-ground needs, like adding shifts in the early morning hours when many shootings take place. 
"You can become outdated overnight," he said. "So if you are using a 2020 strategy in 2021, you are not maximizing your impact."
Arthur described the deployment of CRED's FLIP program, Flatlining Violence Inspires Peace, in 77 of the city's most violent hot-spots in 12 Chicago neighborhoods. The program recruits men and women from the community to act as peacekeepers, giving them stipends and training them to maintain peace. One of their key tools is forging non-aggression pacts between rival gangs.
According to N3 preliminary data, 96% of those hotspots have had no shootings during the times and days FLIP peacekeepers were present from May 21 to July 24, 2021. Through the program, outreach workers and FLIP peacekeepers have forged 40 non-aggression or peace agreements in 12 communities.
A recent N3 report on CRED also underscores the importance of street outreach workers to stemming gun violence, and the difference they can make in the lives of those who are most at-risk of violence and victimization in their communities.
"Eighty percent of the time, street outreach workers are first ones on the ground when there's an incident," Papachristos said. "They don't go home to different neighborhoods; they go home right around the block. They're working the city's toughest beat."
Chicago CRED seeks to reduce gun violence by inviting young men to join a program with dedicated life coaching, trauma counseling, education, and biweekly cash stipends.
Participants cited CRED's recruitment efforts and credibility as reasons they joined and remained in the program. Staff members were seen as credible because of their history with street activity, and their success served as evidence of the program's effectiveness.
"I think some of these people here probably care about you more than your own family, man. They make you feel like you something. It gives you motivation to push," said one CRED participant.
The 'Fragile' Profession of Street Outreach
Still, while street outreach does have its successes, it is limited by its scale and even its status as a profession.
We have 13,000 police officers in Chicago, but only 250 street outreach workers across the entire city, Arthur noted. 1965 was the last time the city had fewer than 400 homicides, he continued, and with around 800 homicides in the past year, "It's irresponsible that we would have a work force that lean."
Kerr pointed to the "fragile" nature of street outreach as a profession and inconsistent funding as major roadblocks to doing more. He spoke about how one conviction of a street outreach worker could jeopardize the entire profession, while the conviction of a doctor or lawyer would not have the same effect in their professions.
"We don't get the same luxury and respect as some other professions get, and we're trying to legitimize this work," he said.
Considering the Violence from Multiple Angles
The panelists discussed ideas around addressing the systemic roots of gun-violence problem from multiple angles that go beyond a simple reliance on policing.
Coordinating other city services could also help, and Kerr offered that city departments should come together in the same way to approach violence as they have done during the COVID-19 crisis. He pointed to the city's "summer safety strategy" that is tackling violence within 15 of Chicago's most violent beats. He calls it an "all-government, all-city" response that better coordinates city services from streets and sanitation and libraries to parks and buildings.
The program has only been running for about 17 weeks, he said, and more work is needed, but preliminary results are showing a drop in homicides of about 35% in these small zones. To further this work, the city just launched its first multi-agency Community Safety Coordination Center.
There are no magic formulas for solving the issue of gun violence, but there is an "intense push to see an immediate impact," Papachristos said. "But these programs need time to grow and mobilize."
University of Chicago sociologist Robert Vargas (PhD 2012) pointed to several ways to help remove obstacles to community-based solutions to gun violence, including a need to free data collection from a police department monopoly, combat the politics of fear, and build coalitions like what was done to end cash bail.
"There's very little that researchers and outsiders can do if data is gatekept," Vargas said.
Cook County State's Attorney Kimberly Foxx spoke about her own traumatic experiences growing up in the Cabrini Green housing project and hiding in a bathtub during neighborhood shootings, saying, "The things we need to do to prevent violence are not complicated."
She went on to describe living in the "epitome of concentrated poverty," going to failing schools, and having no access to fresh food or healthcare. But now the former public housing site has grocery stores, award-winning schools, and even an indoor sky-diving attraction.
"What I would suggest to you is that, that flush of resources, that access to the needs to attend to people's health and ability to thrive is why we see communities that have less crime, less gun violence," Foxx said in discussing the systemic disinvestments in Black communities. "[I]f we saw this level of violence over by the iFly where I used to live, the response would be different."
Find out more about the 2021 ASA presidential panel on "The Science and Prevention of Gun Violence in Chicago: The Promises of Emancipatory Sociology."
Andrew Papachristos is professor of sociology, faculty director of the Northwestern Neighborhood and Network Initiative, and an IPR fellow.
Photo credit: Barbara Kinney, CRED/Emerson Collective
Published: August 17, 2021.