Spotlight: Francesca Gaiba
IPR welcomes its first senior director of operations and outreach
Get all our news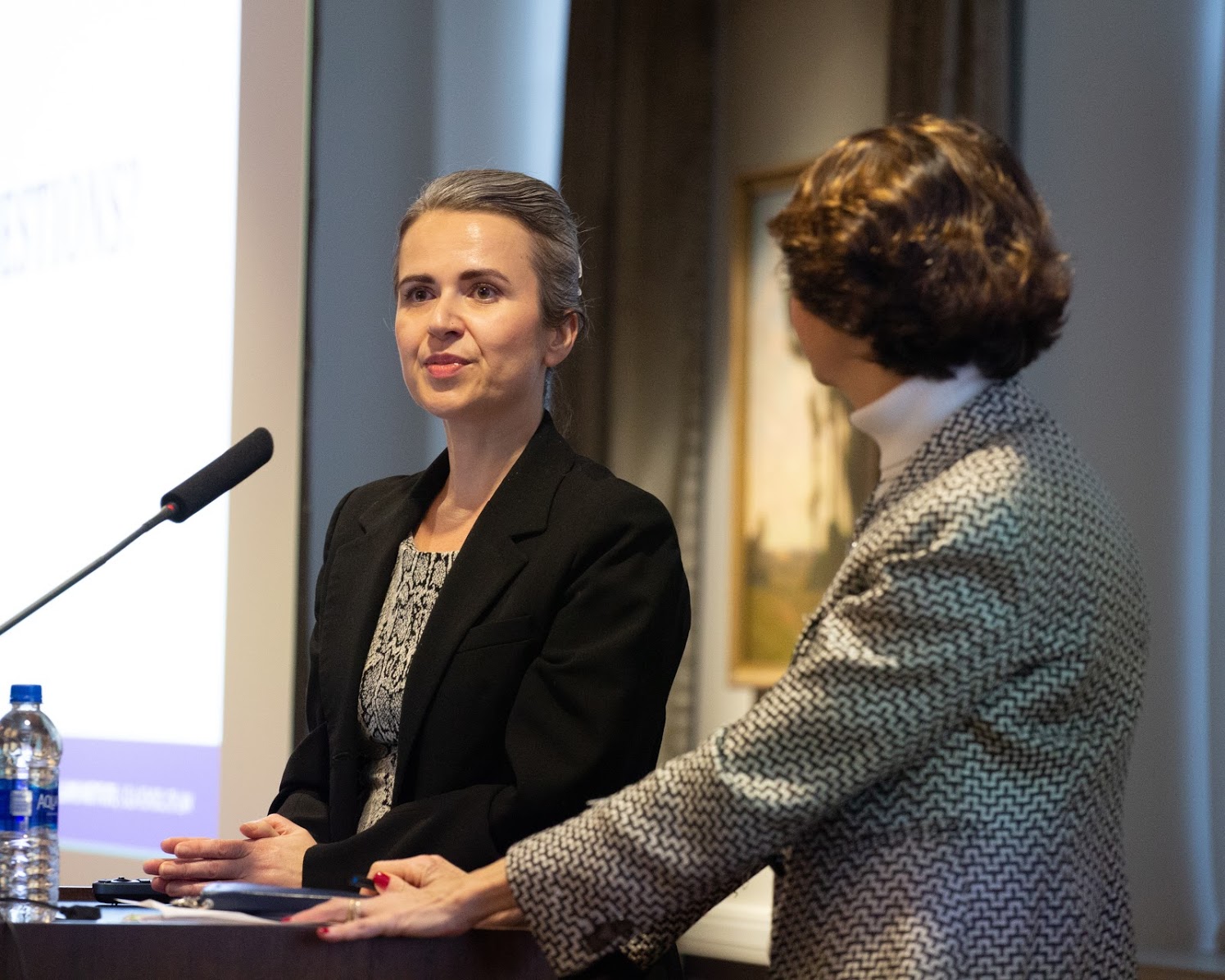 Francesca Gaiba (left) presents a gift to the Williams Institute's Jocelyn Samuels at a joint IPR-ISGMH lecture in 2019. 
In August, cultural anthropologist Francesca Gaiba joined IPR as its first senior director of operations and outreach. A multilingual, first-generation college student, Gaiba brings with her extensive experience as an accomplished administrator, as well as a background in conducting award-winning research.
"Francesca brings a strategic mind, experience developing and coaching staff, the ability to manage complex projects, and a passion for IPR's mission," said IPR Director and economist Diane Whitmore Schanzenbach.
Gaiba, who is also a research associate professor, had already established such key research administrative roles in two previous positions. She came to IPR from Northwestern's Institute for Sexual and Gender Minority Health and Wellbeing (ISGMH), where she was recruited to serve as its first associate director in 2015.
"I'm excited to join IPR and to play a role in supporting faculty and their research on important topics, like poverty, violence, or race," Gaiba said.
At ISGMH, Gaiba managed its overall operations, taking the lead on strategic planning, development, research administration and faculty affairs. ISGMH grew from 35 to more than 90 employees while she was there, and she oversaw the institute's move into its own, specially designed facility, Gaiba said. Prior to that, she worked at the University of Illinois at Chicago building out its Institute for Research on Race and Public Policy (IRRPP) from 2010–15 as its associate director for research.
From Interpretation to International Studies and Research Administration
As she set out for college in her home country of Italy in the early 1990s, Gaiba wanted to study history. But her working-class father wanted her to study something more practical, like chemistry or foreign languages. So she settled on studying to become a conference interpreter.
In writing her undergraduate thesis at the University of Bologna and then at the University of California, Berkeley, however, it was research she fell in love with. Her thesis would eventually serve as the basis for her award-winning monograph, The Origins of Simultaneous Interpretation: The Nuremberg Trial (University of Ottawa Press, 1998).  
Berkeley opened her eyes to graduate studies. While she loved interpretation, she said she wanted to study something that would allow her to "contribute to the conversation" instead of just translating it.
Gaiba moved across the U.S. and began her fellowship as a doctoral student in international relations at Syracuse University. Its interdisciplinary program required classes in different social science departments, and her first—a class in "culture and conflict" in anthropology—became her "homecoming."
"Why do we have conflict within cultures and across cultures?" she said in raising the class' biggest question. "How [anthropologists] look at the world, it just makes so much sense."
So she switched to pursuing a PhD in anthropology. Her interest in gay and lesbian relationships from her time in San Francisco led her to specialize in queer studies.
To Chicago, Research Administration … and Pastry School
Pursuing her fieldwork on friendships between gay men and straight women brought Gaiba to Chicago, though it was hard securing financial support for her research in this then-emerging field. Her fluent German led to a job in that department at UIC. She eventually progressed to grant management and then to becoming the associate director of IRRPP.
Working at the institute not only provided her with a "thorough education" on the depth of racism in the United States, but also the ins and outs of grants funding and proposal writing.
"I love working with faculty in the social sciences and humanities, and helping them to find short- and long-term solutions to their research needs," she said.
In addition to her UIC day job and finishing her PhD, Francesca took on a more epicurean challenge: She attended Kendall College's well-respected program in professional baking and pastry.
"I would finish work at 5 p.m. at UIC, and I would be at Kendall from 6–11 p.m. at night, taking evening classes in everything from artisan bread, wedding cakes, to chocolate class," she said.
She has put her certificate to good use since then, volunteering to cook in soup kitchens as well as serving up dinners for marginalized youth, and she co-founded an advocacy organization in Chicago to fight for equal restroom access for transgender and gender nonconforming individuals. It is that same sense of social justice that appeals to her in coming to work for IPR.
"To me, it's very important to work in a job that I feel makes the world a better place," she said. "I love this idea that the research that we support in IPR is meant to directly affect and improve the lives of people through policy."
Francesca Gaiba is IPR research associate professor and senior director of operations and outreach.
Published: September 15, 2020.