Managing Multiple Epidemics
How street outreach workers are addressing gun violence and COVID-19
Get all our news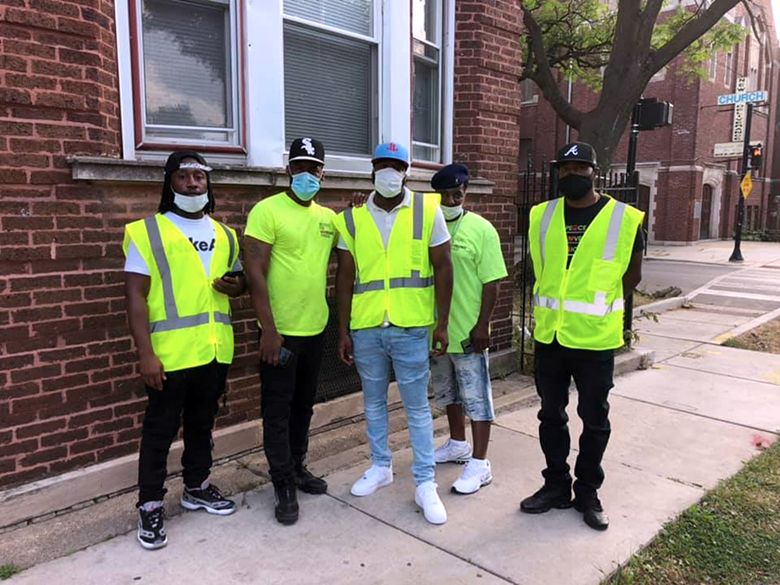 A team of street outreach workers with Communities Partnering 4 Peace helps to manage three epidemics in Chicago.
Chicago's more than 180 street outreach workers, who work to prevent gun violence in some of the city's most violence-touched neighborhoods, are exhausted.
"Coronavirus is real, but what's happening in our communities is also a reality. We have to deal with that reality on the ground," said one outreach worker. "This is the most dire situation I've been involved with in my life. There's so much confusion in our community."
A new report from the Northwestern Neighborhood and Networks Initiative (N3) details how these vital workers are currently dealing with three pandemics: gun violence, the coronavirus, and racism and police violence. Data show that the neighborhoods covered by outreach workers affiliated with Communities Partnering 4 Peace (CP4P) were the very same neighborhoods with Chicago's highest rates of COVID-19.
As the shelter-in-place order took effect on March 20 in the city, outreach workers were asked to be more active than ever. Violence mediation and prevention is incredibly complex and grueling work that involves trying to find and engage disputing parties, often in multiple meetings in various neighborhoods. In 2019 alone, CP4P organizations mediated nearly 1,500 disputes.
Once gun violence escalated, so did the need for mediation, participant support, and counseling. With only 180 street outreach workers responding to thousands of shootings each year, demands for violence prevention exceed the available resources.
To describe how outreach workers have adapted, N3 researchers gathered field notes during daily citywide calls with Chicago street outreach organizations between March 2020 and the present. They also conducted interviews with street outreach participants and staff prior to COVID-19 and continued conducting virtual interviews over the summer. 
N3's analysis reveals five ways in which COVID-19 has changed violence prevention in Chicago and how street outreach organizations have adapted amid these multiple pandemics:
Street outreach workers expanded their roles by communicating public health information to their communities. But they also stepped in by delivering protective personal equipment, clothing, or toiletries, in addition to dealing with mental health issues and domestic violence.
Getting a job has been one of the most effective remedies in helping at-risk participants step away from gun violence, yet a flailing economy imperils these economic gains. The outreach workers added to their already high caseloads by engaging in house visits or making multiple calls a day, for example, to stem potential backslides for their clients most at risk.
With the shelter-in-place orders restricting city residents to their homes, street outreach workers had to turn to monitoring social media more actively to help prevent violence.
The pandemic has hit communities of color particularly hard. Many street outreach workers, out in their communities every day, found themselves dealing not only with greater risks to their health, but also with the deaths of their family, colleagues, and friends—not to mention their fatigue and frustration in the wake of unrest following George Floyd's death. They tapped into their group's solidarity to address low morale and daily pressures.
Outreach workers foresaw the summer's "perfect storm" of warm weather, pent-up energy, no school or work, and economic hardship. But they feel mounting pressure to reducing the violence as they have received more resources to combat it. So they increased their public and street engagement to better communicate how they are addressing the increase in violence.
Despite the challenges, the report also found many ways in which the street outreach workers rallied around their colleagues to boost morale, discussed self-care and wellness more frequently, and came up with innovative ways to deliver expanded services to their communities when they needed it the most. 
Said one CP4P participant, "I can only imagine the stress he got on himself, and on top of that, he's a dad! Man, by itself it's stressful, and he finds time for it all." 
Read the full report here.
Photo credit: Institute for Nonviolence Chicago
Published: September 17, 2020.