Chicago Community Policing Initiative Shows Promise
Early results show increased trust and community engagement
Get all our news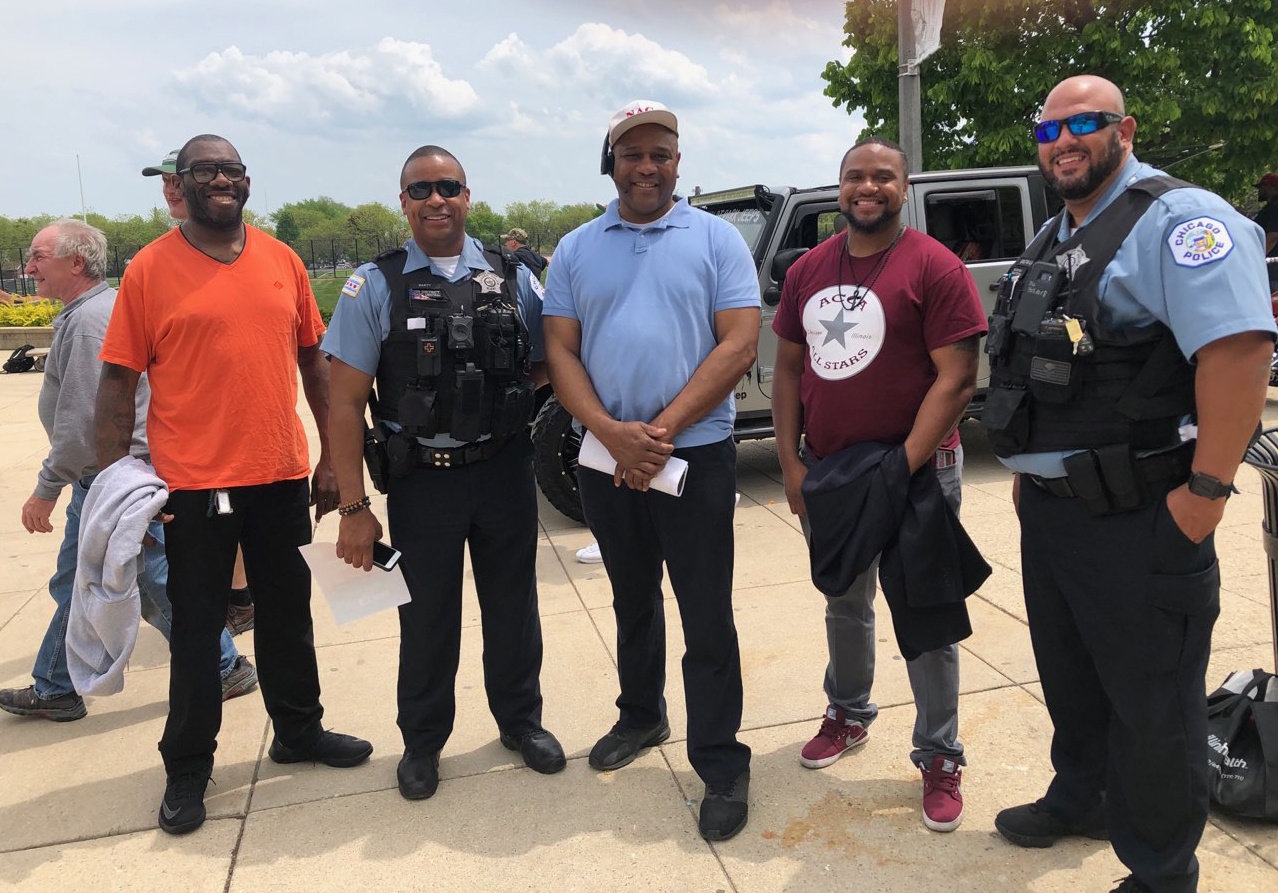 District 25 community ambassadors meet with CPD officers.
In January 2019, the Chicago Police Department (CPD) in collaboration with the Policing Project at New York University School of Law launched the Chicago Neighborhood Policing Initiative (CNPI). CNPI is a pilot initiative designed to change the way CPD polices and to ensure communities have a voice in how they are policed.
The initiative's overarching goal is for CPD and communities to work together to co-produce public safety and equitable policing. CNPI was first launched in CPD District 25, an ethnically and racially diverse area of approximately 196,828 residents (see Appendix 1 in the full report). It includes the neighborhoods of Humboldt Park, Avondale, Dunning, Montclare, Belmont Cragin, Hermosa, Logan Square, and Austin.
As CNPI's research and evaluation partner, the Northwestern Neighborhood & Network Initiative (N3) began evaluating CNPI during the initial rollout and has focused its early analysis on two main components: its implementation and its impact on trust and approaches to police work, which are covered in the complete report. 
A core part of our research design was to interview District Coordination Officers (DCOs) and community residents every six months over two years. Several key findings and concerns emerged from these initial interviews. We found that both community and police expressed a desire for safer neighborhoods by engaging with one another. Moreover, both groups expressed concerns about being stereotyped and wished to be treated as individuals. However, they understood the obstacles to better police-community relationships differently. While police generally believed community did not understand police work and required greater face-to-face interactions to bridge gaps and build trust, community members noted the lack of police visibility and cultural misunderstandings with officers as key concerns to building trust.
Since the baseline interviews, N3 has completed more than 50 in-depth interviews with officers and residents to better understand their experiences with, and opinions of, CNPI. We also followed community members and DCOs, observing them in meetings and ride-alongs for more than 100 hours to contextualize interviews. Key findings include:
Many community members and police officers reported that CNPI helped facilitate relationship-building.
DCOs reported more frequent and meaningful interactions with the community.
Community members noticed an increased police presence.
Less-engaged community members say officers do not focus on public safety issues they care about.
N3 is also in the process of completing a quasi-experimental analysis of the initiative's impact by examining levels of community trust before and after CNPI and comparing District 25's levels with districts where CNPI is not present. Overall, preliminary statistical analyses show that community trust levels related to program impact are trending in a positive direction and are statistically significant.
Results from the first year of program implementation suggest that both community and police believe CNPI to be useful for building trust and fostering meaningful community engagement. Qualitative and quantitative results indicate that community engagement and trust levels are headed in a positive direction. Still, several obstacles remain to improve long-term, consistent interactions between police and community. Accordingly, we offer the following recommendations to strengthen CNPI in District 25 and beyond:
Increase Capacity. Enroll additional officers to better achieve the initiative's goal of building trust through consistent interactions between police and community.
Ensure Consistency. Avoid pulling officers away from their DCO scope and responsibilities.
Invest Time. Allow the Community Engagement Initiative (CEI)—one of the two core elements of CNPI—the time it needs to mobilize.
*See the complete report for all tables and figures.
Photo credit: Deondre Rutues

Published: July 7, 2020.