Rethinking How We Study Civil Wars
IPR's Ana Arjona examines how tendency to focus on violence can warp perceptions
Get all our news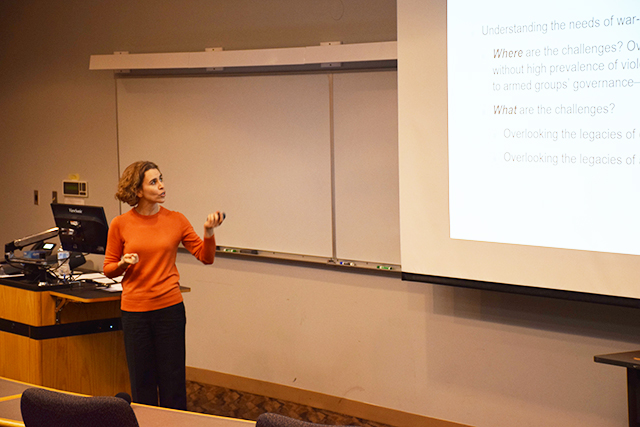 Ana Arjona presenting at a November 11 IPR colloquium.
Having spent her career studying the local dynamics of conflict zones, political scientist and IPR associate Ana Arjona is now turning to investigate how her field examines civil wars—and the potential pitfall it runs in such an examination.
"Civil wars are about more than violence … a lot of unexpected things happen in conflict zones," Arjona said at a November 11 IPR colloquium, "and it's bad for our understanding of these conflicts and for policy that we don't take them into account."
Arjona points to how the field of political science generally tends to favor the study of overt violence in a civil war at the expense of other factors—and how such a narrow perspective can warp perception of the topic.
"Unless we understand how [civil wars] happen, how these groups are fighting, and what are their legacies, we can't really advance knowledge, and we can't decide on policy interventions," Arjona said.
Even without outright violence, the mere presence of military forces in a civilian area can have deadly effects. In the recent Colombian civil war, for instance, she described how the attitudes about the war's eventual settlement differed measurably: The attitude of a person who lived in a territory ruled by the Revolutionary Armed Forces of Colombia, FARC,  differed from those who avoided FARC rule.
Identifying different experiences of war is critical, Arjona argued, otherwise, generalizations made about civil war's effects are flawed.
"You find such different correlations between various wartime experiences and different outcomes that we can't generalize that violence, or civil war, is doing A, or B, or C," Arjona said.
Rather, she encourages her colleagues to think about the different phenomena to escape the limits of a violence bias. Doing so could lead not just to a new understanding of civil war's effects in areas like nutrition and economic development, but a new definition of "civil war" altogether.
If a conflict doesn't produce a certain number of deaths per year, but still features lengthy military occupation, she asked, should it be treated as a civil war? 
That question, according to Arjona, opens new research avenues that could have implications for the fields of political science and economics alike.
To that end, she is proposing to create a new longitudinal study of individuals and communities both during and after a civil war to study both short- and long-term effects. 
"This matters for development—and trying to understand more how democracy plays out in the aftermath of war," Arjona said.
Ana Arjona is an Associate Professor of Political Science and IPR Associate.
Published: November 18, 2019.