Decision Making in a 'Broken Political System'
Former Treasury Secretary Rubin discusses current U.S. challenges, public service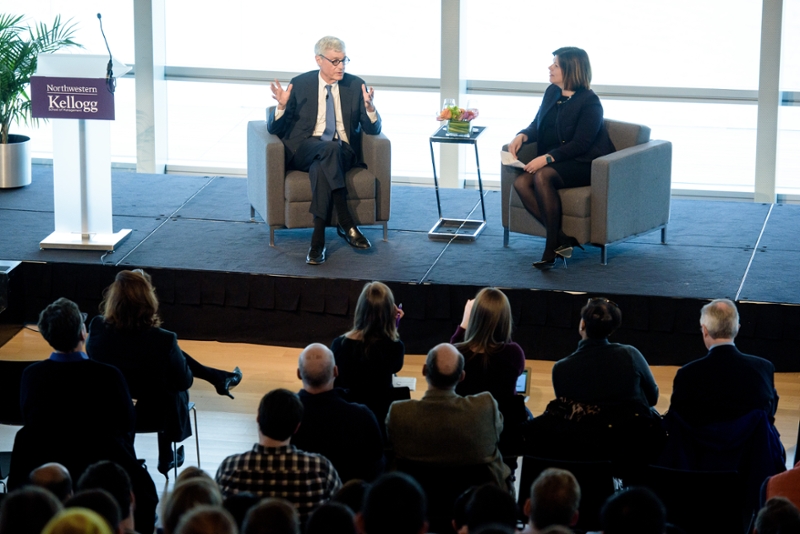 As an economic advisor to President Bill Clinton and a secretary of the U.S. Treasury in the 1990s, Robert Rubin faced many tough decisions, from the economic maelstrom of the Mexican peso crisis to passing government budgets and debating tax cuts—many of which bear striking parallels to current headlines.
The former Goldman Sachs co-chair and chair emeritus of the Council on Foreign Relations took part in a conversation on April 5 at Northwestern University with economist Diane Whitmore Schanzenbach, who directs the Institute for Policy Research (IPR). Before an audience of more than 200, the two tackled a number of current economic and political topics, including the state of the economy, foreign policy, congressional dysfunction, and White House decision making.
Kellogg finance professor Janice Eberly, director of the Kellogg Public-Private Interface (KPPI), a former U.S. Treasury assistant secretary, and an IPR associate, pointed out that the event was not only remarkable because of its guest speaker, but also because of how the event co-sponsors, IPR, KPPI, and the Buffett Institute for Global Studies, exemplify the "growing partnership across the Northwestern campus in research and public policy issues."
Challenges for America in a 'Dangerous World'
"We are facing some serious complexity and uncertainty, both in the short and long term," Schanzenbach began, "so what do you have to say about the outlook for the economy?"
"In the short term, who the hell knows?" quipped Rubin. "Now, we'll turn to the long term."
Rubin compared America to other industrialized countries, highlighting its key structural strengths, including rule of law, natural resources, flexible labor and capital markets, and its dynamic society. 
"I would rather be engaged in economic activity here than any other country, subject to one huge caveat: If we're going to realize that potential, we're going to have to meet hugely consequential policy challenges," Rubin said.
He cited mass incarceration and systemic poverty as some of the challenges, but he pointed to partisan polarization as the major roadblock.
"Independent of our current president, you go back over the last decade and Congress has fundamentally been dysfunctional," he said. "The fundamental question for the future of this country is, will we re-establish political effectiveness for this country, or will we continue in the mode that we've been in?" 
Despite the seemingly insurmountable odds against fixing the nation's political system, he noted that America could quickly get back on track.
"We have had a history of political resilience, and politics can change very, very rapidly in America," Rubin said. Still, even American resilience might fail to help the nation confront what he sees as two of the most pressing global issues, climate change and nuclear proliferation.
"I think we live in a very dangerous world," Rubin said. 
According to Rubin, after World War II, the United States was the lone source of global stability, and no country or international organization is currently capable of taking up that mantle.
"Now, at a time when the world needs it more than ever, we're withdrawing," he said. 
Decision Making in Uncertain Times
"The heart of your experience both at Goldman Sachs and in government was making good decisions," Schanzenbach asked, "so how do you go about [it]?"
Rubin replied his best training for decision making was not, perhaps surprisingly, a finance or economics course, but an introductory philosophy class that he took as a Harvard sophomore. His revelatory take away?  "There are no provable certainties." 
"When you think about it in terms of decision making," Rubin said, "it means all decisions are about probabilities and that fashioned the mindset with which I approached everything I have ever done."
This mindset is what helped him to manage the volatility of Goldman Sachs' arbitrage department, as well as national and global uncertainty from day one in the Clinton White House. 
Right after he was sworn in as Treasury Secretary, Rubin held an emergency meeting with President Clinton: Mexico had suddenly devalued its peso against the dollar, and the burgeoning currency crisis held grave consequences for the U.S. and world economies. After running through a policy-oriented "probability expected value analysis" with the president, Rubin said Clinton understood there were no guarantees, and being wrong would hold enormous damaging financial and political risks. 
As the director of the inaugural National Economic Council (NEC), Rubin gathered a team of advisers to determine the probabilities of the outcomes of decisions and events using the best information available.
"We would debate it out," Rubin said, describing the NEC as "an honest broker" that advised President Clinton on trade, fiscal, human capital, or other economic issues. He also pointed out that every president since Clinton has had an NEC.
"We brought all of the perspectives together at the same time," Rubin said about the process. He noted that doing so conferred several advantages: First, it gave the president multiple perspectives that allowed him to make an informed decision, and second, even when some of the parties disagreed, they publicly supported the decision, which prevented disagreements that others could exploit.
From the Private Sector to Public Service
"We have a lot of MBA students here today," Schanzenbach inquired, "so what point in your business career is a good time to step off and do public service?"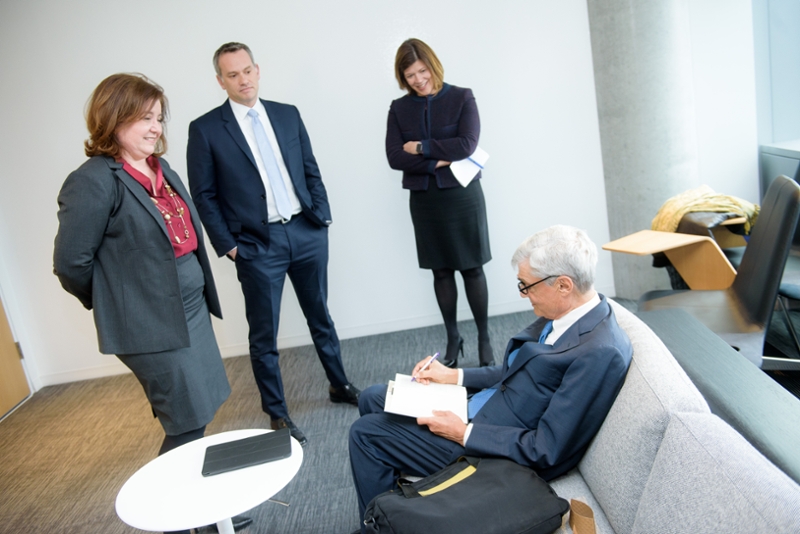 "If you are going to be in government full time, it depends on your opportunity," Rubin said. One opportunity he pointed to is the 2018 midterms, which he said are "massively important."
"Complaining is not a strategy," he said, and no matter which side of aisle you are on, "I think all of us should get out there to support the policies and candidates that [we] want."
For students who hope to move from the private sector to public service, he suggested becoming active in the political process, even by volunteering for campaigns in on-the-ground roles like knocking on doors and making phone calls. 
Rubin acknowledged, however, that many in the private sector viewed his own move to public service as a mistake. 
"People thought I was crazy because I was co-senior partner at Goldman Sachs and I was giving that up to become a staff person in the White House," Rubin said. "I always knew that if I had the opportunity to be in government someday, it was something I wanted to do."
"In my lifetime, no one has had more influence on economic policy than Mr. Rubin," said Benjamin Harris, a Kellogg visiting associate professor with KPPI. "From the way we think about public debt, to trade agreements, to international finance, he has shaped the way our country approaches the most pressing economic challenges."
Robert Rubin is former U.S. Treasury Secretary, the first director of the National Economic Council, former co-chair of Goldman Sachs, and chair emeritus of the Council on Foreign Relations. Diane Whitmore Schanzenbach is the Margaret Walker Alexander Professor and IPR director. Janice Eberly is the James R. and Helen D. Russell Professor of Finance, faculty director of the Kellogg Public-Private Interface, and an IPR associate, and Benjamin Harris is visiting associate professor with KPPI.
Published: May 24, 2018.