Riedl Named Director of Program of African Studies
Will head influential program that has spurred seven decades of scholarship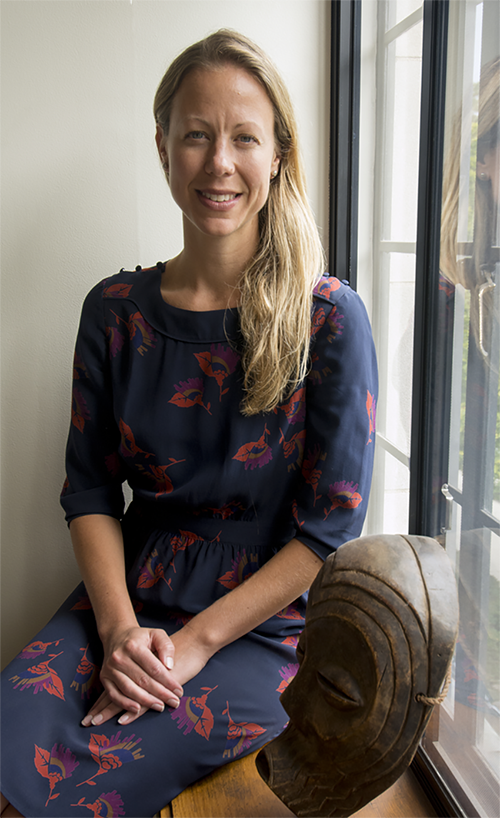 Northwestern University has appointed IPR political scientist Rachel Beatty Riedl as director of the long-running Program of African Studies (PAS), the first of its kind in the United States. Housed within the Buffett Institute for Global Studies, PAS serves as a vital base for the world-class Africanist faculty, students, and professionals attracted to Northwestern and its renowned Herskovits Library of African Studies.
"It's an exciting time to serve as director of PAS, in large part because of the strength and dynamism of our faculty engaged in research pertaining to Africa, the University's global vision, and the Program's notable historic and contemporary foundations," says Beatty Riedl. "I look forward to working with members of the PAS community in Evanston and Chicago, as well as our alumni and partners around the world."
Beatty Riedl joined Northwestern in 2010 as an assistant professor of political science, following a postdoctoral fellowship at Princeton University. She is also director of the French Interdisciplinary Group at the Buffett Institute for Global Studies.
The author of the award-winning Authoritarian Origins of Democratic Party Systems in Africa (Cambridge University Press, 2014), Beatty Riedl studies institutional development in new democracies, local governance and decentralization policy, religion and politics, and authoritarian regime legacies, with a regional focus in sub-Saharan Africa.
"It's wonderful to have Rachel in this leadership role," said Celeste Watkins-Hayes, associate vice president for research and professor of sociology and African American studies. "PAS has established itself as a preeminent program throughout its storied 70-year history, and we look forward to seeing it reach new heights under her directorship."
Founded in 1948 by pioneering anthropologist Melville Herskovitz, PAS has achieved international prominence for fostering the production of innovative scholarship, the training of hundreds of African specialists, and the development of new ways of thinking about the African world. Since 2012, the program has been directed by political scientist Will Reno. Today, the program remains at the forefront, advancing knowledge of Africa and its diaspora, strengthening Northwestern's involvement in the continent, and promoting cooperative approaches to increase international understanding.
"Over its long history, PAS has produced influential interdisciplinary scholarship and helped shape leaders who have made significant contributions in academia and political life," said Jay Walsh, vice president for research. "The longstanding success of PAS is a testament to the exceptional faculty who have been affiliated with the program and who have led it. I thank Will Reno for his commitment and service, and look forward to seeing PAS continue to thrive under the leadership of Rachel Beatty Riedl."
PAS was founded at Northwestern in 1948. As the first formally established program of African Studies in the United States, it has grown from a few courses and a multidisciplinary graduate student seminar into a large, well-rounded curriculum of African courses in the social sciences and humanities with a graduate student training program focused on Africa-based fieldwork and research issues. Over the past 70 years, its faculty and alumni have been instrumental in developing methodologies in linguistics, oral history, anthropology and sociology, African gender studies, art history, and African state formation, among others. They have established institutes for secondary school teachers and curriculum development for basic college courses on Africa topics. The program facilitates publication of research and its faculty and students actively collaborate with research centers throughout Africa. Alumni from the program have been and continue to be influential leaders in the academic and political realms in both Africa and the United States.
PAS continues to support research exchanges between scholars on the African continent and in the United States, and has leveraged collaborations that include members of the Block Museum, Herskovits Library, Weinberg, Medill, Feinberg, Kellogg, Pritzker, and beyond.
"PAS is a place where discussions generate new ideas, and we can catalyze those into projects and research agendas," says Beatty Riedl, who credits a year abroad in Senegal with developing her interest in Africa. "Collaboratively, in exchange with our partners, we create and disseminate pathbreaking knowledge on a global scale."
Rachel Beatty Riedl is associate professor of political science and an IPR fellow. 
This article was originally published by Northwestern Research News.
Published: July 11, 2018.