What Can the U.S. Midterms Tell Us About 2020?
Northwestern researchers discuss implications for politics, media, and the economy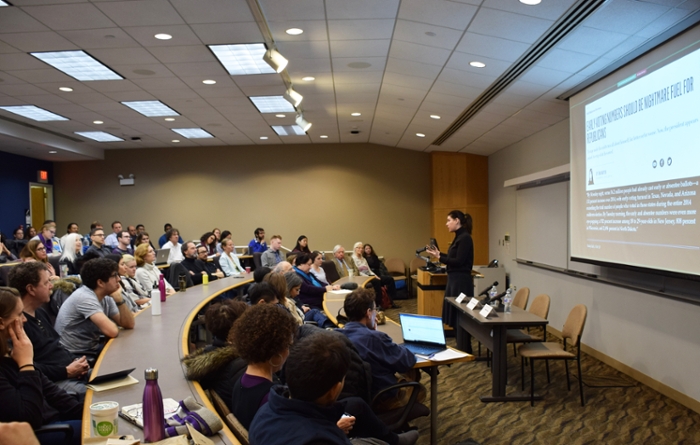 Rachel Davis Mersey, right, was one of three panelists discussing the implications from the 2018 midterms.
The 2018 midterm election broke several records: 133 million people—48 percent of eligible voters—turned out to vote, electing the most diverse body of candidates to the House of Representatives in its history. 
"There was also record early turnout, which has changed the nature of elections today. Forty million people turned out early, and 48 percent of eligible voters cast ballots," said IPR political scientist James Druckman in opening IPR's November 12 panel discussion of midterms. He also noted another one for the record books—the more than $5 billion spent on political campaigns.
Before more than 90 faculty, students, and members of the public, three Northwestern experts, Laurel Harbridge-Yong, Rachel Davis Mersey, and Robert Gordon, discussed what these record-breaking results might indicate for Congress, media, and the economy over the next two years and for the 2020 presidential election. 
A 'BLUE WAVE?'| POLARIZED MEDIA | THE ECONOMY AND 2020
Was There Really a 'Blue Wave?'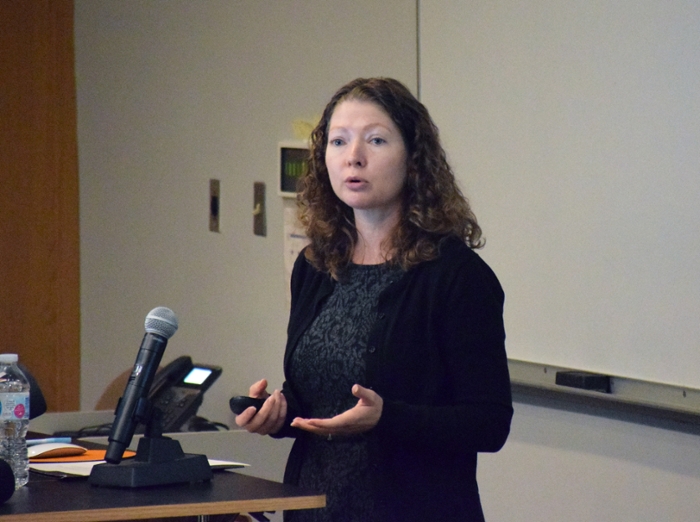 Republican losses were expected, as the "one rule of thumb in American politics" is that the president's party will lose seats in midterm elections, said IPR political scientist Laurel Harbridge-Yong. But for Democrats, it might not have been the overwhelming "blue wave" they had hoped for. 
Democrats flipped 39 congressional districts from red to blue, which is slightly above average, according to Harbridge-Yong. Also notable in this election, she said, was the number of female and diverse candidates, with 100 women who will be serving in the House, the most ever, including the first-ever Muslim and Native American women representatives.
But the minimal wave of seats changing hands obscures a broader electoral shift. "There was a larger shift towards the Democratic candidates across the country, compared to only a handful of districts that became more Republican," Harbridge-Yong said.
President Donald Trump is "remaking the Republican Party in his image," she said, and that image is not selling well in suburbia.
The vote totals also hide a structural advantage for Republicans who benefit from a skewed "votes-seats curve," in which they can win a majority of seats even when they only win 49 percent of the votes, she explained. In contrast, Democrats received a large margin of votes, but only a slim margin of seats. 
"This suggests that there was perhaps a larger blue wave than what we're actually seeing," Harbridge-Yong said. 
In the Senate where Republicans picked up two seats, a favorable electoral map and the hearings on the alleged sexual misconduct of Supreme Court Justice Brett Kavanaugh were key factors. 
"Ultimately, Kavanaugh ended up being the worst of both worlds for the Democrats," Harbridge-Yong said. "Not only was he confirmed and they were opposed to that, but his confirmation process dramatically shifted the mobilization on the Republican side."
The election results of split congressional control mirror what happened in the 2010 elections—a Congressional makeup that led to what is considered the least productive Congress ever.
While action on infrastructure, prescription drug coverage, and executive branch oversight might take place with the Democrats in charge, Americans can continue to expect "lots of gridlock," Harbridge-Yong predicted.
The Polarized Media
The only thing people hate more than Congress right now, quipped IPR media scholar Rachel Davis Mersey, is the media. 
Media organizations were criticized for their 2016 coverage of polling data, with many organizations having predicted a Hillary Clinton victory. But Mersey said the media's 2018 coverage swung too far in the other direction with overly complicated polling analysis with concepts like "margin of error," "win probability," and "vote share" are not familiar to the average American.
"There are real consequences when media companies, in an effort to be transparent, get more complicated," Mersey concluded.
She also explained a shift, particularly in cable news, toward polarized coverage, including CNN's shift leftward. Mersey provided an example where CNN anchors said, "We took back the house," verbally aligning themselves with the Democrats. 
This shift in language by mainstream media outlets is alarming, she said, because if people watching the news do not see themselves as part of the "we," they will likely turn to a more partisan media source.
"What's really happening is we see blue-leaning media companies leaning more blue, and red-leaning media companies leaning more red," Mersey said.
Once viewers turn to more partisan sources, then they become exposed to more galvanizing language. She gave the example of how Fox News called the Senate in favor of Republicans 40 minutes before any other network, giving it an extra 40 minutes to discuss the Republican agenda in polarizing language. 
The consequences of media polarization are filtering down to ever lower levels: In its willingness to call races far earlier than its competitors, Fox News is using its platform to "drive people further to the margins, [and] it has significant policy consequences," she said.
The "fake news marketplace" also continues to pose problems. Attempts by Facebook and other social media platforms to deal with the issue are pushing users off public pages into private groups and spaces, where the flow of false facts can circulate unfettered. Users are also being driven to other platforms, such as LinkedIn, that are even less equipped to handle the flow of misinformation, Mersey said.
"The circulation of inaccurate information is being driven behind the walls in a way that we should be concerned about," Mersey said.
The Economy and 2020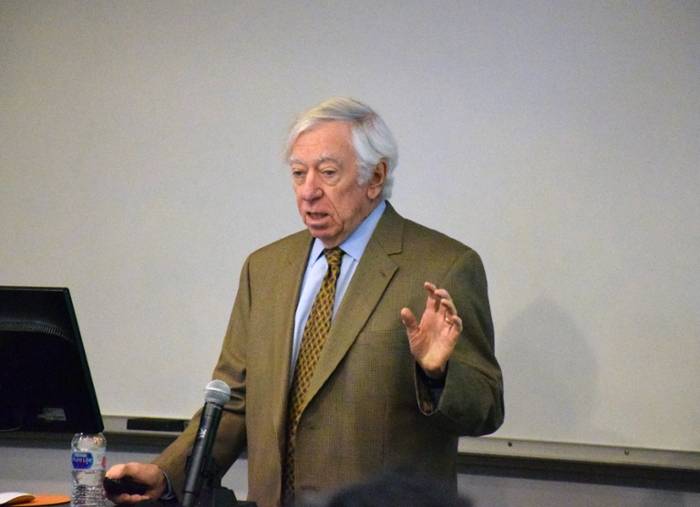 Northwestern economist Robert Gordon focused on the larger macroeconomic picture, in particular government spending and tax cuts, and what these might mean for the 2020 presidential election.
Because Republicans lost control of the House, Gordon said, Americans likely won't see any further tax cuts, unless the Republicans manage to push a new piece of tax legislation through the lame duck session.
Gordon noted that decreases in government spending during the 2013 budget sequestration limited economic growth during the Obama years, while tax cuts and a booming stock market have given the economy a boost in the Trump era—one the president often touts.
At the end of 2017, both parties agreed to a $300 billion expenditure increase, raising government spending by nearly 1 percent of the GDP in fiscal years 2018–19. The dilemma for Democrats, Gordon said, is whether to renew that when it expires in 2019.
On one hand, it could be tempting for Democrats not to renew it and potentially spark a politically unpopular recession during the Trump administration, which would play to the Democrats' favor in 2020.
"But on the other hand, there's going to be a lot of political pressure to preserve the cherished nondefense programs that have been funded by this spending increase and would be cut back if the Democrats vote to not renew it," Gordon said.
So which economic indicators matter most to Americans in the voting booth?
For 2020, Gordon points to real GDP growth, rather than the unemployment rate.
Historically, "the incumbent party wins when the economy is growing rapidly—even if unemployment is high as it was in 1936," Gordon said. The only electoral exception to this rule was President Bill Clinton's defeat of President George H.W. Bush in 1992.
"Will the next recession arrive in time to save the Democrats?" Gordon asked. The current economic expansion has lasted 113 months, and the record is 120 from 1991–2001, and it will definitely be part of "Trump's bragging record" Gordon said. "It's the longest expansion on record, and most of it took place in the Obama years."
Gordon offered two scenarios for 2020: In the "optimistic scenario," more favorable to Republicans and where the economy would continue to grow, Congress would extend the federal spending expansion until 2021, and the U.S. unemployment rate would probably drop to a historical low of 3 percent. In the "pessimistic scenario," more favorable to Democrats, inflation would shoot up in 2020, leading to interest rate hikes, likely contracting the economy.
"A mild recession like in 2001 will probably occur by 2021, but it may not start in time to save the Democratic presidential candidate from endless Trump boasting," Gordon said.
James Druckman is Payson S. Wild Professor of Political Science and an IPR fellow and associate director. Laurel Harbridge-Yong is associate professor of political science and an IPR fellow. Rachel Davis Mersey is associate professor of journalism and an IPR fellow. Robert Gordon is the Stanley G. Harris Professor in the Social Sciences and professor of economics. 
Published: December 11, 2018.