Election and Interpersonal Dynamics
Workshop blends scholarly presentations with mentoring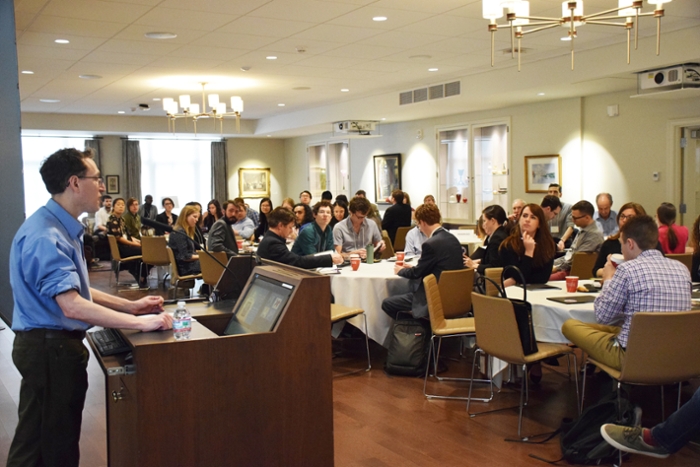 More than 110 scholars and graduate students from the Midwest and beyond gathered at Northwestern University's Evanston Campus on May 4 for the 12th annual Chicago Area Political and Social Behavior Workshop (CAB). It featured presentations on representative democracy, identity, immigration, and youth engagement by four prominent and rising political scientists.
IPR political scientist James Druckman, who organized the event, said the idea is to have formal presentations and informal interactions to share ideas and provide mentorship to emerging scholars.
"As in past years, the presenters offered important insights into political and social behavior. In so doing, we additionally moved closer to understanding the dynamics of the 2016 election," Druckman said following the event. "We also were thrilled that about a dozen graduate students presented their ongoing work in the poster session."
Ceri Hughes, a University of Wisconsin-Madison School of Journalism and Mass Communication graduate student who presented at the poster session, said it is a great opportunity to discuss projects with scholars one-on-one in their field.
"CAB is a really nice intimate event, which is almost more like a series of useful conversations rather than a conference," Hughes said. "In my experience faculty who attend CAB are always happy to talk about your work, seem genuinely interested in the work and happy to give ideas on next steps,"
As the 2018 midterm elections approach, politicians, the media, and political scholars are still asking, what happened in the 2016 election, and what has led to a growing partisan rift?  
Building a Directly Representative Democracy | An American Identity Crisis | 'A Nation of Immigrants' | The Hillary Effect?
Building a Directly Representative Democracy
How can government in the United States become more like what civics textbooks say a representative democracy should look like?
Town halls held by lawmakers in person are supposed to give average citizens the opportunity to voice their concerns. But they typically tend to only attract "political junkies," according to Ohio State political scientist Michael Neblo. They are also often highly managed events, set up to boost lawmakers' ratings.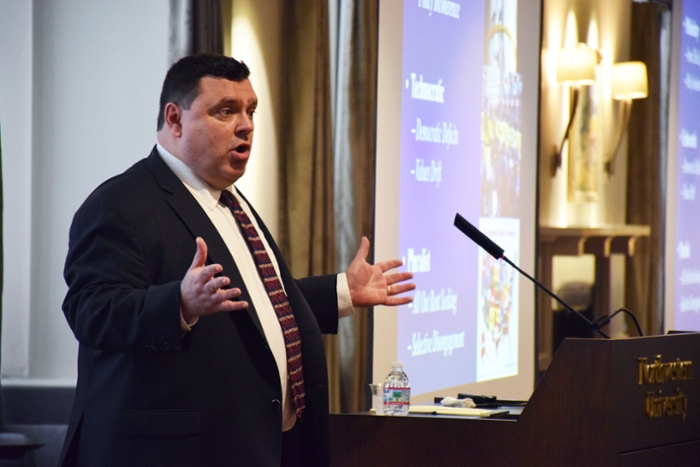 So Neblo outlined an experiment where he and his colleagues ran town halls online with the cooperation of members of Congress. In doing so, they were able to include constituents who do not normally participate in politics. In fact, the online participants were more representative of eligible voters than actual voters, Neblo said.
The online town halls also helped increase political engagement. Participants' political knowledge rose. Even four months later, people were more attentive to politics.
For those who participated, 95 percent said the online town hall was very valuable for democracy, and 97 percent said they would like to do another one.
Lawmakers also appreciated the online town halls. Neblo said the members of Congress realized they were speaking to people who "didn't already love them or hate them." Participants were also 10 percent more likely to vote for a congressional member they interacted with four months later.
To highlight their results with the online town hall experiment and show what such events could mean for lawmakers and their constituents, Neblo and his colleagues plan to present their forthcoming book, Politics with the People: Building a Directly Representative Democracy (Cambridge University Press, 2018) to each new member of Congress in November.
The researchers hope to be able to work with many of the new members' offices, particularly with cross-party events. These would enable them to investigate how citizens react to two sides of an issue being presented.
An American Identity Crisis
How did Donald Trump win the 2016 presidential election? UCLA political science and communication scholar Lynn Vavreck pointed to identity-inflected issues—like those tied to race, ethnicity, and religion—as key.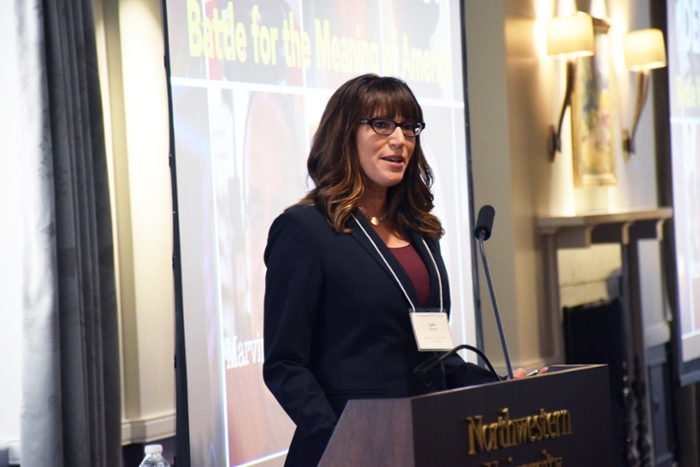 According to her research, these issues played more of a role in evaluations of  Trump than they did in evaluations of other Republican candidates, such as Florida Senator Marco Rubio or former Florida Governor Jeb Bush, because Trump often highlighted them in his campaign rhetoric.
"There was always a 'them,' and there was this idea that there's an 'us,' and that 'we' are misunderstood," Vavreck said of Trump's rhetoric.
Vavreck also discussed the apparent disconnect in which whites who voted for Obama in 2012 then voted for Trump in 2016. She pointed to data that demonstrated some of these voters actually were "mismatched" with Democratic issue stances, like views on Muslims or immigration.
For example, when asked in 2011, 32 percent of white Obama voters thought immigrants were a "drain on society." The uniqueness of Trump, she said, was that he was willing to push on those "pivot points" that were not really brought up on the 2012 campaign trail. Trump activated attitudes that already existed.
"He's just waking them up," Vavreck said.
But issues seemingly unrelated to identit—like education and the economy—still mattered in 2016. "Issues relating to identity actually were a lens through which all of the factors leading to decisions in 2016 were filtered," Vavreck said. That led to an "identity crisis," because the politics behind identity issues were so divisive.
The research she presented will be included in her forthcoming book with John Sides and Michael Tesler, Identity Crisis: The 2016 Election and The Battle for the Meaning of America (Princeton University Press, 2018).
'A Nation of Immigrants'
Politicians of every political persuasion have evoked the phrase "a nation of immigrants" when describing the United States, bringing to mind welcoming immigration images of Ellis Island or the Statue of Liberty.
Northwestern University political scientist and IPR associate Julie Lee Merseth pointed to how that narrative is a core part of American identity. But it seems at odds with a rise in anti-immigrant sentiment and growing momentum toward restrictionist immigration policies.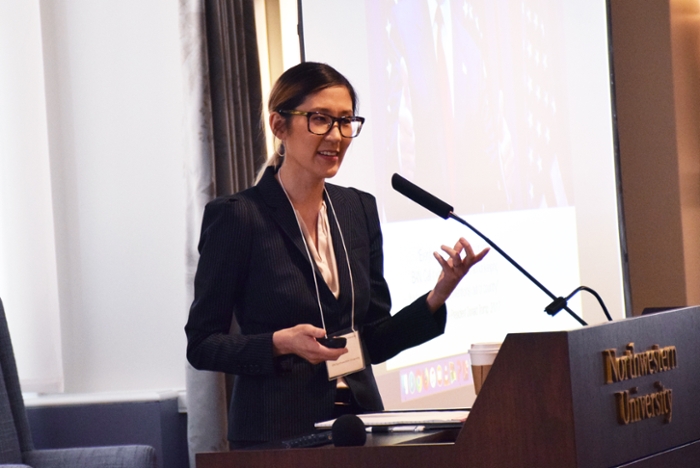 In ongoing research, Merseth is examining the assumption that the "nation of immigrants" narrative activates positive beliefs about immigration and national identity. She argues that it plays a less influential role in contemporary debates over immigration restriction than expected given how commonly it is used by elites and activists.
Merseth surveyed 1,261 native-born Americans. She first had them read a statement that was designed to activate beliefs about how immigration positively impacts the country. Participants were then asked questions about restrictive policies, including the number of immigrants the United States should allow in depending on country of origin and skill level. As Merseth expected, evoking the "nation of immigrants" narrative had no effect on restrictive immigration attitudes.
For the second part of the experiment, Merseth combined this narrative with a set of frames that emphasized the negative impacts of immigration, such as threats to national security or cultural unity, based on how immigration is talked about by politicians and the media. This also had no effect on restrictive attitudes toward policies including the travel ban, border wall, and family reunification.
One reason for this, Merseth explained, might be that the "nation of immigrants" narrative is so widely known and embraced by the American public, regardless of party affiliation or political ideology, that other related beliefs such as nativism and racism play a larger role.
"It does have this politically neutral characteristic to it," Merseth said. "It's something that everyone can utilize in their own way, and in that sense, its content can actually vary."
The Hillary Effect?
Throughout her presidential campaign, Hillary Clinton was aware of her status as a role model to young women, tweeting that "all the little girls watching" should never doubt that they are valuable, powerful, and deserving of every opportunity.
But did her campaign inspire more young people, in particular young women, to become more involved in politics—or did her loss disillusion them?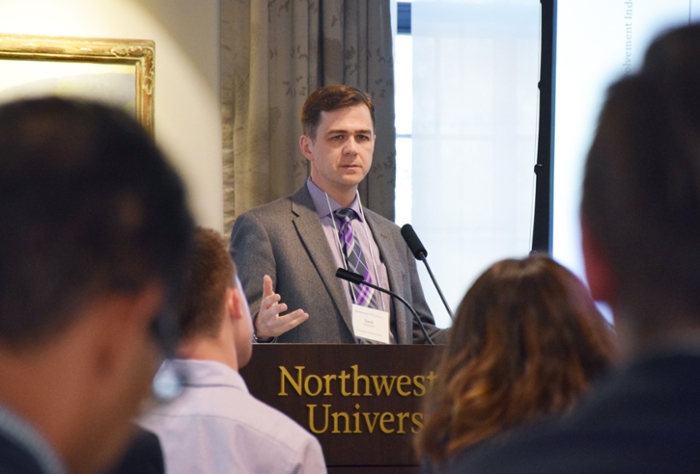 In a series of surveys, University of Notre Dame political scientist David Campbell examined adolescents' political engagement before and after the 2016 election. He investigated whether young people were more likely to vote, write to a political official, participate in a lawful demonstration, or donate to a cause or candidate—or to envision themselves doing so in the future.
Between fall 2016 and fall 2017, the preliminary findings show that surveyed girls were more likely to say they have or would participate in politics, but boys were less likely to give money or write to a politician.
Gender wasn't the only difference: The data reveal Republican boys and girls became less likely to say they would write, give money, or protest, while there was a "massive increase" in the number of Democratic girls who said they would participate in a demonstration.
Campbell also asked the adolescents if they believe the U.S. political system helps the public with genuine needs. Republican boys and girls were slightly more likely to say the system does help in 2017, while Democratic boys were a little more likely to say it does not. Democratic girls, though, were significantly more likely to say the system is not helping the public.
However, this disillusionment clearly is not driving Democratic girls out of politics.
"It actually brought them into politics, particularly [into] a form of political activity that they will have seen all around them: political protest," Campbell explained.
For now, the data suggest that instead of a "Hillary effect," adolescent girls' role models have been those women who, since the election, have taken to the streets in protest, Campbell said.

James Druckman is Payson S. Wild Professor of Political Science and IPR associate director and fellow at Northwestern University. Ceri Hughes is a graduate student at the University of Wisconsin-Madison School of Journalism and Mass Communication. Michael Neblo is associate professor of political science at The Ohio State University. Lynn Vavreck is the Hoffenberg Professor of American Politics and professor of communication at the University of California, Los Angeles. Julie Lee Merseth is assistant professor of political science and an IPR associate at Northwestern University. David Campbell is the Packey J. Dee Professor of American Democracy and chair of the political science department at the University of Notre Dame.
Published: May 29, 2018.