Crime in Chicago: What Does the Research Tell Us?
IPR experts offer insights and potential solutions to city's violent crime
"We are gathered today to discuss what is perhaps one of the most pressing topics facing the city of Chicago today: crime and violence," said Northwestern University sociologist and IPR associate Mary Pattillo, who moderated IPR's March 9 policy research briefing on the topic.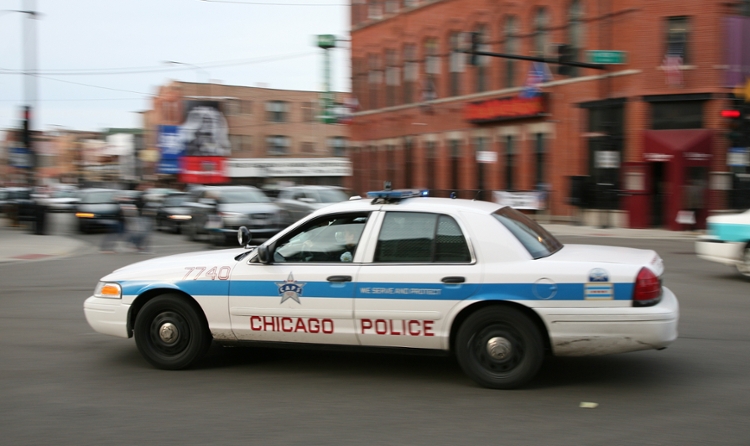 She continued, "We hope to break beyond the news and instead focus on the research," as she introduced three IPR experts, political scientist Wesley Skogan, sociologist Andrew Papachristos, and economist Jonathan Guryan. She added that the tools and information they would present could help broach discussion of the causes and solutions to the city's deadly crime problem, and perhaps even help to answer that oft-asked question that she—and likely many other Chicagoans—field when they travel: "'Is it really as bad as all the news says it is?'" 
IPR Director and economist Diane Whitmore Schanzenbach pointed out the importance of bringing together researchers and such a diverse public. 
"IPR policy research briefings provide us with a meaningful feedback loop, allowing us to bring our findings to you, as well as providing us with your insights," she told an audience of more than 120 at the Union League Club of Chicago, whose Public Affairs Committee co-sponsored the event. 
The Great Chicago Crime Spike | Guns and Social Networks | A Viable Solution to Gun Violence
The Great Chicago Crime Spike
In 2016, the city saw a dramatic spike in violent crime rates, with more than 760 reported homicides—up 42 percent from the previous year. Meanwhile, non-gun homicides and other crimes staying relatively constant.
"We're talking about a gun spike when we talk about the great spike of 2016," Skogan said.
The violence was also extremely concentrated. Skogan said 50 percent of all the shootings in 2016 occurred in just a handful of neighborhoods, including Austin, Garfield Park, North and South Lawndale, Englewood, and West Pullman. The crime is even more concentrated in those communities, often occurring within just a few blocks. There is one four-by-four block area in Humboldt Park, Skogan said, that has been in the top 5 percent of shootings in the city every year for 27 years. 
"The most disturbing feature of the 2016 spike is that we're not catching anybody," Skogan added, noting that the ability of Chicago police to solve gun violence has plummeted to single digits. Because crimes have gone unsolved, the standard model of policing—in which the police receive a call, investigate, and arrest someone—has collapsed. As a result, the ability to deter crime has plummeted, and people protect themselves by carrying a weapon, adding more guns on the streets and encouraging retaliatory violence.   
However, Skogan said there is a chance the crime spike may be disappearing, as homicides and shootings dropped in 2017.
"It may well be the character of the spike that it's transitory," Skogan said. "It's certainly difficult to explain. It's a pulse that takes place in the system." 
Guns and Social Networks 
Network science can be used to understand the shootings, according to Papachristos.
Network science, he explained, examines how the connections between people, organizations, and places affect what we feel, think, and do. Those connections affect the votes people cast, the books they buy, and whether or not they are healthy.
"They also affect whether or not you get shot," he said.
Papachristos pointed to the shooting death of 6-month-old Jonylah Watkins in 2013 to explain how gun violence is socially concentrated. In the three years leading up to Jonylah's death, her father, the intended target, was arrested 23 times with 17 different people. Of those 17 people, 40 percent were shot in that time period.
"Jonylah and her father are literally in the network where people they are connected to and the people they are doing things with are getting shot," Papachristos said.
He described violence as "contagious," behaving like an epidemic. Much of the city's violence erupts from interpersonal disputes, which then trigger a series of retaliatory shootings. A young black gang member in Chicago who is frequently exposed to violence has more than a 20 percent probability of being shot, which is "insanely high," according to Papachristos.
While network science does not address problems with poverty, education, and unemployment, Papachristos noted that the information it provides can bring services, like violence intervention, outreach programs, and trauma specialists to communities—or even specific groups of people—where it is needed.
"Understanding these connections … in a systematic way, can make our cities healthier, smarter, and safer," Papachristos said. 
A Viable Solution to Gun Violence
One way to understand the violence is by examining the way people—particularly young people—think. While some argue that crimes are carried out by people who seek to break the law and who are hard to deter, Guryan offered a different view of why people commit crime, as well as a potential solution. 
Guryan said many crimes come down to the way people think and respond to situations. He described two different ways of thinking: automatic thinking and reflective thinking.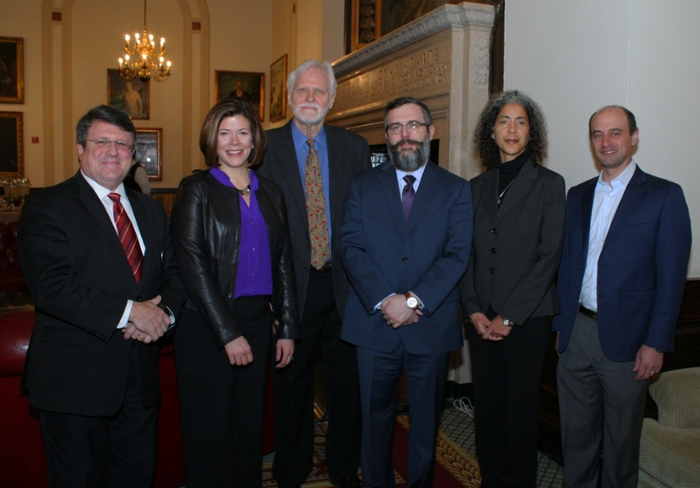 From left: Dave Kohn, executive director of public affairs for the 
Union League Club of Chicago; Diane Whitmore Schanzenbach;
Wesley Skogan; Andrew Papachristos; Mary Pattillo; and Jonathan
Guryan.
The Becoming a Man (BAM) program, which Guryan has evaluated, uses this idea to help young men slow down and think before they act. "Sometimes people make decisions based on automatic thinking in situations where that automatic response is not appropriate, particularly if you live in an environment where the situations are changing quickly and where the consequences for making the wrong decision are very large," Guryan said.
A typical BAM session opens with a game: One person holds a small ball in his palm, while his partner has one minute to do whatever it takes to get it away from him. The young men start wrestling, trying to pry open each other's hands by force. Afterward, the counselor asks, did anybody simply ask for the ball? Usually, Guryan said, no one considered that. The exercise demonstrates how easy it is to make assumptions about how others think, and the value of pausing to consider other solutions to a problem.
In their study of the program, Guryan and his colleagues found that students who participated in BAM between 2013–15 were 50 percent less likely to be involved in violent crime. Students also did better in school, showing improved attendance, lower dropout rates, and higher graduation rates. In a similar program at a juvenile detention center, participants were 20 percent less likely to be arrested again. 
"These are programs that cost money," Guryan said. "But the benefits are very large relative to the cost."
Guryan said the program's success led to a visit from President Barack Obama, serving as a source of inspiration for Obama's own initiative, My Brother's Keeper.
"There are things that we can be doing to invest in the kids," Guryan said. It is possible to help youth who are at risk of being involved in violent crime by teaching them how to pause, think, and make other choices. 
Watch a video of the presentation or listen to the audio.
Mary Pattillo is the Harold Washington Professor of Sociology and African American Studies and an IPR associate. Diane Whitmore Schanzenbach is the Margaret Walker Alexander Professor and IPR director. Wesley Skogan is professor of political science and an IPR fellow emeritus. Andrew Papachristos is professor of sociology and an IPR fellow. Jonathan Guryan is professor of human development and social policy, chair of IPR's program on education policy, and an IPR fellow.
Published: May 28, 2018.