The Future of Work
Former IPR director returns to discuss NSF's 'Big Ideas'
Get all our news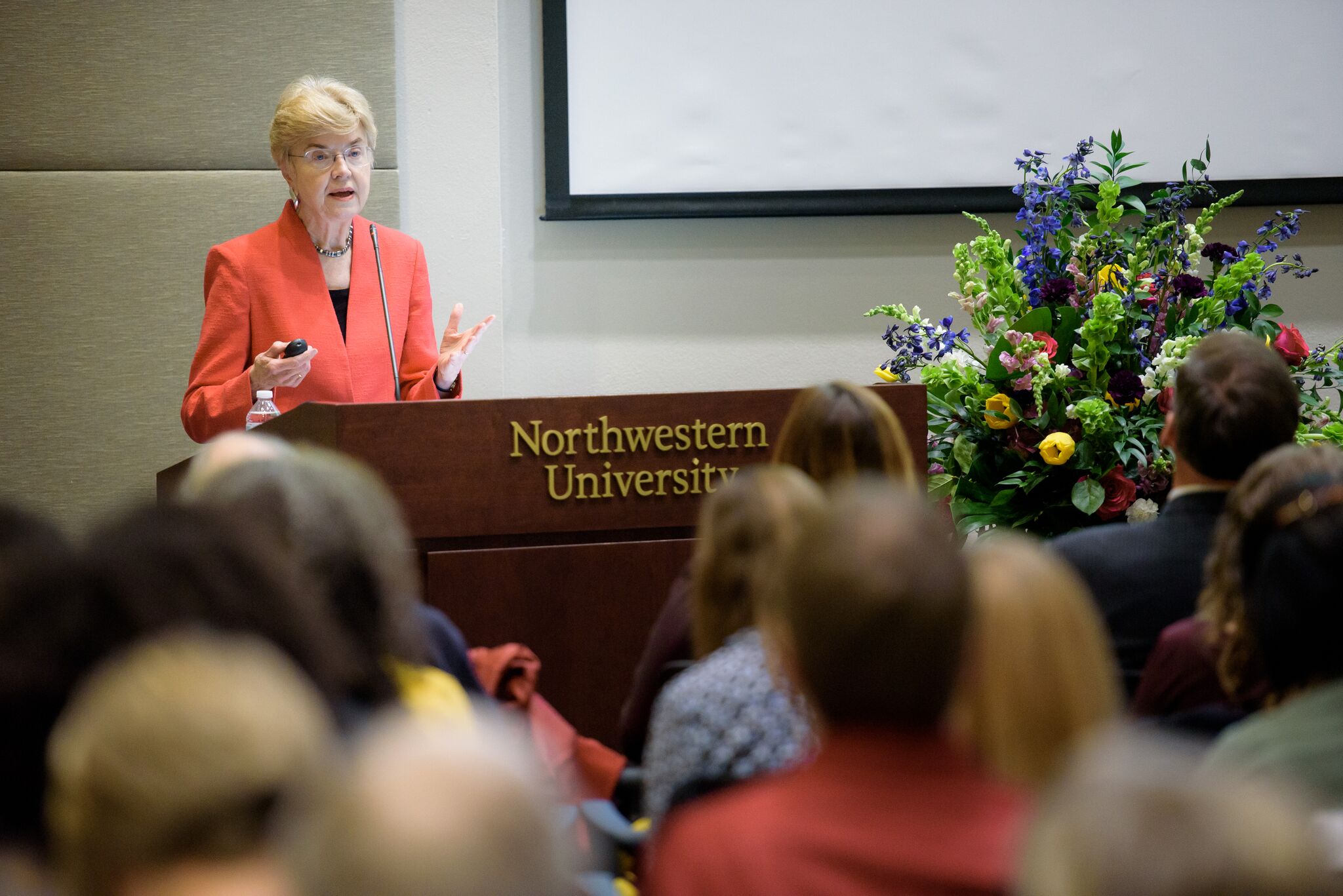 Fay Lomax Cook, assistant director of the National Science Foundation, discussed how technology will change the future of work. (Photo: Jason Brown)
With the rise of artificial intelligence, machine learning, robots, and other technologies, how will workplaces—and workers themselves—have to adapt?
Former IPR director Fay Lomax Cook returned to Northwestern University on April 26 to address the future of work at the human-technology frontier as the IPR Spring 2018 Distinguished Public Policy Lecturer. Cook is currently an assistant director of the National Science Foundation and the head of its Social, Behavioral, and Economic Sciences Directorate (SBE). 
"SBE is a very important directorate for the university across a wide range of departments and disciplines," said Jay Walsh, Northwestern's vice president for research. He noted that 13 IPR faculty members are currently conducting research with SBE awards, and 35 faculty at Northwestern overall are engaged in 43 different SBE-funded projects.
As IPR director from 1996–2012, Cook played a key role in recruiting and retaining top policy researchers, expanding IPR's program areas, and launching a Monday colloquium series—which has since been named after her—where faculty are able to discuss their research in an interdisciplinary setting.
"The Institute for Policy Research hosts this series of distinguished public policy lectures that are given by prominent individuals who straddle the worlds of policymaking and academia and can speak to the use of research in policymaking," said IPR Director Diane Whitmore Schanzenbach. "There is no one who embodies this better than our own Fay Lomax Cook."
The NSF's Big Ideas
In her lecture, Cook highlighted how the NSF has two criteria for every proposal funded: The research must have both intellectual merit and a broader impact. She also noted how diverse the foundation is, with projects in fields like engineering, chemistry, geological science, education, economics, and computer science.  
Given the difficult funding environment at the NSF in recent years, Cook explained that the foundation decided to launch "10 Big Ideas" to drive its long-term research agenda, spark innovation in science and engineering research, and ultimately, lead to breakthrough discoveries. 
"What can we get members of Congress and the administration excited about as big grand challenges?" Cook said.
Included among the Big Ideas are harnessing the data revolution, dealing with rising sea levels, understanding how environments and genomes interact to predict and explain human traits, and promoting diversity and inclusion in science. Additionally, as new technologies emerge and concerns about displacement of workers grows, the NSF is also investigating the future of work at the human-technology frontier across several of its directorates, and SBE was tapped to lead the initiative.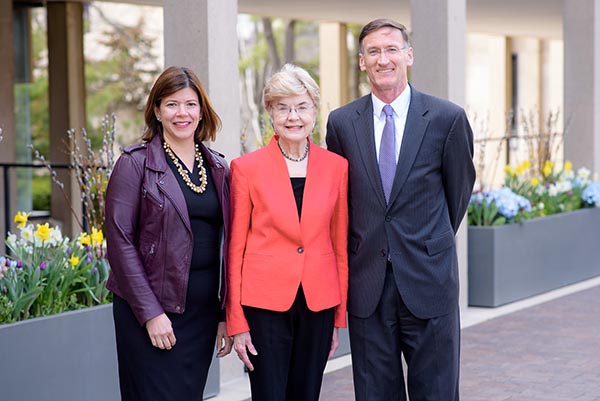 From left: Diane Whitmore Schanzenbach, Fay Lomax Cook, and
Jay Walsh. (Photo: Jason Brown)
The Big Idea of the 'Future of Work'
 "The world of work is undergoing a major transformation and it is going to continue changing in the future," Cook said.
Emerging technologies such as artificial intelligence, machine learning, and robotics are driving major workplace changes. The cost of computing power is dropping, while computer power is increasing, and software platforms are facilitating new services and disrupting industries.
"What we really don't know enough about is how emerging technologies are affecting our lives," Cook said. "The impacts are crucial: employment, opportunity, productivity, economic growth, competitiveness, national security, and U.S. global leadership."
The NSF believes that the initiative will generate more research proposals that will help explore and build the human-technology partnership. For example, engineers and computer scientists need to work together with behavioral scientists to improve computers' ability to read facial expressions. 
"How can robots work with humans in hospitals and peoples' homes if they can't see facial expressions and know if the person needs help?" Cook asked.
Research is also needed to design new technologies that can augment human performance, such as smart prosthetics, and to illuminate the risks and benefits of all these emerging technologies.
Using robots and artificial intelligence (AI) in the workplace could lead to new industries, higher economic growth, and improved quality of life, but it might also result in lost jobs and growing disparities in access to new technologies. The evidence so far is not very optimistic for labor productivity.
"You would think with all of these amazing emerging technologies, labor productivity would go up dramatically," Cook said. "But in the last 10 years, it's been about 1.3 percent in comparison to the 10 years before, where it was 2.8 percent. Is this one of the risks as some have claimed, or will the new technologies soon lead to increased productivity?"
Though technology is often blamed for the loss of jobs, with robots taking over in manufacturing or self-driving cars poised to replace taxi drivers and truck drivers, technology can also be a way for workers to gain new skills, and NSF wants to promote research on lifelong learning. Cook pointed to a program at the Massachusetts Institute of Technology that is training people who lost their jobs in mining to write computer code.
Cook said that all of these research questions require cross-disciplinary or "convergence" research, driven by a specific and compelling problem and featuring deep integration across fields. She advised researchers from different areas of study to question each other about how best to approach a problem.
"What we're urging is to get scientists together from the very beginning," Cook said. "Those ideas come together and something brand new comes out of it." 
Fay Lomax Cook is an assistant director of the National Science Foundation and head of its Social, Behavioral, and Economic Sciences directorate. She is currently on leave from Northwestern, where she is professor of human development and social policy and an IPR fellow.
Published: May 30, 2018.