A Vision for the Future of Education Research
Spencer Foundation president outlines challenges, opportunities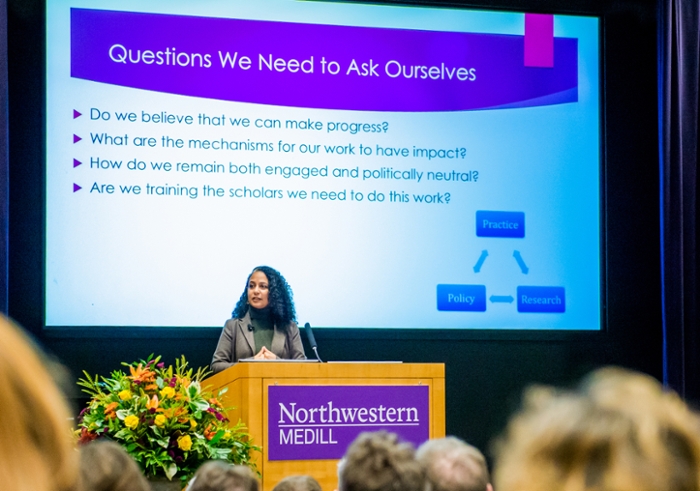 What does it mean to do education research in today's unique political and social environment, in which the United States faces rising inequality? Na'ilah Suad Nasir, president of the Spencer Foundation, addressed her vision for the future of education research in a special lecture hosted by Northwestern University's Institute for Policy Research (IPR) and School of Education and Social Policy (SESP) on November 14.
"Education research is a way to play a part in creating what we have not yet accomplished as a nation: Schools that support all students and provide a mechanism for social mobility," said Nasir, who recently took the helm at Spencer.
During the lecture, Nasir outlined her "lofty goals" for the field, explaining that education research is at a critical moment: Schools of education are increasingly disrespected sources of training and knowledge, and their research is viewed as inaccessible and disconnected. However, she sees schools as one of the few social institutions that can provide a mechanism for social mobility.
"My relationship with research has always fundamentally been about research as a tool for positive change in a desperately and at times hopelessly unjust world, as a tool of empowerment, and as a tool of social change—not for the sake of change itself, but for the sake of better educating more of the nation's and the world's young people," Nasir said.
She explained that the goal of the field should be to make high-quality, transformative education more readily available for students from pre-kindergarten through college. To do this, though, requires believing that education research can have a broad impact on the world.
It also requires certain types of research, including investment in the "big ideas." Nasir explained this includes developing lenses and concepts that help us understand educational and learning processes in new ways.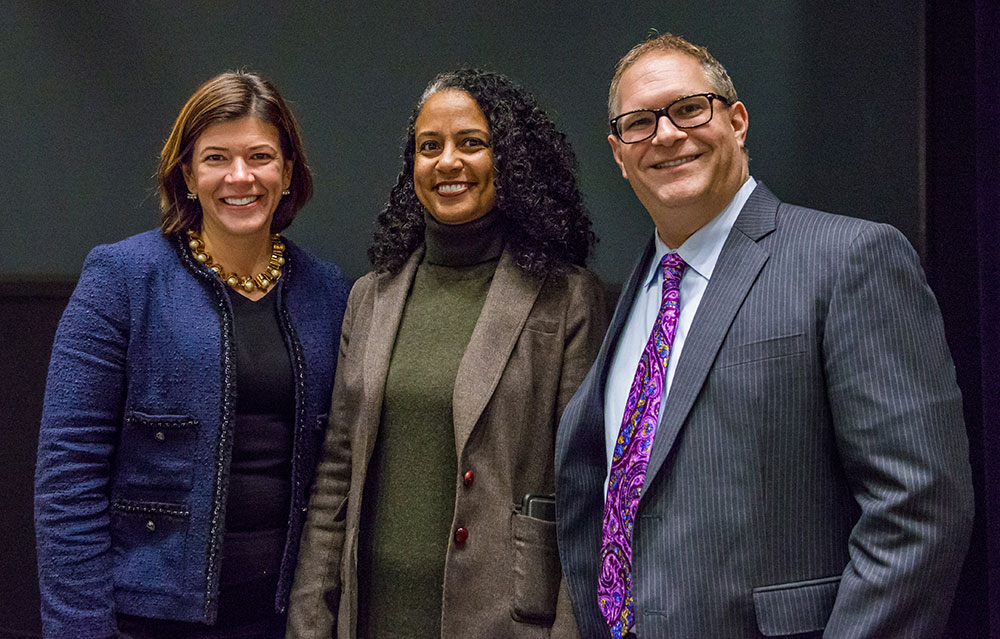 Nasir called for work that is "deeply relevant" to the big challenges of education, highlighting issues with school and neighborhood segregation, recruiting and training teachers, and the criminalization of vulnerable student populations.  
This work also needs to move beyond identifying the challenges to helping move toward solutions. Community-engaged research could help, according to Nasir.
"We need to do work alongside the folks who will be subject to the impact of our research," she said. 
But education researchers should not box themselves in and work only with those in their field. Interdisciplinary work is vital to help untangle what Nasir called some of the "large, messy problems in education."
Nasir highlighted the problem of school segregation and unequal access to high-quality instruction, which can be informed by work in sociology and psychology. For example, some children are exposed to violence on the way to school, which can have effects on mental health and negatively impact academic performance.
"Education issues cannot be disentangled from other key issues in society like healthcare or housing," Nasir said.
Nasir drew attention to work by IPR associates and SESP professors Cynthia Coburn and James Spillane, who are seeking to improve instructional practices. They are focusing on multiple interacting factors, looking at school districts, teacher learning, and student thinking. Nasir also pointed to IPR associate and learning sciences professor Reed Stevens' work on the role of technology in children's thinking and schooling.
Economist and IPR Director Diane Whitmore Schanzenbach drew attention to the type of broad-based, interdisciplinary research that Nasir called for in her lecture that is already occurring at the University. "From designing learning environments to redesigning school finance systems, Northwestern faculty, postdoctoral fellows, graduate students, and undergraduates are working together to try to make education better for this country and this world," Schanzenbach said.
SESP Dean and IPR economist David Figlio concurred, "One of the things that's really special about both the Institute for Policy Research and the School of Education and Social Policy is the diversity of perspectives, disciplines, research techniques, and the like that each are using in order to address some of the most pressing and challenging questions today."
Nasir argued that to address these pressing questions, researchers need to ensure that they are meeting their commitment as scientists and scholars to work on behalf of students. 
"To even embark upon this road, we have to believe that our work should matter," she said.
Na'ilah Suad Nasir is president of the Spencer Foundation. Diane Whitmore Schanzenbach is IPR director and the Margaret Walker Alexander Professor. David Figlio is dean of the School of Education and Social Policy and the Orrington Lunt Professor. View a video of the lecture here.
Published: December 20, 2017.