Trivial Times
Fake news guides real opinions in digital media environment
Get all our news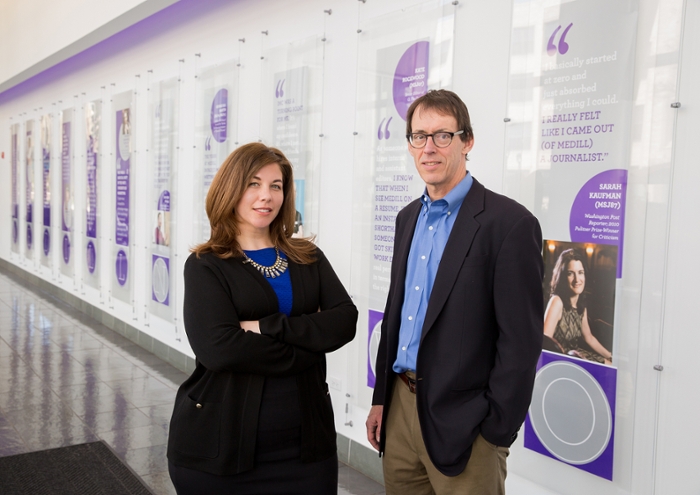 Media scholar and IPR associate Stephanie Edgerly explores the relationship between news sources and audiences.
For journalists, fake news is a pandemic.
Although the majority of "fake" content is generated by small-scale websites, its influence on public discourse is exponentially amplified when posts go viral. As basic facts—did the sun rise in the east—now seem negotiable, the public's trust in objective news sources has wavered.
"When people start gravitating towards information that is not edited, vetted, or verified and consider it of the same level of integrity as high-quality journalism, there's reason to pause," says Stephanie Edgerly, media, integrated marketing communications and an associate at Northwestern's Institute for Policy Research.
Today, people are more likely to accept a story's validity if it supports their point of view, she says.
A 2014 study by Italian researchers confirmed that social networks' personalization algorithms create echo chambers where old—and even false—information is reiterated and spread.
"Truth telling has rarely been more necessary," says Peter Slevin, journalism. "Journalists are faced with an opportunity to demonstrate that honest reporting and actual facts do matter."
Edgerly, who joined Medill in 2012 after finishing her PhD at the University of Wisconsin, explores how young people interact with media in the context of news, entertainment, and sharing via social networks. That research is closely intertwined with the fake-news phenomenon.
"I think it's critical for the industry to learn why people are so distrustful of the news media and attempt to gain better insight as to why stories that have no basis in fact are shared so widely," says Edgerly.
"At Medill, we talk with our students a lot about combining a sense of purpose with an unfailing commitment to fairness, accuracy, and transparency," says Slevin, author of Michelle Obama: A Life. "We're big on rigor and we also encourage a certain humility, in the sense of never assuming too much, always starting a reporting project with questions and not answers."
In the lead-up to the 2016 general election, an article falsely reporting that Pope Francis had endorsed Donald Trump for president garnered nearly 1,000,000 Facebook engagements, according to Buzzfeed. By comparison, the New York Times's top-performing Facebook post netted fewer than 400,000.
"For years, commentators have muddied the political waters and left a shocking number of their followers unable to recognize—or unwilling to believe—certain facts," says Slevin.
In a March 2017 analysis, Edgerly studied how adults differentiate news sources. The results surprised her. Using an identical headline about Trump's reversal of protections for transgender students, Edgerly attributed the article to one of four sources: the New York Times, the Drudge Report, The Daily Show, or Mother Jones.
"I expected the New York Times headline to be considered newsier than the partisan sources," she says. "But to my surprise, while "The Daily Show" was seen as infotainment, the others were placed on equal footing."
For Edgerly, the findings suggest one of many problems facing news organizations. Although technology can relay facts faster than ever, those tools also encourage further proliferation of an already crowded and convoluted media environment.
In a 2016 publication, Edgerly drew on a series of in-depth interviews with young adults to illustrate that many of them consider it easier to be informed in the era of smartphones. However, they are also aware of the pitfalls accompanying so many options: "They don't want to be made fools of," she says.
A byproduct of this carefulness is the development of knowledge shortcuts, quick ways for determining what information to trust.
"There is a prevailing belief among many young people that important information will find them," she says. "So if a story is shared by several peers or is a trending topic on social media, it's deemed credible."
The rise in social media as a news source—nearly half of American adults get news from Facebook, according to the Pew Research Center—coincides with a Gallup poll showing that just 32 percent of Americans say they have "a great deal" or "a fair amount" of trust in mass media.
"The relationship between news organizations and their audience seems to be more strained than ever," says Edgerly. "Journalists are up against some pretty significant obstacles, but it's a disservice to the work they produce not to also understand the challenges people face in locating quality journalism."
Stephanie Edgerly is an assistant professor at Northwestern's Medill School of Journalism, Media, Integrated Marketing Communications and an IPR associate.
This article was originally published by Northwestern Research.
Published: June 15, 2017.