The Costs of Striving, Arriving
IPR's Edith Chen examines the costs of upward mobility
Get all our news
The stress of poverty can last a lifetime. Even when  people are able to overcome the disadvantages of their youth, many who "make it" face lasting effects  of the journey.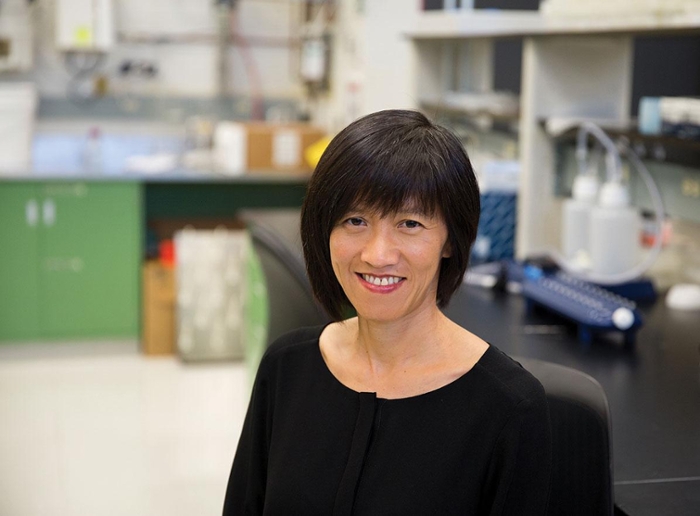 Upward mobility is associated with worse physical health, IPR health psychologist Edith Chen has shown.
The stress of poverty can last a lifetime. Even when  people are able to overcome the disadvantages of their youth, many who "make it" face lasting effects  of the journey.
"There is no doubt that succeeding brings positive changes in terms of academic, social, and behavioral outcomes," says IPR health psychologist Edith Chen, "but it turns out that this upward mobility has costs in terms of physical health."
One of Chen's studies done in collaboration with Greg Miller, also an IPR health psychologist, showed that at age 20, college students who came from lower-income neighborhoods had higher rates of obesity, high blood pressure, and stress hormones than peers who did not make it to college. At Northwestern, Chen and colleagues are trying to understand exactly why this is, focusing on the psychological and biological mechanisms driving these complexities.
Chen and Miller's research suggests that the connection between well-being and health goes beyond the basic needs of healthcare, housing, and food. An interesting proposition for a psychologist to consider: What specific factors of social status level have implications for health?
"Chronic stressors seem, quite literally, to be getting under the skin, affecting biological systems—like hormones and the immune system—and doing so for the long term," says Chen, co-director of the Foundations of Health Research Center and a professor of medical social sciences at the Feinberg School of Medicine. "But not every child growing up in poverty is affected the same way. There is a resilience effect that we and others are exploring."
Such resilience suggests that certain positive psychological factors (like adaptive coping strategies) or social factors (like parental nurturing) may help buffer children from poor health outcomes. 
"We hope that our discoveries will influence a new way of thinking about how to promote better health among disadvantaged youth. Some psychological interventions may have positive benefits for middle- or upper-class people but may not be effective among low-income individuals," Chen says. "By looking at youth who demonstrate resilience, we may be able to better understand what is happening naturally in some youth and, in turn, develop a different approach to psychological interventions."
Stress and Cellular Aging
Chen frequently collaborates with her husband, Miller, and their findings have shown many differences in how low-income children engage with the world.
A 2015 Northwestern study published in the Proceedings of the National Academy of Sciences illustrated that low-income African American adolescents who demonstrate high levels of self-control often fare better on various psychological outcomes as young adults. The downside, however, is that researchers also found that cells show more signs of aging in the successful subjects; older cell age has been linked to higher mortality rates and many diseases.
"There is this idea in America that people born into poverty can raise themselves by their bootstraps, get an education, and have a good job with a dependable income," says Chen. "However, our research is demonstrating that there are stressors along the way whose effects can become ingrained in a person's biology."
There are costs of striving, she says. For low-income African-American youth—a population on which Chen has focused—the amount of effort needed to succeed against the odds is high and often takes a physical toll. These youth are at a significantly higher risk for chronic illnesses like obesity, diabetes, and heart disease.
There are costs of arriving, too: "If these youth rise through the ranks of a successful career, they are progressively faced with the reality of seeing fewer and fewer people who come from similar backgrounds, and this can create stressful and alienating experiences," Chen says. "It's not enough to get these youth into college. There has to be a recognition that they may be facing an uphill climb throughout college and into the workforce."
Working alongside Miller has brought an interesting dynamic to Chen's research—one she acknowledges almost never happened.
"As an undergraduate, I was focused on the life sciences and didn't really see research as a career path for me," says Chen, who earned her BA from Harvard. "My first psychology class as a junior changed that and allowed me to realize that you could study humans in a quantifiable and scientific way, which fascinated me."
Chen met Miller in graduate school at the University of California, Los Angeles. The two worked in different labs but had overlapping interests, which meant they frequently relied on each other as sounding boards. It wasn't until they arrived at Northwestern in 2012—after nine years at the University of British Columbia—that they began collaborating in earnest, working together in the lab and over dinner.
"The breadth of faculty at Northwestern and the interdisciplinary research taking place at IPR is what brought us here," says Chen. "Everyone at the Institute is conducting such amazing policy-relevant research. The work reminds us never to get so deep into a line of inquiry that you lose sight of why that research matters: the people and the contexts in which they live."
Edith Chen is the John D. and Catherine T. MacArthur Chair and Professor of Psychology and an IPR fellow. Greg Miller is the Louis W. Menk Professor of Psychology and an IPR fellow.
This article was originally published by Northwestern Research.
Published: October 24, 2017.