Training Current and Future Researchers
IPR spreads research skills, understanding of research methodologies in education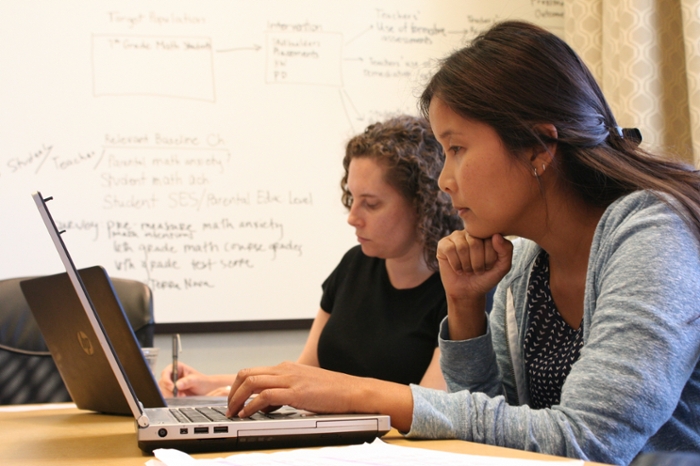 Participants at the Cluster-Randomized Trials Institute explore methodologies.
Many college campuses go quiet over the summer, with students and faculty departing for other locations and endeavors, but Northwestern's Evanston campus saw an uptick in summer activity for more than 125 current and future researchers. Through three training opportunities, IPR experts helped undergraduates, researchers, and faculty fine tune their understanding of research and use of rigorous methodologies.
Undergraduate Research
Through the Summer Undergraduate Research Assistants (SURA) program, 35 undergraduates got first-hand experience in the conceptualization and conduct of policy-relevant social science research. This involved learning how to code data, conducting a literature search, recruiting study participants, and more.
Senior Bryn Dougherty (WCAS '17) has been working at IPR health psychologists Greg Miller and Edith Chen's lab since 2015, but SURA allowed her to work there full time.
"I've also been able to increase my interaction with the participants in the study so I can better put a face to the data with which I've been working for so long," Dougherty said.
As a part of the Foundations of Health Research Center, Dougherty examined the childhood origins of socioeconomic disparities in cardiovascular heart disease risk, probing disparities in the immunologic, neural, and psychosocial systems. 
Miller said Bryn was "instrumental" to the study, helping in recruitment, data entry, and more. "Bryn gets the kids excited about participating, and puts them at ease about the blood draws and brain imaging, which understandably makes some of them anxious," Miller said. "She's also had some great insights about how to improve our protocol, and about questions that we should pursue in future waves of the project." 
The program is valuable even if students do not continue research, said IPR education researcher James Rosenbaum, who directs it. "The skills learned as an undergraduate research assistant are important—certainly if people decide to go into research career, but even if they don't," Rosenbaum said. "People who just want to be educated members of society need to understand these methods."
IES-Sponsored Training Institutes
IPR also held two training sessions supported by the Institute of Education Sciences (IES) and its National Center for Education Research (NCER). IPR education researcher and statistician Larry Hedges ran the 10th annual Summer Research Training Institute on Cluster-Randomized Trials (CRT) from July 18–28. And from August 1–12, IPR social psychologist Thomas D. Cook led the Institute on Quasi-Experimental Design and Analysis. 
Cluster-Randomized Trials
Amy Proger of the American Institutes for Research plans to use what she learned at the CRT Institute to submit a study proposal. It would evaluate a program that trains high school guidance counselors on advising students about their college options.
"I learned a lot about different considerations in conducting cluster-randomized trials," Proger said. "I feel prepared to write a proposal using those methods."
The 10-day CRT workshop, which included lectures, skill-building labs, group projects, and mock proposals, plunged the 30 researchers into a deeper understanding of the use of cluster randomization in education research. CRT is particularly useful because it allows researchers to measure an intervention's effect on individual students while also accounting for group effects.
"This workshop was challenging, yet really gave me a feel for the overall concept of developing cluster-randomized trials," said Doris Hill, an assistant research professor at Auburn University. "Everyone was there to learn and help each other."
Quasi-Experimental Designs
The third training program on quasi-experimental designs exposed 30 participants to a variety of quasi-experimental designs. It allows researchers to compare groups when they cannot be randomized, such as when assigning children to specific classrooms.
"I walked away with a strong understanding of each quasi-experimental research method and the benefits and limitations of each approach," said Stacy Kehoe, a graduate student at the University of Pittsburgh. She has already used workshop feedback to refine the analytic design of her dissertation study.
Peter Steiner, a former IPR postdoctoral fellow who helped organize the event and who is currently an associate professor at the University of Wisconsin-Madison, said quasi-experimental design is key for educational research. 
"Strong research designs can help us find cause-effect relationships," Steiner said. "We want to find out what actually works in practice—what happens if we go out to schools and interfere."
Edith Chen and Greg Miller are professors of psychology. James Rosenbaum is professor of education and social policy. Larry Hedges is Board of Trustees Professor in Statistics, Education and Social Policy, and of psychology, and Thomas D. Cook is Harrison Chair Emeritus. All are IPR faculty.
Published: October 27, 2016.