IPR Welcomes Eight New Fellows
New faculty to strengthen key research areas
Get all our news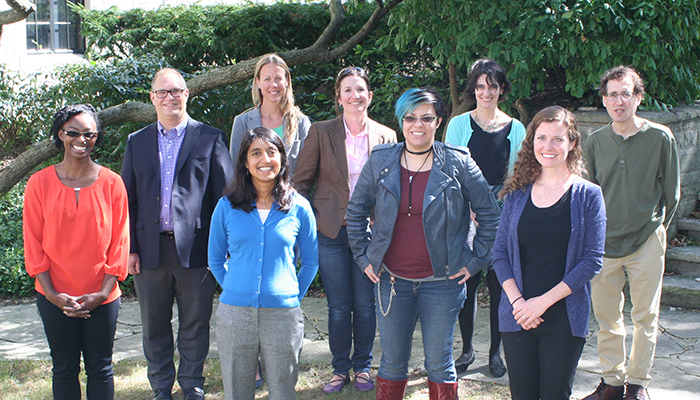 Front row: Onnie Rogers, Seema Jayachandran, Beth Redbird, and Mary McGrath. Back row: IPR Director David Figlio, Rachel Beatty Riedl, Sera Young, Simone Ispa-Landa, and IPR Associate Director James Druckman.
This September, IPR will welcome eight new fellows, one of its biggest incoming faculty cohorts ever. With research interests ranging from the economics and politics of developing countries to identity development and social inequality, these eight experts represent five disciplines, with six housed in Northwestern's Weinberg College of Arts and Sciences and two in the University's School of Education and Social Policy. Four were previously IPR faculty associates.
"We are really excited about these faculty who will be joining IPR," said IPR Director David Figlio. "Their individual areas of expertise will strengthen the Institute in key research areas—inequality and race, social disparities and health, and the science of diversity."
The new fellows are addressing key questions related to inequality and disparities: Sociologists Simone Ispa-Landa and Heather Schoenfeld, who is also a scholar of legal studies, both look at key aspects of the U.S. criminal justice system, expungement, and criminal justice reform in states. Political scientist Mary McGrath tackles issues related to distributive justice and voter turnout.
Two fellows are making inroads into the science of diversity: Social developmental psychologist Onnie Rogers examines how social and educational disparities shape the identities of marginalized youth, and sociologist Beth Redbird studies social networks and how forms of closure can affect women and minority groups, including Native Americans. Redbird, IPR's first fellow whose research focuses on Native American and indigenous studies, is part of Northwestern's new Indigenous Studies Research Initiative.
Three fellows, economist Seema Jayachandran, political scientist Rachel Beatty Riedl, and anthropologist Sera Young, are not only investigating key issues related to inequality in developing countries, they are also "internationalizing" IPR's domestic-policy footprint. Their investigations uncover underlying mechanisms of social policy in other countries from which we in the United States can learn and vice versa.
"These eight new fellows are bolstering IPR in subjects that are at the heart of social policy research," Figlio said.
Find out more by reading about each new fellow's research agenda and background below.
Simone Ispa-Landa (School of Education and Social Policy) |  Seema Jayachandran (Economics) |  Mary McGrath (Political Science) |  Beth Redbird (Sociology) |  Rachel Beatty Riedl (Political Science) |  Onnie Rogers (Psychology) |  Heather Schoenfeld (Legal Studies and School of Education and Social Policy) |  Sera Young (Anthropology)
Digging into disparities in criminal justice
The United States, often called the "world's biggest jailer," has a long history of mass incarceration. Two new IPR fellows are digging into the causes and consequences of the American criminal justice system, with another investigating distributive justice and voting.
Simone Ispa-Landa – School of Education and Social Policy
Ispa-Landa seeks to unpack "subtle" inequalities—or the ways inequalities persist even when things are ostensibly equal. Her current projects include an investigation of how individuals with criminal records seek to expunge, and live with, those records. From this research to her work on race and gender in school diversity programs, Ispa-Landa seeks to uncover how race, gender, and stigma operate day to day, with pertinent findings for the education and legal spheres. Previously an IPR associate, she holds a PhD from Harvard University that was awarded in 2011.
Heather Schoenfeld – Legal Studies and School of Education and Social Policy
Schoenfeld works at the intersection of politics, policy, race, and the law, focusing on systems of criminal punishment. She is completing a book on the origins of mass incarceration in Florida, which focuses on policymakers' decisions over the past sixty years to expand the reach of the criminal justice system. Her current research includes a study of contemporary state-level reforms to reduce incarceration. Schoenfeld received her PhD in Sociology from Northwestern University, and was formerly an IPR associate. 
Mary McGrath – Political Science
A political scientist, McGrath has conducted research on perceptions of distributive justice, examining how collaboration with others influences what we consider a fair allocation of goods. More broadly, her research interests involve American politics, political behavior, and political economy. Her recent projects include studies of voter turnout, candidate extremism, and the relationship between economic behavior and partisanship. McGrath joined Northwestern and IPR this September after obtaining her PhD from Yale University.
Using diversity science to address racial inequality
As the United States moves to a majority-minority nation, the complex racial/ethnic issues of today require 21st-century solutions rooted in research. New IPR fellows Beth Redbird and Onnie Rogers are bringing new vigor and vision to IPR studies in the science of diversity.
Beth Redbird – Sociology
In addition to tackling questions of Native American inequality, Redbird's research agenda is tied together by a common theme: Boundaries create inequality and change the relationships within and between groups affected by these boundaries. A special focus of her work involves how different forms of closure, or how one group's efforts to consolidate scarce resources for its sole benefit, affect Native American inequality. Redbird comes to IPR and Northwestern from Stanford University, where she received her PhD this year.
Onnie Rogers – Psychology
Rogers is especially interested in identity development among urban children and adolescents, drawing on quantitative and qualitative methods to investigate how stereotypes shape youth identities and relationships. In ongoing research, she is examining how children from low-income, ethnically diverse backgrounds talk about their racial and gender identities and navigate group stereotypes. Rogers joins IPR and Northwestern from the University of Washington. She received her PhD from New York University in 2012.
Taking a global approach to research
While much of IPR's research focuses on domestic issues, many of its experts also recognize that there is much to be learned beyond our borders. Three new fellows are boosting IPR's "internationalization" through their research and policy interests in the developing world.
Seema Jayachandran – Economics
Jayachandran focuses on health and gender in developing countries. Her work extends to a broad range of topics and localities, from examining gender attitudes and entrepreneurship in India to testing an innovative program to reduce deforestation in Uganda. She also conducts research on labor markets, early childhood education, and political economy and is part of the Abdul Latif Jameel Poverty Action Lab and the National Bureau of Economic Research. She received her PhD from Harvard University in 2004.
Rachel Beatty Riedl – Political Science
Riedl's research focuses on sub-Saharan Africa and thematically on political parties and institutions, democratization, identity politics, and local governance. Her recent projects include an award-winning book, Authoritarian Origins of Democratic Party Systems in Africa (Cambridge University Press, 2014), examining transitions from authoritarian regimes to democratic systems in Africa, as well as an ongoing study of the link between religious messages and political participation. A former IPR associate and current faculty affiliate of the Buffett Institute for Global Studies, Riedl received her PhD from Princeton University in 2008. 
Sera Young – Anthropology
Young's research focuses on reducing maternal and child undernutrition in low-resource settings, particularly sub-Saharan Africa. Young takes a biocultural approach to her research—drawing on her training in medical anthropology, international nutrition, and HIV research—to understand how mothers in low-resource settings work to preserve their health and that of their families. Her current projects include studies of both food insecurity and water insecurity in sub-Saharan Africa. Young was previously a professor at Cornell University, where she received her PhD in 2008.
Published: September 29, 2016.