Infographic: For Hispanic and Latino Adults, Chronic Stress Linked to Obesity
Stress management techniques might boost weight loss, suggests IPR associate Frank Penedo
Get all our news
More than 40 percent of Latino men and women are obese, compared with 32 percent of non-Hispanic, white Americans.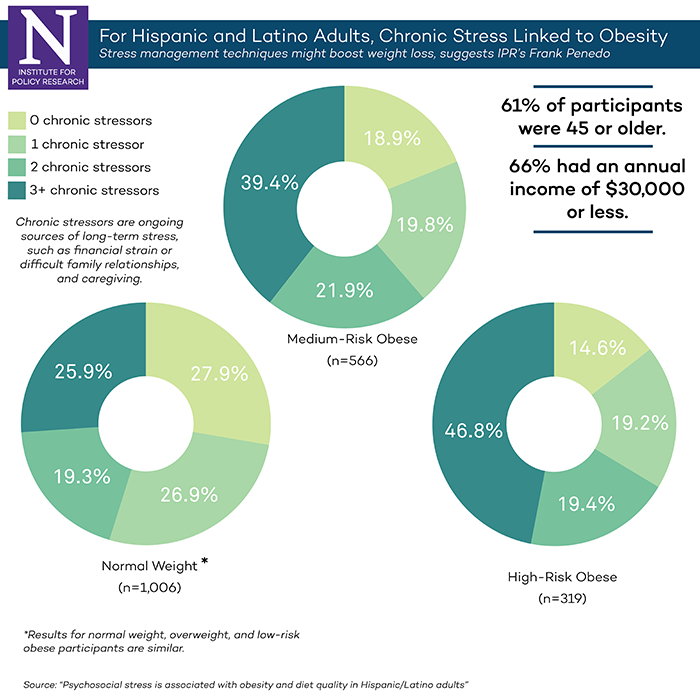 Click on the image above to see a larger version of the infographic.
Obesity in America remains a serious public health problem—one that disproportionately affects low-income Americans and minorities—and in particular, Hispanics/Latinos in the United States, the fastest-growing and largest ethnic minority group in the country. More than 40 percent of Latino men and women are obese, compared with 32 percent of non-Hispanic, white Americans. Professor of medical social sciences and IPR associate Frank Penedo and a team of investigators supported by the National Heart, Lung, and Blood Institute seek to understand what might be driving these racial and ethnic disparities in obesity rates.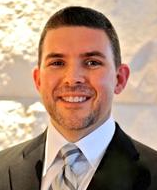 In one recent study that focuses on the role of psychosocial stress, Penedo and his colleagues examined a group of 5,077 participants in the nationwide Hispanic Community Health/Study of Latinos study. In the sample, 61 percent were 45 or older, 66 percent had an annual income of $30,000 or less, and 36 percent did not have a high school diploma. The researchers measured the study participants' body mass index, as well as their waist circumferences to assess the percentage of fat in their body weight (adiposity). Participants also answered questions about ongoing (chronic) stressors, such as financial strain, difficult family relationships and caregiving, in the past six months and any short-term (perceived) stress over the past month.
Results reveal that chronic stress does play a role: Those with more chronic stressors were more likely to be obese, with a larger waist circumference. These findings held after controlling for exercise and physical activity, high-calorie intakes, depression, and other chronic conditions. Participants with the highest levels of both chronic and perceived stress also did take in more calories. Penedo and his colleagues call for more research on the topic and also recommend adding stress-reduction training in weight-loss programs for Hispanics and Latinos.
Frank Penedo is Roswell Park Professor in medical social sciences, psychology, psychiatry and behavioral sciences, and an IPR associate. 
Published: March 24, 2016.