'Not Too Late'
Findings show promise, cost effectiveness of program for at-risk teens
Get all our news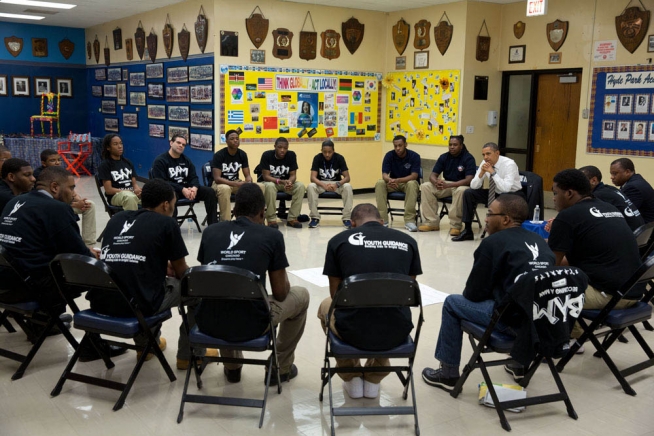 In 2013, President Obama met with participants in the Becoming a Man program at Hyde Park Academy.
In April, the Chicago Tribune announced the city's 1,000th gunshot victim, a 16-year-old male gunned down in a Southside public housing complex. Many wonder what can be done in the face of such ubiquitous violence. One answer might lie in a program for at-risk youth being evaluated by IPR economist Jonathan Guryan.
Created by the Chicago nonprofit Youth Guidance, Becoming a Man (BAM) has drastically reduced participants' involvement in violent crime and increased graduation rates. Recent findings show the program cut violent-crime arrests among participants in half, and BAM teens were nearly 20 percent more likely to graduate from high school on time when compared with their peers.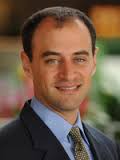 "At a time when Chicago and other cities across the country are seeing increases in violence, this evidence is particularly encouraging," Guryan said. "Programs like BAM are showing us that it is not too late to help teens in Chicago's most disadvantaged neighborhoods avoid violence and find success in school."
The latest BAM findings were released at the National Summit on Preventing Youth Violence in Baltimore on June 26. The summit brought together more than 600 participants from 30 cities to exchange ideas and share approaches to help policymakers and practitioners work to solve youth violence.
BAM offers youth weekly group sessions for one hour during the regular school day and a counselor for individual consultations throughout the week. The counselors use standard elements of cognitive behavioral therapy to help youth recognize their automatic responses and slow down their thinking when involved in high-stakes situations.
The University of Chicago's Urban Education Lab, which Guryan co-directs, has conducted multiple studies of programs aimed at helping at-risk youth, including:
a 2013–15 study of BAM involving more than 2,000 young men that showed a 50 percent reduction in violent-crime arrests;
a 2009-10 study revealing that BAM teens were 19 percent more likely to graduate on time than their peers not in the program;
and a 2009–11 study of a program that involved cognitive behavioral therapy for youth incarcerated in the Cook County Juvenile Temporary Detention Center, finding a 21 percent reduction in being readmitted to the facility over 18 months. 
Additionally, the researchers have estimated that BAM's benefits greatly outweigh its costs. They calculate up to $30 in societal gains for every $1 invested in the program—and this is just from realized reductions in crime alone. Since people with a high school diploma typically earn more over their lifetimes than those who drop out, the researchers believe BAM's economic returns could be even higher.
According to Michelle Adler Morrison, CEO of Youth Guidance, "The Crime Lab study reinforces what we as practitioners deeply believe: Adolescence is a time of incredible opportunity—and it is possible to have a profoundly positive impact, especially with at-risk youth dealing with challenging circumstances."
Thanks to these results, BAM has inspired other organizations, and even President Barack Obama. In recognition of its effectiveness, Chicago Public Schools has begun using federal Title I dollars to support and expand efforts to implement it in high schools around the city—and the president was partly inspired by attending a 2013 BAM session in Chicago to create his My Brother's Keeper initiative, which seeks to improve young men's life outcomes through education opportunities. 
Jonathan Guryan is associate professor of human development and social policy and an IPR fellow at Northwestern University. He also co-directs the University of Chicago's Urban Education Lab. For more information about the study and the lab, please see uel.uchicago.edu.
Photo credits: Official White House photo by Pete Souza; Jonathan Guryan photo by D. Dry.
Published: July 8, 2016.