IPR Winter 2023 Distinguished Lecture: Creating Equality of Opportunity in America: New Insights from Big Data
IPR Winter 2023 Distinguished Lecture: Creating Equality of Opportunity in America: New Insights from Big Data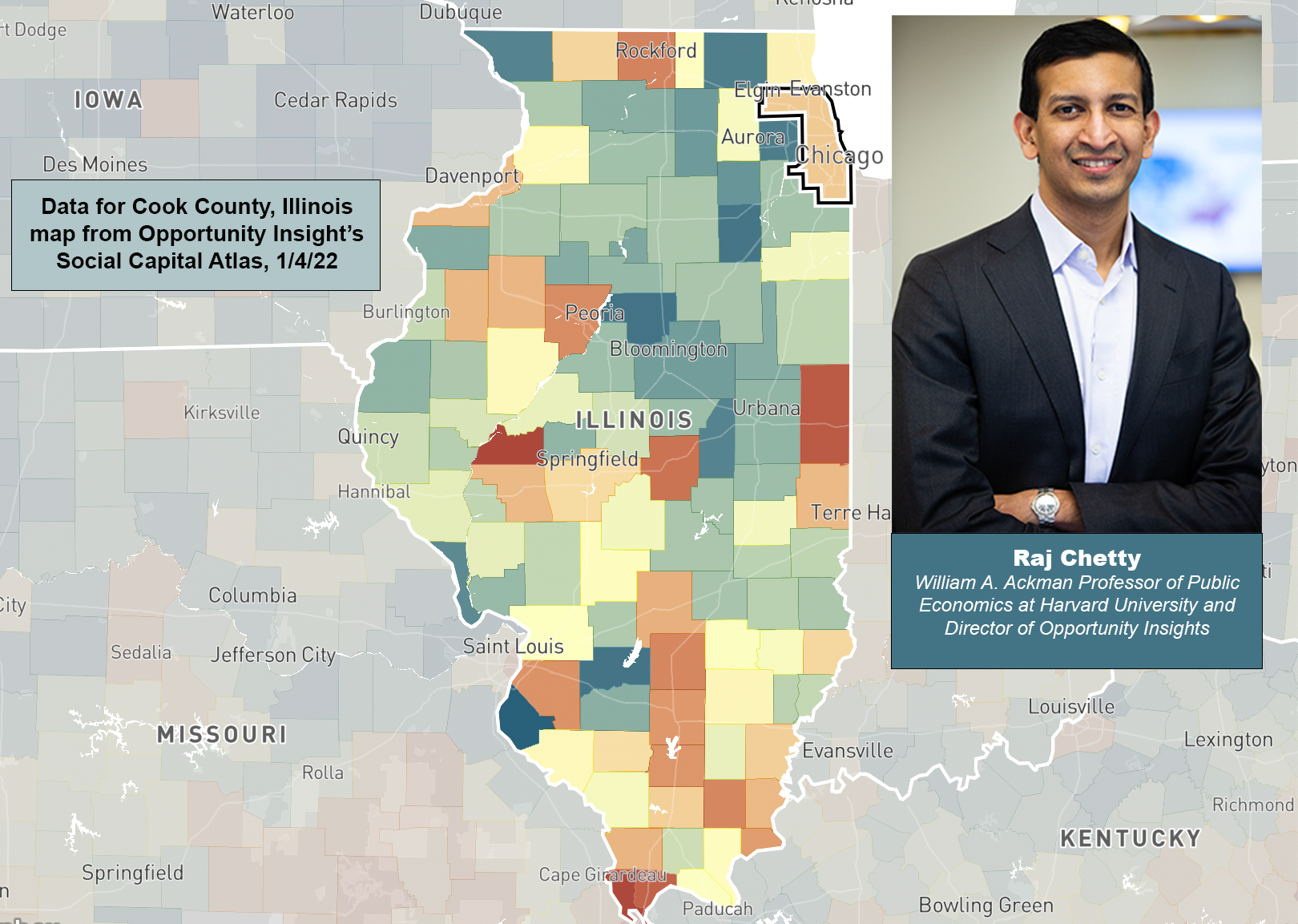 Cook County, Ill., data from Opportunity Insight's Social Capital Atlas.
How can we give children from all backgrounds a better chance of succeeding? Harvard economist Raj Chetty will discuss his efforts to study the science of economic opportunity using big data—and to propose scalable policy solutions—as the Winter 2023 Distinguished Public Policy Lecturer at Northwestern University's Institute for Policy Research (IPR). Register now for his in-person-only lecture on "Creating Equality of Opportunity in America: New Insights from Big Data" on Monday, Feb. 20, 2023, at 3:30 p.m. CT.
---
The in-person-only lecture is free of charge. Registration is required to attend; space is limited. Information about Global Hub access can be found here. A brief audience Q&A will follow the lecture, and a recording of the lecture will be made available following the event.
---
ABOUT RAJ CHETTY
Raj Chetty is the William A. Ackman Professor of Public Economics at Harvard University and the Director of Opportunity Insights, a research and policy institute he co-founded in 2018 that uses big data to study the science of economic opportunity.
His research combines empirical evidence and economic theory to help design more effective government policies. His work on tax policy, unemployment insurance, and education has been widely cited in media outlets and congressional testimony. His current research, which he will discuss on Feb. 20, focuses on equality of opportunity: How can we give children from disadvantaged backgrounds a better chance of succeeding?
IPR Distinguished Public Policy Lectures are given by prominent individuals who can speak to the use of research in policymaking and other issues. Past lecturers have included Atlanta Federal Reserve Bank President and CEO Raphael Bostic; Arthur Brooks, who was president of the American Enterprise Institute at the time; Princeton economist Cecilia Rouse, who currently chairs President Biden's Council of Economic Advisers; Donna Shalala when she was U.S. Secretary of Health and Human Services for President Bill Clinton, and many others.
For more information about the event, please email ipr@northwestern.edu or call 847-491-3395.
Photo courtesy of R. Chetty.