Fay Lomax Cook
Professor Emerita of Human Development and Social Policy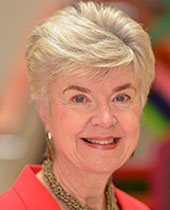 IPR Fellow Emerita
PhD, Social Policy, University of Chicago, 1977
Cook directed the Institute for Policy Research for 16 years from 1996–2012.  From 2014–18, she served as Assistant Director of the National Science Foundation (NSF) and headed the Directorate for Social, Behavioral & Economic Sciences (SBE).
Her research focuses on the interrelationships between public opinion and social policy, the politics of public policy, public deliberation, and the dynamics of public and elite support for social programs, particularly programs for older Americans such as Social Security and Medicare. She is the author of many scholarly articles and book chapters as well as five books, including Support for the American Welfare State: The Views of Congress and the Public (Columbia University Press) and  Talking Together: Public Deliberation and Political Participation in America (University of Chicago Press).
She is past president of the Gerontological Society of America and an elected member of the National Academy of Social Insurance, where she is currently serving as its Distinguished Visiting Fellow until December 2020. She is a fellow of the Gerontological Society of America, and has been a fellow at the Center for Advanced Study in the Behavioral Sciences at Stanford and a visiting scholar at the Russell Sage Foundation.
While at NSF, she served as co-chair for the White House National Science and Technology Council's interagency Social and Behavioral Sciences Subcommittee of the Committee on Science and as co-chair of the federal interagency committee to assess research needs related to the nation's opioid crisis.  She serves on the Visiting Committee of the Social Science Research Council (SSRC).
Current Research
Support for Energy Policy: The Views of the Public, Scientists, and Policymakers. In recent years, energy policy has become an increasingly salient political issue in the United States. Rising gas prices, coupled with a growing recognition of the connection between U.S. energy supplies and national security and increased attention to alternative energy sources, have led to a call for legislative action that to date has been addressed in piecemeal fashion. Part of developing a national energy policy lies in understanding the opinions of the public, policymakers, and energy scientists about existing energy sources, support for various energy strategies, and what they would be willing to do to conserve energy and reduce reliance on foreign oil. The purpose of this project is to do just that. In a series of three online surveys of the general public, energy scientists, and policymakers spearheaded by IPR political scientists James Druckman and former IPR research assistant Toby Bolsen (now assistant professor at Georgia State University), the three aim to (1) analyze the extent of agreement or disagreement among these three critical groups' understanding of and attitudes toward various aspects of energy and (2) examine the processes by which individuals arrive at their energy opinions. This is the first ever comprehensive set of surveys that address issues in tandem among scientists, policymakers, and the public. A growing literature describes what is often a disconnect among policymakers and the public, and this study allows the researchers to examine the extent to which such a disconnect exists in the area of energy policy, plus it will add the views of energy scientists to the mix.
The Rhetoric of Crisis and Navigating the Changing Politics of Social Security: Public Opinion, Policy Elites and the Loss of Consensus. The discussion about Social Security has gone from the politics of consensus characterized by considerable bipartisan support for the program to what Cook calls "the politics of dissensus"—where disagreement is heated and political rhetoric about the state of the program is rampant. To understand why that is the case, this project examines similarities and differences between the rhetoric of crisis among policy elites and the general public and how the crisis rhetoric has change in four major periods over the last three decades:
the 1981–83 period that resulted in the 1983 Social Security Amendments that implemented a range of changes during the Reagan administration, including raising the age of full eligibility for Social Security to 67;
the 1995–98 period when President Clinton issued a call to "Save Social Security First" and launched national series of town hall meetings to forestall the Republicans' attempt to cut taxes in light of the then emerging budget surplus;
the 2005–06 period when President Bush attempted to partially privatize Social Security;
and the 2010–12 period when substantial reforms to Social Security were proposed by President Obama's deficit commission in 2010 and by the so-called "Super Committee" in 2011.
Some Republican critics have gone so far as to label the program a "Ponzi scheme," a charge that has been made more public than critiques in earlier periods. This case study of Social Security is important not only as an analysis of the changing debate about a policy issue but also as a case study of a number of theoretically important themes in the political science and policy sciences literature on policy feedback, democratic responsiveness, and public opinion-elite opinion congruence.
Selected Publications
Books
Jacobs, L., F. L. Cook, and M. X. Delli Carpini. 2009. Talking Together: Public Deliberation and Political Participation in America. Chicago: The University of Chicago Press.
Cook, F. L., with J. Manza and B. Page, eds. 2002. Navigating Public Opinion: Polls, Policy, and the Future of American Democracy. New York: Oxford University Press.
Cook, F. L., with E. Barrett. 1992. Support for the American Welfare State: The Views of Congress and the Public. New York: Columbia University Press.
Selected Journal Articles and Chapters
Bolsen, T., J. Druckman, and F. L. Cook. 2015. Citizens', scientists', and policy advisors' beliefs about global warming. The Annals of the American Academy of Political and Social Science 658(1): 271–95.
Cook, F. L., B. Page, and R. Moskowitz. 2014. Political engagement by wealthy Americans. Political Science Quarterly 129(3): 381–98.
Cook, F. L., and R. Moskowitz. 2014. The Great Divide: Elite and mass opinion about Social Security. In The New Politics of Old Age Policy, ed. R. Hudson. Baltimore: Johns Hopkins University Press.
Bolsen, T., J. Druckman, and F. L. Cook. 2014. The influence of partisan motivated reasoning on public opinion. Political Behavior 36(2): 235–62.
Bolsen, T., J. Druckman, and F. L. Cook. 2014. How frames can undermine support for scientific adaptations: Politicization and the status quo bias. Public Opinion Quarterly 78(1): 1–26.
Bolsen, T., J. Druckman, and F. L. Cook. 2014. Communication and collective actions: A survey experiment on motivating energy conservation in the U.S. Journal of Experimental Political Science 1(1): 24–38.
Cook, F. L. 2011. The need for public deliberation: Giving the public a voice on affordable health insurance. Journal of Health Politics, Policy, and Law 36(5): 879–85. 
Cook, F. L., L. Jacobs, and D. Kim. 2010. Trusting what you know: Information, knowledge, and confidence in Social Security. Journal of Politics 72(2): 397–412.
Cook, F. L., and M. Czaplewski. 2009. Public opinion and social insurance: The American experience. In Social Insurance and Social Justice: Social Security, Medicare, and the Campaign Against Entitlements, ed. L. Rogne, C. Estes, B. Grossman, B. Hollister, and E. Solway, 250–78. New York: Springer.
Bolsen, T., and Cook, F. L. 2008. Public opinion on energy policy 1974-2006. Public Opinion Quarterly 72(2): 364–88.
Cook, F. L., with L. Jacobs and M. Delli Carpini. 2007. Who deliberates? Discursive participation in America. In Can the People Govern? Deliberation, Participation, and Democracy, ed. S. Rosenberg, 25–40. New York: MacMillan.
Cook, F. L. 2005. Navigating pension policy in the United States: From the politics of consensus to the politics of dissensus about Social Security. 2005. Tocqueville Review 26(2): 37–66.
Cook, F. L., with M. Delli Carpini and L. Jacobs. 2004. Public deliberation, discursive participation, and citizen engagement. In Annual Review of Political Science 7, ed. N. W. Polsby, 315–45. Palo Alto, Calif.: Annual Reviews.
Cook, F. L., with J. Manza. 2002. A democratic polity? Three views of policy responsiveness to public opinion in the United States. American Politics Research 30(6): 630–67.
Cook, F. L., with J. Barabas and B. Page. 2002. Invoking public opinion: Policy elites and Social Security. Public Opinion Quarterly 66(2): 235–64.