Prisons & Mass Incarceration
Prisons and Mass Incarceration
Are Monetary Sanctions Just?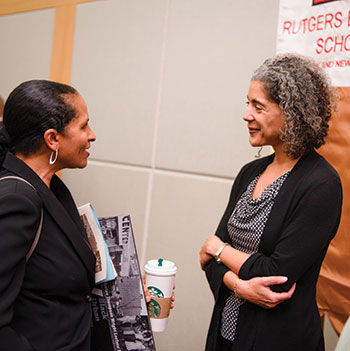 Courts impose fines, fees, restitution, and surcharges on people convicted of crimes that span traffic violations to violent felonies. How do people sentenced to pay these monetary sanctions understand them as part of the justice system? As part of ongoing research into the scope and effects of monetary sanctions in eight states, Mary Pattillo, a sociologist, African American studies researcher, and IPR associate, and graduate student Gabriela Kirk interviewed 68 people sentenced to pay sanctions in Illinois. In the UCLA Criminal Justice Law Review, the researchers examine how those sanctioned think about the fines and fees in the context of four kinds of justice: constitutional, retributive, procedural, and distributive. The sample of interviewees were mostly poor—59% had incomes below $1,500 per month—and over two-thirds were racial/ethnic minorities, which aligns with the makeup of Illinois' prison population. Although the interviewees saw the sanctions as justifiable punishment, they also saw them as impossibly large on their low incomes, as further punishment beyond prison, and as coercion by an "opaque and greedy state." The authors conclude the sanctions serve some retributive justice goals but violate the other forms of justice. They characterize monetary sanctions as "extortion" and a form of social control of poor people and recommend eliminating them for poor defendants. Pattillo is the Harold Washington Professor of Sociology and African American Studies 
Is Juvenile Incarceration Self-Perpetuating?
Researchers are trying to better understand how incarceration affects young people, especially with regard to its impact on their health and long-term life outcomes. Yet little is known about patterns of incarceration in this population, and how those patterns differ across sociodemographic subgroups. In a recent study published in Children and Youth Services Review, Anna Harrison, PhD, and behavioral scientist and IPR associate Linda Teplin with their co-authors examined such patterns over 14 years among a group of youth involved in the justice system. They interviewed 1,829 youth who were detained in Cook County's Juvenile Temporary Detention Center between 1995 and 1998. Nearly the entire sample—94% of males and 80% of females—were re-incarcerated at least once over the next 14 years. Moreover, more than 90% of males and more than half of females were incarcerated as adults. The researchers found that racial/ethnic disparities in juvenile incarceration mirror those of adult offenders. Males and racial/ethnic minorities were far more likely to be incarcerated more frequently and for longer periods of time compared with women and non-Hispanic whites. Viewing this disproportionate level of incarceration as a public health issue, Teplin notes the higher rates of behavioral and mental health issues for youth entrenched in the justice system. She and her colleagues urge policymakers to promote alternatives to incarceration to reduce health disparities. Teplin is the Owen L. Coon Professor of Psychiatry and Behavioral Sciences.