Improving Nutrition Interventions
How taking a "mom's view" approach to program design can help
Get all our news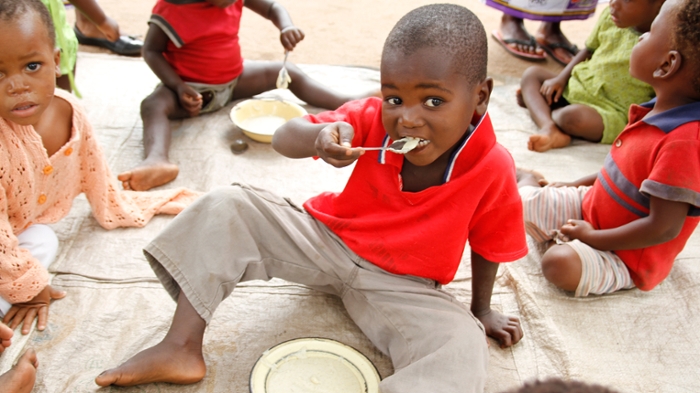 People-centered design can aid nutrition interventions, according to IPR anthropologist Sera Young.
Almost 800 million people around the world are chronically undernourished, and more than 2 billion have micronutrient deficiencies. Despite this pressing need, programs aimed at improving nutrition are not always successful. In a chapter of the newly published Good Nutrition: Perspectives for the 21st Century (Karger Publishers, 2016), IPR anthropologist Sera Young, Rolf Klemm of Helen Keller International, and Shawn Baker of the Bill & Melinda Gates Foundation illustrate the importance of nutrition interventions that reflect program beneficiaries' desires and environments, rather than what program designers envision.
Young and her colleagues explain that nutrition problems are often more complex than they appear. In one case study, the uptake of micronutrient powder at a refugee camp in Kenya dropped from 99 percent to a low of 30 percent, and remained at 45–52 percent despite increased social marketing efforts. Researchers found that a lack of interagency coordination and inadequate training for community health workers, as well as issues with the powder's packaging, contributed to the issue.
In another case study, a nonprofit called The Grandmother Project developed the "generic grandmother-inclusive" methodology for helping grandmothers strengthen their role and knowledge in promoting best practices related to maternal and child health—including nutrition. By publicly recognizing the role of grandmothers, and involving grandmothers in education activities, the program increased grandmothers' confidence and increased male community leaders' respect for grandmothers' advice.
The researchers argue nutrition issues can be solved by people-centered design, which involves building decisions about services, products, and behaviors around a deep and clear understanding of people's context, needs, and desires—or as Melinda Gates explained it to Wired Magazine, "meeting people where they are." For this to occur, Young and her colleagues outline a five-step process that draws heavily on methods in anthropology. 
The first step involves understanding the issue through the use of formative research strategies, such as ethnographic interviews or observation. Second, stakeholders use ecological frameworks to identify the multiple social and environmental factors that might affect nutritional issues. Then, using focus group discussions, they can generate ideas for what might help.
The final two steps involve creating a prototype of a nutrition delivery pathway to avoid problems in the delivery system, like supplements not being routinely available at a clinic, and then continuously evaluating the program throughout its duration.
"It's important to see nutrition programs, not from the perspective of the bureaucrat or the politician or the minister of health, but from the mom's point of view," Young explained. "We need to be mindful of the end-user and her priorities."
Sera Young is assistant professor of anthropology and an IPR fellow.
Photo courtesy of USAID in Africa.
Published: October 26, 2016.