The Future of Collective Innovation
IPR associate examines technology's role in diversifying its spread
Get all our news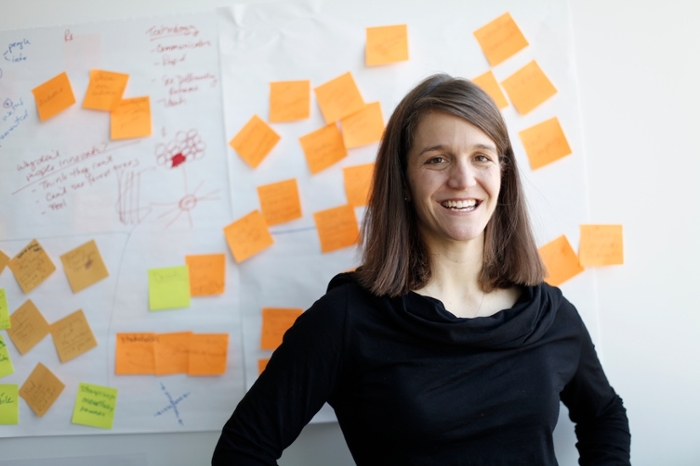 IPR associate Elizabeth Gerber examines how technology is changing innovation.
When designer and IPR associate Elizabeth Gerber worked in industry, the development process was typically slow and costly, involving multiple focus groups. Today, however, technological advances from high-definition videoconferencing to social networks like Twitter have vastly changed, and even democratized, the process. 
"Technology is enabling new forms of organizing," allowing diverse methods of innovation, Gerber explained during a May 23 IPR colloquium. But without careful attention to organizational structure, she continued, technology's rapid growth could cripple broad engagement.
Gerber outlined a framework for how to think about such collective innovation, highlighting the success story of Jerry the Bear. Jerry is a normal looking, cuddly teddy bear with a high-tech touch screen implanted in its chest. It was developed by two Northwestern undergraduates to teach children with Type 1 diabetes how to manage and live with the disease. The students' idea was born in Gerber's Design for America studio at Northwestern. She discussed how they deployed the user-generated news site Reddit for feedback, Twitter for developing concepts, and Indiegogo for fundraising to develop and launch their product. Jerry can now be found in a quarter of pediatric endocrinologists' offices in the United States.
Jerry the Bear is not a usual case, though. Most crowdfunding campaigns never even reach their goal. Crowdfunding can raise issues for innovators, as difficulties can arise in managing the expectations of those who have donated. Inventers might find themselves overwhelmed by the sheer number of relationships to manage.
"In a typical product development firm, you might have a small team of 10 specialists developing a product," Gerber said. "In the case of collective innovation, you're often collaborating with thousands of people, who play different roles over time, and have different expectations."
Authorship and intellectual property can also be challenges. Supporters might feel they deserve some recognition if their ideas are implemented, while crowdfunding sites often do not provide any intellectual property protection. This means others can see the idea and develop it themselves if the innovators decide to forgo a patent—which many do. In addition, feedback can be overwhelming and some innovators experience difficulty saying no.
All these challenges raise the question of how to improve this style of collective innovation, which Gerber is currently examining through development of her own framework. It will seek to maintain quality and support inclusiveness in collective innovation through six key elements: promoting trust, protecting reputation, defining roles, improving communication, managing feedback, and explicitly designing roles.
"I want to think about how we're using these social platforms together to recreate the support that we typically find in an institution," Gerber said.
Elizabeth Gerber is associate professor of mechanical engineering and communication studies and an IPR associate.
Published: July 12, 2016.