Involving Fathers in Their Child's Care
Report highlights pediatricians' role
Get all our news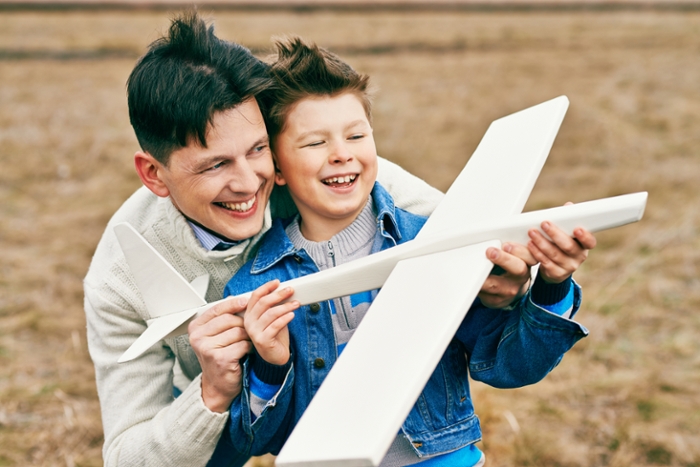 Pediatricians should make greater efforts to involve fathers in their children's care, according to a new report.
From "deadbeat" to "stay-at-home" dads, the public's perception of fathers' roles has shifted from more negative to more positive portrayals over the years. Though moms still shoulder the bulk of care, a recent clinical report from the American Academy of Pediatrics shows that fathers are now more involved in their children's lives than ever.
The report, for which pediatrician and IPR associate Craig Garfield served as a lead author, regroups a wealth of data from qualitative and quantitative studies produced since the previous one in 2004: The number of single dads raising children has increased 60 percent in the past 10 years, and the time fathers spent caring for their children more than doubled between 1965 and 2011. 

This changing environment speaks to a need for pediatricians to make greater efforts to involve fathers in ongoing care, the report says. Pediatricians are often the first health care providers to engage fathers in their new role, giving them an opportunity to share best practices.
"Despite the pressures at work and from society, encouraging fathers to become involved early on with their children can make a big difference in their comfort level and confidence in caring for their children as they grow," Garfield said.
The report details the specific ways that fathers influence their children's health and development. For example, a father's play tends to be more vigorous and stimulating, and this rougher play might challenge children to explore and learn how to take safe risks. Additionally, dads are more likely than moms to introduce new words when they talk with an infant or young child, speeding language development. 
However, fathers often face barriers to becoming more involved in their children's lives: Very few U.S. companies offer paid paternity leave, and cultural biases can keep dads from feeling like valued caregivers. A study cited in the report looked at fathers working for Fortune 500 companies, the majority of whom took unpaid time off after the birth of their child. These fathers reported feeling more stressed about work-life balance than mothers did.
The report offers recommendations for how pediatricians can involve fathers more in care, such as by asking both mothers and fathers for their opinions during office visits. Additionally, pediatricians should tell fathers how children look to them as role models, and stress the unique role they play in encouraging physical activity. The report also calls on pediatricians to promote flexible work schedules and policies such as the Family Medical Leave Act.
"[Fathers] want to be included and made welcome in the doctor's office," Garfield said. "Especially with more women entering the workforce, more fathers are stepping in to provide care and they want to know from the doctor what is best for their children."
Craig Garfield is associate professor of pediatrics and medical social sciences. He is also an attending physician at the Ann & Robert H. Lurie Children's Hospital of Chicago and an IPR associate. The full report, "Fathers' Roles in the Care and Development of Their Children: The Role of Pediatricians," can be found here.
Published: September 28, 2016.